Before we begin our journey, you'll have to toss any preconceived notions about Central Pennsylvania to the side. The New York satisfaction of knowing everything good is right within our reach—from Brooklyn's great local breweries to the glorious wine trails of Long Island—can keep us tethered to the city forever. But sometimes it does us good to really broaden our horizons.
My train had not yet pulled out of Penn Station when I began hearing quite a few opinions on my trip to Harrisburg, Pennsylvania. Although most of them, coincidentally, came from people who had never even been there. According to most, for a Friday afternoon, I was heading in the wrong direction.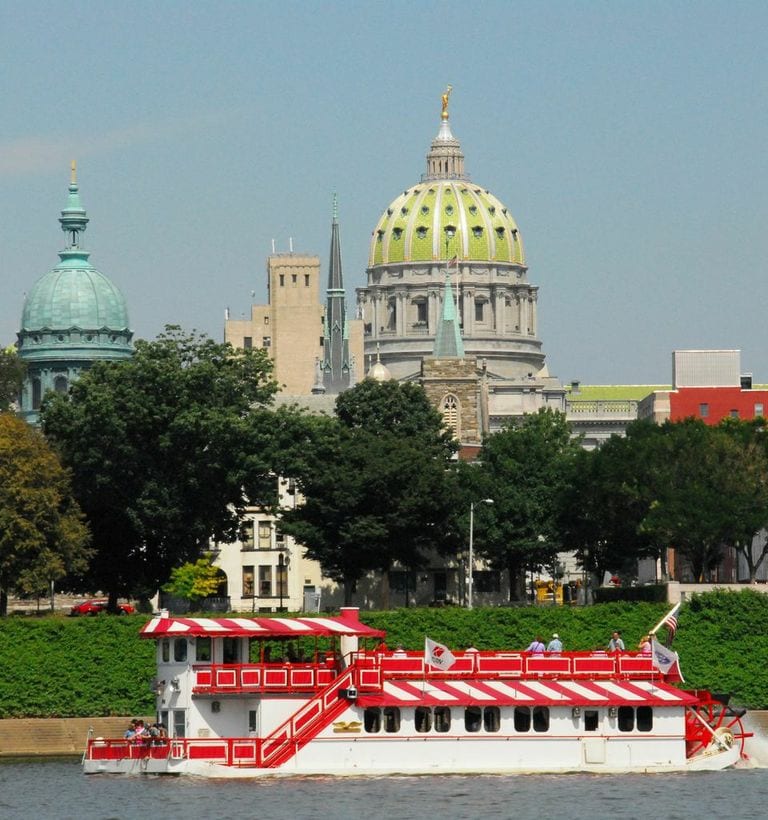 As it turns out, Harrisburg is ready to prove everyone wrong. Upon arriving in the antique train station, originally built in 1887, I was immediately charmed. The downtown area boasts one of the most gorgeous capitol buildings in the country. Roosevelt, who is said to have remarked "it's the handsomest building I ever saw," seconds my opinion. Harrisburg's Midtown is up-and-coming with brunch-worthy destinations and is home to the sprawling bookstore, gallery and performance space, The Midtown Scholar—watch out Brooklyn, there are a lot of cool people here.
But let's get to the point. Right now, Harrisburg and the surrounding area is positively bursting with local flavor—most specifically, that derived from grapes and barley. There are craft breweries and chic wineries popping up everywhere, creating a booze trail that is hard to beat. Even in New York. It's time to go now. This is something we can all toast.
For Beer Lovers:
Market Cross Pub
Market Cross Pub sits on a quaint and quiet street in Carlisle, Pennsylvania. Unassuming from the front, you'll find a cozy family-owned British bar, restaurant and brewery within. The brewery equipment was brought over from England, in keeping with the strong British roots Carlisle shares with its sister city in the U.K., and operates as a 10 barrel open fermentation system, headed by a High School science teacher in town (move over, Walter White). It makes perfect sense when you think about it. The brewing aspect of the business is largely trial and error, but the team works it in that magical way that sometimes results in accidentally creating a mini-masterpiece. Their most popular micro brews of the moment are the Red Ale and the Pub Porter, but they also serve beer from many different countries, with an astounding number of favorites and unknowns on tap. It's a lovely spot to wile away an afternoon, enjoying good vibes and brews. Tours of the brewery are available on request.
Tröegs Brewery

Recalling our privilege as all-access New Yorkers, most of us have tasted a Tröegs brew. But whether you're already a die-hard fan of the popular ruby colored Mad Elf, which is a spiced seasonal that chimes in at a whopping 11 percent alcohol content, nothing will prepare you for what awaits at the Tröegs Brewery in Hershey. The space is massive, with a long stretch of bar area, surrounded by plenty of bench tables and booths, all with an airy, industrial feel. The beers are tasty—try the DreamWeaver Wheat (a hint of banana) and the rich JavaHead Stout, but don't leave the brewery without visiting the Snack Bar. The men in this kitchen are doing something truly unique, creating multifaceted dishes out of their tiny kitchen and serving them up to a hungry beer-drunk crowd. Try the giant Oktoberfest pretzel, imported from Germany, with a side of rosemary brown butter popcorn, and end on a creative sandwich, such as the seared ahi tuna on a house made pupusa or the meatloaf on brioche, which incorporates mashed potatoes into each bite. It just makes sense to eat really good food with really good beer. Self-guided tours here let you peek at the process through windows, but proper tours and tastings can be scheduled with reservations.
Don't miss Bube's Brewery, an atmospheric 19th century brewhouse, which boasts several levels of dining and entertainment, literally—the catacombs dining room is 43 feet underground among the aging cellars, and they also host murder mystery dinner parties. The complex has an artistic and local feel, and the friendly staff are mostly comprised of aspiring actors. They're doing something truly special in a uniquely equipped space, preservation of history at its finest. Tours run daily, and do take one, there is a lot to see.
For Wine Connoisseurs:
Nissley Vineyard & Winery
The grounds alone here are so striking, it's hard to leave the majestic outdoors to taste the wines that beckon within. Built in 1978 by the same family who still owns and operates the vineyards, there is a distinct local feel, but the sophistication of this particular establishment is remarkable. It's no surprise it often happens to be the location of marriage proposals. Romance aside, the wines themselves are clearly the star, and the Petite Rosé is especially nice as is the popular Black Raspberry. I was lucky enough to have landed on a chocolate pairing day, all of which came from local shops. The wines and candies combined to offer an overwhelmingly satisfying and enhanced experience.
The Vineyard & Brewery at Hershey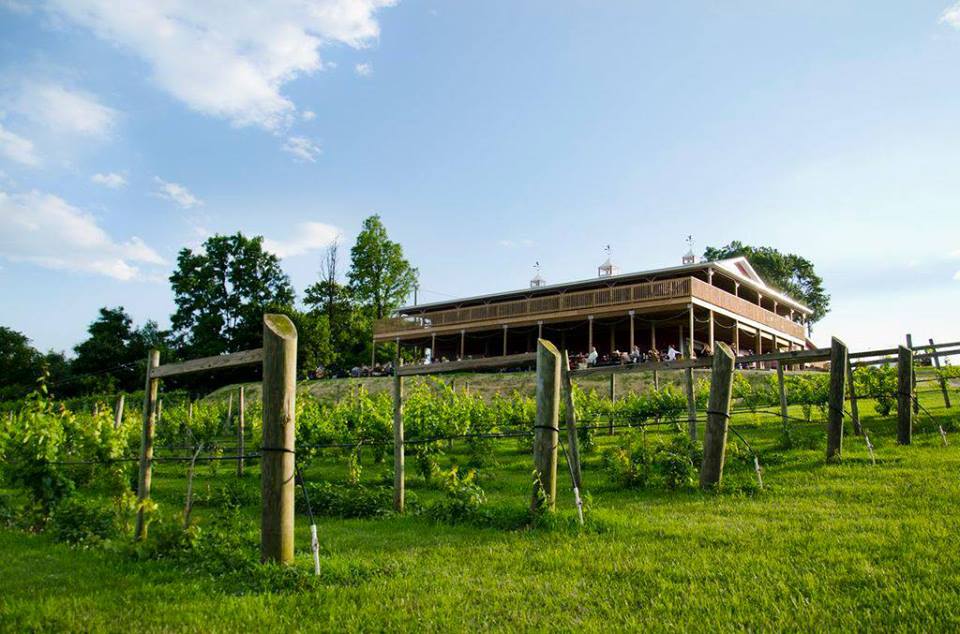 With a hand in multiple beverage options, this vineyard, winery and event space is walking a very cool line and becoming the ultimate hang out spot in Central Pennsylvania. The idea was birthed by four young men over drinks and the resulting creation is something historically inspiring: a fully realized dream. Now they are making world class wines and beers on a 40-acre farm with a camaraderie and spirit that goes unmatched at more established institutions—it's highly contagious. Their artful wines can be tried with your tastes in mind, flights are designed according to whether you like your vintages sweet or dry, or if you'd like to put it into their capable hands and sample the "Best of Vineyard at Hershey" (highly recommend.) As for the brews, with cheeky names like the Chocolate M.I.L.F (Malt I'd Like to Finish), the Hip Hops Hooray I.P.A. and the Naughty & Spiced Holiday Ale, they are as fun to drink as they sound and can be enjoyed in flights or single tastes depending on how much fun you're planning to have.
For more local flavor, visit the local candy shops like Spence Candies and Miesse Candies. And don't miss Armstrong Valley Winery, set on a picturesque farm, complete with horses and cats and a variety of wines. Armstrong specializes in fruit wines, another thing you should give a chance—surprising depth cuts through the sweetness. It has ample space to host events and live music, plus a small cottage on the property that can be rented for overnight stays by couples tying the knot on the property.
Where to Stay: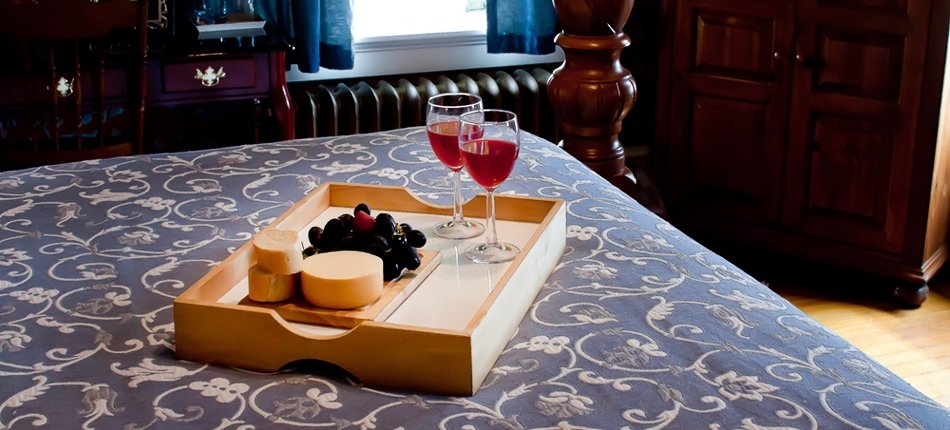 Harrisburg has the common chains you'd expect in any city, but if you're looking for something with a bit more character, try these options. Best location downtown: City House Bed & Breakfast. For trainspotters: Bridgeview Bed & Breakfast. Right near Bube's Brewery: The Olde Square Inn.
How to Get Around: Harrisburg and the surrounding areas are not well serviced by public transportation. If you're planning to take a drinking tour or visit any of the locations above, it is necessary to hire a car or limo. Premiere #1 Limousine Service has very accommodating drivers and will give you a ride in comfort and style. Rates will vary by car type and hours booked.
How To Get There: Take Amtrak to Harrisburg from Penn Station. Tickets run about $150 round trip. Or consult oM's guide to renting hybrids in NYC.

[mappress mapid="5″]
Carly Pifer is a freelance writer who has been known to follow whims inspired by romantic movie scenes or colorful street style shots to India, Japan, Tunisia and Argentina. After stints living in Seoul, Boston, Paris and Los Angeles, writing and searching for something intangible, she landed somewhat steadily in Brooklyn and has begun to find inspiration in her more immediate surroundings (and also the permanence of her bookshelf). She writes about fashion for Refinery29 and has been known to pack an outfit per day on backpacking trips. Please visit her website to read her travel diaries and other writing on the web at www.carlypifer.com or follow her on instagram .