Pennsylvania's Pocono Mountains have come a long way since their day as a couples-only resort haven. The heart-shaped beds and cheap sparkling wine have been replaced with more sophisticated offerings. The little hamlet of Milford, located only 75 miles west of New York City, exemplifies this.
The surrounding countryside is still punctuated by down-home scenery, but the prevailing clientele is thoroughly refined. If you want to get back to nature without giving up your worldly proclivities, Milford provides the perfect cocktail of city and country. It sits on the banks of the Delaware River and offers a buffet of fresh-air pursuits. Mother nature is suitably unspoiled in this town that nurtured the birth of the American conservation movement. The intact beauty and active recreational choices blend impeccably with the downtown art scene, restored-to-perfection Victorian architecture and an alluring contemporary boutique hotel. If you crave a touch of metro with your mountains, Milford is a matchless weekend escape.
Activities on the Delaware
Milford's riverside location offers a wealth of ways to enjoy the crystal-clear, free-flowing Delaware River. The easiest way is to head to Milford Beach, a few minutes walk from downtown, and plunge in. Lifeguards are on duty in summer, and the grassy lawn provides a peaceful spot to contemplate the river. Pay attention off-season, as the current can be surprisingly swift.
Fishing conditions are ideal, as the Delaware River's integrity means the diversity and abundance of fish are regionally unmatched. A valid fishing license is necessary and easy to come by.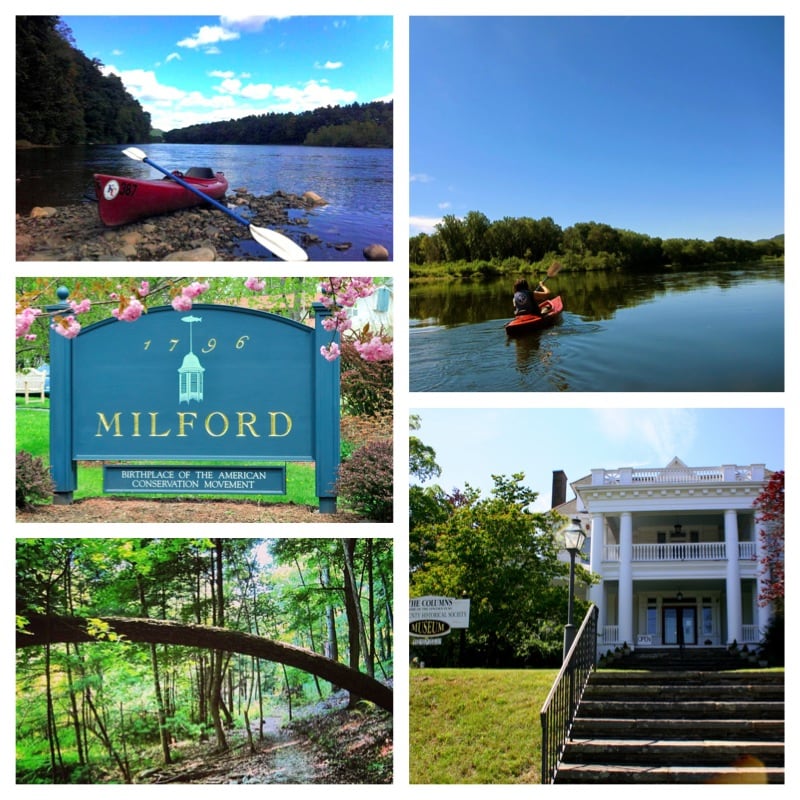 Kayaking and canoeing are popular. Kittatinny Canoes has been family owned and operated since 1941. The helpful staff will pick you up and get you safely started on your adventure. The owners are dedicated to preserving the pristine beauty of the river, and have earned wide respect for their annual three-day river cleanup and won numerous awards for their environmental efforts. Try paddling the easy eight-mile journey downriver from Milford to Dingman's Ferry. You'll encounter novice rapids, lush forested scenery and the chance to explore Minisink Island, one of the biggest in the Delaware River. Feel like a modern day Robinson Crusoe as you search for Native American burial grounds. Stay towards either side of the riverbank for the best chance to spot the abundant wildlife, including bald eagles, osprey, blue heron, black bears and wild turkey. The autumn foliage display is particularly stunning reflected in the water.
Hiking in the Great Outdoors
Located next to the Delaware Water Gap National Recreation Area, the land around Milford is protected. This means you can expect eternal wide-open spaces and unspoiled hiking options in all directions.
The Knob is a relaxed trail with a scenic payoff. The gradual ascent to the top of the 400-foot bluff takes about an hour. Once you reach the overlook, glimpse the town's architectural gems, panoramic sweeps of the Delaware River and the gracious forests that cradle it. The Knob trailhead is located about a 15-minute walk outside of Milford.
Raymondskill Falls are the highest waterfalls in the state. You can view this cascading wonder from three different levels, each requiring only a short, though fairly steep, hike. The falls are three miles south of Milford, off Route 209.  Rent a bike at Action Bikes on Broad Street in the center of town, and you'll be there in no time.
Birthplace of the American Conservation Movement
If you have an interest in conservation, don't miss Grey Towers National Historic Site. In the early 20th century, Milford resident and Pennsylvania Governor Gifford Pinchot, along with President Theodore Roosevelt, led progressive conservation efforts. Today, you may visit this stunning French chateau-style home that was his summer hideaway. Meander the paved paths, view the eclectic artifacts that Pinchot collected during his extensive travels and get educated on the conservation movement's local roots. Take the one-hour guided tour and you will leave with a clearer picture of conservation vs. preservation. Grey Towers is located under a mile from town, an easy walk or breezy bike ride.
Things to Do in Town

With its majestic natural surroundings, it comes as no surprise that a large number of artists call Milford home. The tree-lined historic district is loaded with galleries and studios that welcome walk-ins. Art After Dark takes place on the second Saturday of each month. Galleries and shops stay open late, and live music adds a special note. Meander on and around Broad Street and you will find a score of antique shops. If you're hungry for a Mediterranean nibble, Fretta's is a specialty Italian food store whose delicacies rival anything you might find on Arthur Avenue or in Little Italy.
Books & Prints on Pear Alley offers secondhand titles for the casual reader to valuable first editions for those considering a more serious investment. If your budget doesn't allow for such pricy purchases, $3 is all it costs to buy a blind book. Wrapped in plain brown paper, you won't know what you are getting until you open it. It's an inexpensive way to take a chance on some new reading material.
The Artisan Exchange celebrates American-made fine art and crafts. They feature a rotating list of artists. The jewelry collection is particularly lovely.
The Columns Museum is housed in a beautiful Neo-Greek Revival mansion on Broad Street. Though its collection is small, it is an important stop for Civil War buffs. The flag that cushioned Abraham Lincoln's head after he was shot is on display, as are other artifacts related to his assassination.
Where to Stay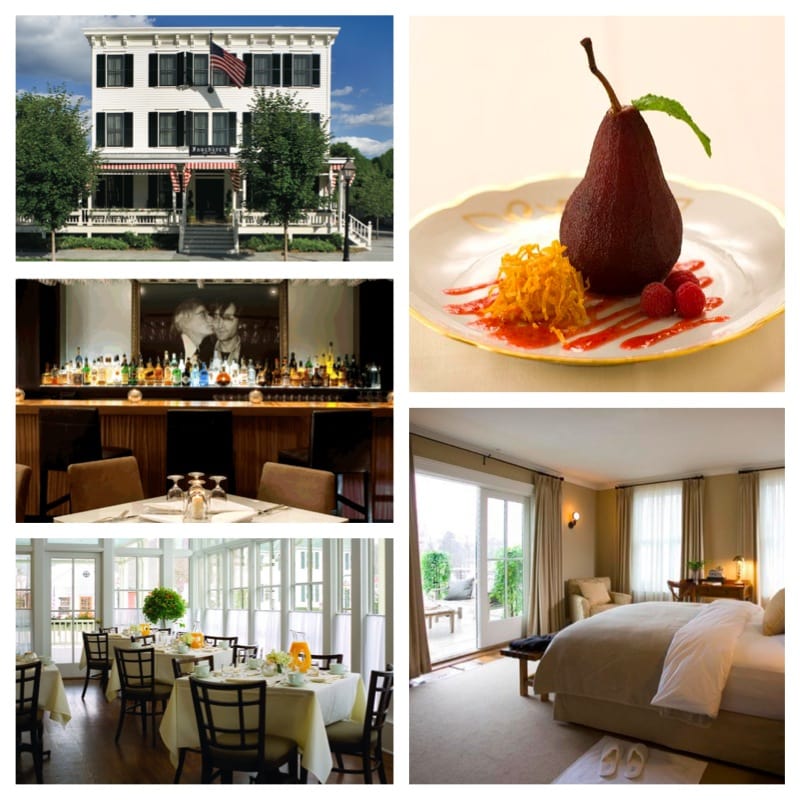 The Hotel Fauchère is the ultimate urban-chic country hideaway. You will be discreetly indulged with wine at check-in to home-baked cookies and frosty glass of milk brought to your room at bedtime. Richly restored, the common areas are graced with a fabulous display of Hudson River School paintings, a sunlight conservatory and a fragrant garden. This boutique hotel's 16-rooms are all individually decorated, some with private terraces and claw-foot tubs. No amenity is lacking, from Frette linens to luxurious bath products. If your taste buds need some stimulation, the Delmonico Room's menu will impress the most passionate gourmet. The tasting menu is created daily with provisions from their own farm and freshly foraged products. Impeccable service and thoughtful wine pairings rise to the culinary occasion. Room rates start at $170, including a divine Continental breakfast served until a civilized 11 a.m.
Where to Eat
The casual Bar Louis is a sleek and stylish space located in the Hotel Fauchère. Whet your appetite with a cocktail at the bar, which is dominated by a huge photo of John Lennon and Andy Warhol. Consider a complex Italian vermouth before you move on to the brasserie-style menu's crowning glory, Sushi Pizza. This zesty treat pairs perfectly with a handcrafted lager from local brewery Shawnee Craft.  All their beers are un-filtered, unpasteurized and free of all preservatives and stabilizing agents.
The Waterwheel Cafe benefits from its peaceful creek-side location near Grey Towers. Dine outdoors on the deck or at the cozy bar, with live music Thursday-Sunday nights. House specialties on the varied menu include Toll House cookie pie and some flavorful Vietnamese-inspired dishes. Take the self-guided tour of the still-functioning, fully restored 19th century water-powered gristmill. Open for breakfast, lunch and dinner daily.
Special Events
Milford presents a full calendar of events. The Tour de Pike is an annual September cycling fundraiser that offers everything from a relaxed five-mile pedal with the kids to a 40-mile ride for more serious cyclists. The Black Bear Film Festival is held each October and is noted for its thought-provoking cinema. The Winter Lights Festival is a mid-winter celebration with ice sculptures, skating, live music and theatrical performances. Summer's Milford Music Festival provides live music at several venues. Grey Towers hosts the annual Festival of Wood each August, an ode to wood, conservation and forest stewardship.
How to get here: Absolutely no car is required to enjoy Milford. Shops, restaurants, the Hotel Fauchère, hiking options and the Delaware River are all either in or a short walk from town. The Short Line bus has multiple daily departures from Port Authority.  You'll be in Milford in two hours.
For more information on visiting Milford, visit the Pocono Mountains website.
Photos: Allison Tibaldi, Hotel Fauchere, jasonb42882, bulletproofsoul67
Allison is a native New Yorker, who has lived in Rome, Tuscany, Melbourne, Toronto and Los Angeles. She frequently contributes travel pieces to Family Travel Forum, using her own children as guinea pigs as they travel the globe. She is fluent in Italian and Spanish and laughably adequate in French. Her background as an Early Childhood Educator gives her an added understanding of what it takes to travel with kids in tow. She firmly believes that the most important part of education takes place outside of the classroom, on the road, around the world. She never misses a chance to sample local delicacies, as her love for travel goes hand-in-hand with her love for food and wine. Follow Allison at @gourmetrav.