Sprawling lawns, hidden private beaches, evenings filled with fine dining and wine sipping under a star-studded sky—these things come to mind when you think about that romantic stretch of land called Long Island. But before reaching for the Gatsby novel, consider spending a day or weekend in Shelter Island. It is a perfect destination for those who love to bike, picnic, and relax while reconnecting with nature.
Weekend rooms at House on Chase Creek Bed and Breakfast start at $95 per night. The rooms are charming, but more country-chic than sophisticated. The house has a warm vibe with a big complimentary breakfast and is perched on the Chase Creek waterfront.
Just a ferry ride away, the Greenporter Hotel is a trendy, boutique option with a wine bar, pool, in-room spa treatments, and a bistro serving local seafood and organic produce. Rooms start at $99 during the week and $159 on weekends. (Read our Greenport feature for more nearby draws, including North Fork vineyards.)
Cycling the Island
Shelter Island might sound small, but it is actually quite big, 8,000 acres big. Bring your bike on the LIRR, or if you need to rent one, stop at Piccozzi's Garage & Bike Shop behind the Mobile station on Bridge Street, a five-minute walk from the ferry terminal. A day rental costs $25.
The Bike Route
Although you can start out following a trail, you'll discover that the best way to see Shelter Island is simply to wander. Once you deviate from the route, you'll find endless places to explore, including unusual side streets, historic estates, and tucked away beaches. In addition to its untarnished beauty, the island is rich with eateries, art galleries, and shops manned by friendly, chatty locals who are happy to provide off the beaten path directions to some of the area's best spots. The roads are generally flat, with only an occasional hill, but it's important to stay alert as cars tend to drive fast and you'll rarely find shoulders or sidewalks along the way.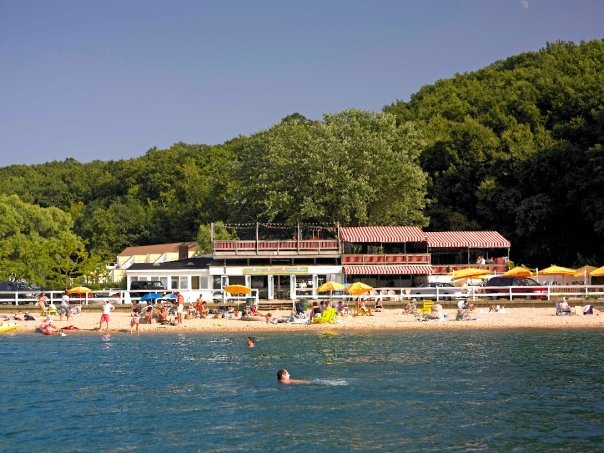 To begin the 8-mile loop, start on Grand Avenue in Shelter Island Heights, where elegant Victorian homes line the leafy streets. You'll finish up at Crescent Beach, where you can stop for a well-deserved cocktail and an appetizer at Sunset Beach hotel. From Grand Avenue, follow along until you reach Prospect Avenue, and then turn right onto Serpentine Drive. Next, take a left onto Shore Road, a right onto West Neck Road, and a left onto Brander Parkway, over which the branches of strong oak trees create a leafy umbrella. At this point, look out for Oak Tree Lane on your left, at the end of which you'll reach cozy and hidden Shell Beach. To finish the loop, continue following Brander Parkway, which becomes Peconic Avenue. After that, make a right on Lilliput Lane and a left onto Brander again where the infamous Bootleggers Alley, a relic of Shelter Island's bootlegger past, sits to the left.
If you follow Bootleggers Alley to the end, you'll reach a serene little stretch of beach that makes an excellent picnic spot; to the right of the beach is a massive estate that sits on a 10-acre lawn, providing a stately backdrop while you dig into your goodies (keep reading for picnic provision tips). Once you've refueled, get back on Brander, go right on Rocky Point Avenue, and then left onto Shore Road. Now, you'll ride past the beautiful Crescent Beach, which sits across the road from The Perlman Music Program for gifted young musicians; concerts are held throughout the summer.
Manhattan folks will forget the concrete jungle after a day of cruising around the green landscapes and vast empty shores of Shelter Island. The easy workout plus the refreshingly fragrant air is like doing a free detox for the mind, body, and soul. To take that nature element to the next level, stop at Mashomack Preserve, a 2,100-acre wonderland with ten miles of coastline, creeks, forests, salt marshes and quiet meadows owned by the Nature Conservancy. You'll have to leave your bike at the rack near the preserve's visitor center before hitting the hiking trails, which can be quick and easy (1.5 miles) or lengthy and rigorous (11 miles). I went for the less intense option, but did not feel like I missed out on any of the spectacular lushness. Keep your eyes peeled for Ospreys, large quirky-looking birds that nest in the preserve.
Eats and Arts
The train ride is long, and the ocean air salty, so you'll be craving something upon docking. Head up the hill toward the massive Chequit Inn, where you'll find a few shops and restaurants. Bite into tasty panini, salads and snacks at the Sunflower Market on Grand Avenue; the turkey option with fresh mozzarella and sun dried tomato spread is perfectly toasty and satisfying.
Back at the bottom of the hill, stock up on picnic lunch items, or sit down and dine at one of the outdoor tables at Reddings Fine Food, owned by Ann Redding and Matt Danzer, two former New York City chefs who met at Per Se. The couple's market recently reached its one-year anniversary, and they're planning to host community wine dinners come fall "to extend the season," said Danzer. "We both miss that restaurant atmosphere." Reddings has a tempting selection of lunch sandwiches—like the BBQ pork with sweet pickle slaw or crab cake sandwich—various fish tacos and a Kobe beef burger on the menu. Salads put unique twists on old favorites, such as the PLT, prosciutto, arugula and tomato. Reddings also has house-made sushi and pizza, plus a huge selection of gourmet prepared foods.
For dinner, the Vine Street Cafe is a favorite of locals and the occasional celebrity, and boasts a crispy duck confit that is "to die for" according to one local fan.
If you've got the energy to head back across the water to Greenport, there are tempting Italian-inspired dinner items and creamy gelato at D'Latte, at 218 Main St. The ravioli filled with arugula in a light and flavorful broth, followed by a cup of hazelnut gelato, is a pleasant way to end a day of bike riding.
How to get there: Board the Long Island Railroad at Penn Station. Shelter Island is accessible via ferry at either the South end (at Bridgehampton station) or North end (at Greenport station). We suggest heading to Greenport since the LIRR stops only steps from the North Ferry station (Bridgehampton station is about seven miles from the ferry and buses between the two run only twice per day). If you need to rent a bike, arriving at the North end is more convenient. The train ride is about three hours long, and allows glimpses of the lush Long Island scenery and vineyards.
Roundtrip train tickets to Greenport cost $28 off-peak, $37 peak. Be aware that on weekends, trains run only twice, around 9 a.m. and 2 p.m. On weekdays, trains run two or three times, but only in the evening. The approximately ten-minute ferry ride from Greenport to Shelter Island costs $12.
Photos: Courtesy of Sunset Hotel