If you've ever fantasized about taking a trip down South and eating your way through, consider North Carolina. The state is currently brimming with breweries, independent food producers, and a vibrant array of restaurants. Your first stop? Raleigh.
With less than a two-hour flight from NYC and a highly walk-able downtown area, the intrepid eater can explore endless hyper-local flavors that have yet to make it to Yankee territories. To whet your appetite, here are five places to eat in Raleigh, North Carolina—plus some drink recommendations on what's tasty right now.
Chuck's
A visit to Raleigh without eating at one of local celebrity chef Ashley Christensen's restaurants is like going to the Grand Canyon and not taking any pictures. Skip Poole's Diner, which will have lines for days outside, and hightail it over to one of her single-focus joints, such as Chuck's (burgers and frites) or Beasley's Chicken & Honey (fried chicken, natch). The minimalist décor at Chuck's means all eyes are on the plate. And, really, you can't go wrong with any of the house-ground, all-beef patties. But vegetarians will have their minds blown ordering The Last Word with a homemade veggie burger. Topped in Sottocenere truffle cheese, shredded dinosaur kale and hazelnut vinaigrette, it was so good I nearly ordered a second to put in my purse. ac-restaurants.com, 237 S. Wilmington St., 919.322.0127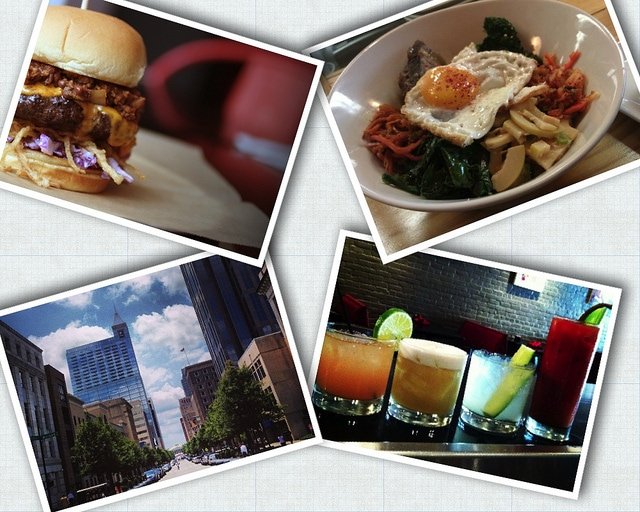 Foundation
Set below street level in a cool, dark space flaunting exposed brick, pipework, and stone, Foundation bar can almost feel like "a modern bootlegger's basement," as a friend observed. But for its entire rustic atmosphere, the refreshments on offer at Foundation are meticulously prepared. Whether relaxing after a Taste Carolina walking tour or kicking off an evening of Southern debauchery, guests can choose from a curated selection of craft ales, Carolina moonshine, or old fashioned whiskey drinks. The Basil Smash, an aromatic cocktail combining Bourbon and lemon, is particularly delightful. foundationnc.com, 213 Fayetteville St., 919.896.6016
Gravy
This Italian-American restaurant in Downtown Raleigh is popular for its light, fresh take on traditional red-sauce cuisine. Executive Chef Brant Hopkins highlights nearby farms in various pasta dishes using local beef and chicken, as well as pork for a house-cured prosciutto. On a recent visit, the arugula salad topped with asparagus, pine nuts, tomato and shaved Parmigiano then dressed in a lemony vinaigrette competed with the sun, which drenched the expansive outdoor patio. gravyraleigh.com, 135 Wilmington St., 919.896.8513
Kimbap Café
While no one can deny the merits of a traditional North Carolina pig pickin', sometimes one craves food other than BBQ. Venture beyond the smoke pits, and walk over to Seaboard Marketplace for a taste of chef/owner Kim Hunter's home-style Korean specialties made with—you guessed it!—local produce, such as quick-pickled Kimbap rolls, kimchi rice studded with fresh shrimp or mandu dumplings stuffed with meat to be dipped in a chili-flecked sauce. Hunter also offers a selection of sweet wines and beers. "I like to pair a Riesling with many of the dishes because they complement the heat in many of the dishes I make," she says. kimbapcafe.com, 111 Seaboard Ave., Suite 118, 919.900.8053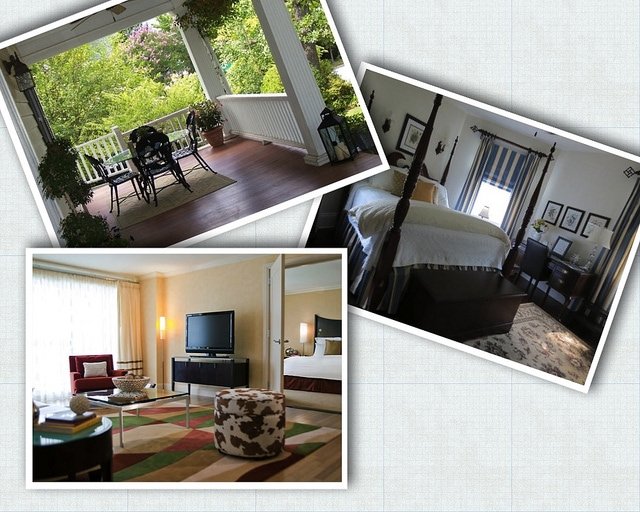 The Bottle Shop at Tyler's Taproom
Brewgeeks will go ape sampling various suds inside of Tyler's Taproom, a North Carolina chainlet that recently opened its newest outpost in Raleigh. And if you're the type who likes to smuggle exotic sips home inside of your carry-on—The Bottle Shoppe next door is just the thing. Manager Jason Cole is positively effusive in his love of all things fermented and opens different bottles daily for generous in-store tastings, like the recently discovered Brasserie Lebbe L' Amaltheé. "I just want to lock myself in a closet with a candle and enjoy all of the different flavors going on with this," he muses. You will too. tylerstaproom.com, 18 Seaboard Ave., 919.322.0908
Where to stay: For those who enjoy cycling as they explore, check out the Renaissance Raleigh North Hills (from $179). Though located a little further away from the culinary action, the hotel includes a 24-hour gym, adorable Aveda toiletries, and spacious, modern amenities. If you'd prefer to be closer to the Amtrak station, try the Cameron Park Inn, an independent B&B located five minutes from the station and the greenest bed and breakfast in Raleigh. Consider booking the customizable date night package (from $185 on Saturday), which includes a carriage ride around town or to Second Empire for dinner. A $75 meal certificate comes with the package.
For more information on things to do in between meals, like exploring the beautiful North Carolina Museum of Art, browsing for edible souvenirs at the farmers market and riding the best bike trails, go to www.visitraleigh.com.
How to get there: Consult oM's transit guide to Raleigh for the best car-free directions from NYC.
Photos: counterculturecoffee, dtraleigh, Foundation, Visit Raleigh, Cameron Park Inn, Renaissance Hotel