Cory Booker, newly elected New Jersey Senator and budding superhero, recently answered a suite of questions during his second Reddit AMA, fielding queries ranging from the stability of Newark and the influence of Harriet Tubman to the cuteness of baby sloths.
The one that caught our eye was his video response to a question about his "favorite place to grab a bite." Asked to name one, soon-to-be Senator Booker proceeded in "speed round" fashion to heap praise on dozens of Brick City eateries, including Fornos ("I love"), Hobby's Deli ("On my god, Hobby's is the Best"), Andro's Diner ("My favorite diner of all"), Assaggini Di Roma ("I would let someone punch me in the gut if afterwards they gave me their eggplant rollatini, which is phenomenal") and Applebees ("This Applebees has character, has flavor, has a Newark panache").
Taking the lead from Mr. Booker, grab a bite to eat during a day trip to Newark, where jet-setters will find this city has a lot more to offer than its runway. Here are a few more suggestions to make your visit a "fantabulous" and "scrumptimonious" (Booker's words, not ours) time.
What to See
Branch Brook Park
Fans of Central Park and Prospect Park will find a lot to love about Newark's 360-acre Branch Brook Park, also devised by Frederick Law Olmsted. Visitors come for its iconic Prudential Lions sculptures, unique bridges, and 4,300 cherry blossom trees, the largest collection of cherry blossom trees in the country. Bring your bike on the PATH train and pedal under pink canopies and along four miles of well-maintained paths. Order a pastrami sandwich from Hobby's Deli and picnic in the park.
Riverfront Park

At the end of the summer, Cory Booker opened the stunning Riverfront Park along the Passaic River. "Newark's long and vibrant history began at the Passaic River in 1666. More than 300 years later, we have come back to the river, graced with renewed glory, to return it to our residents and visitors as a park," said Booker. Once a contaminated dump, the site is a stunning new green space, with paths for walking and biking. The public park is also used as an outdoor learning, community and performance venue, and is connected to a floating dock for boat access.
Cathedral Basilica of the Sacred Heart
Close to the park on its east side (about a 10 minute walk from the nearby Park Ave Newark Light Rail Station), Cathedral Basilica of the Sacred Heart is another beautiful Newark sight. Featuring grand architecture, white granite façade, interior stained glass windows, towering ceilings, and ornately carved stone work, Sacred Heart is America's fifth largest cathedral.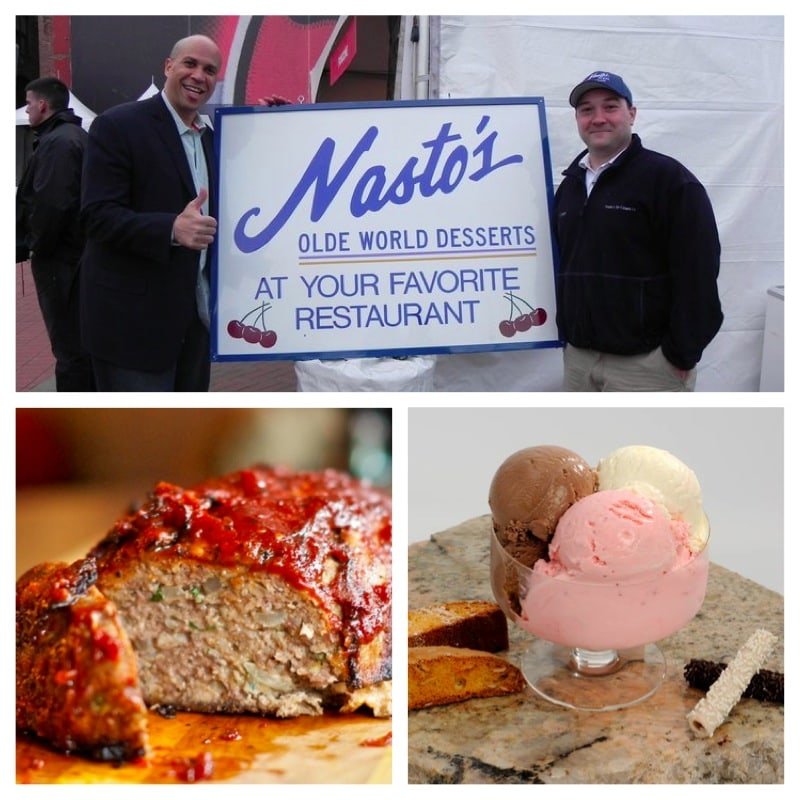 Newark Museum
Next, move your way back downtown and check out the city's largest and most eclectic museum. The wide ranging collection boasts pieces of decorative art, Asian and African art, paintings by Mary Cassatt, Edward Hopper, Georgia O'Keeffe, and classical art from Egypt, Greece, and Rome. Its collection of Tibetan art, including one Buddhist altar consecrated by the Dalai Lama, is among the best in the country. The museum also hosts a planetarium, garden, and the Newark Fire Museum, a treasure trove of great attractions for both families and the solo visitor.
New Jersey Performing Arts Center
End the day with a show at New Jersey Performing Arts Center (NJPAC) or root for Newark's hometown sports team: the New Jersey Devils. Past performers at NJPAC include the New Jersey Symphony, Herbie Hancock, Elvis Costello, Jerry Seinfeld, and the Royal Danish Ballet.
What to Eat

A good one-two option is Andro's Diner followed by some Nasto's Ice Cream, Booker's favorite in New Jersey. Both can be found in the Ironbound District, an eclectic neighborhood just recognized by the New York Times as a restaurant bastion, home to a host of interesting fare, especially Italian and Iberian cuisine.
How to get there: Take the PATH train from 33rd Street and arrive in Newark in 35 minutes.

View Day Trip to Newark in a larger map
Photos: Wasabi Bob, Hopefoote, bfaling