Tucked away in the Green Mountains and home to Vermont's only national park, Woodstock is a dreamy town whose New England character has been preserved, thanks in part to the Rockefeller family's establishment of The Woodstock Foundation. Using the Woodstock Inn & Resort as my home base for the weekend, I was delighted to find that through the foundation, much of the 19th century architecture and a rural feel still survive.
Though the region now relies heavily on tourism, numerous working farms and artisan workshops provide great destinations for travelers interested in experiencing local life. Woodstock is home to myriad boutiques for those antiques lovers looking to tinker with one-of-a-kind goods. Fine iron and woodwork, lace trimmings, vintage toys and other knick-knacks fill old, well-maintained barns and houses where tourists are warmly welcomed by jovial, knowledgeable shopkeepers. Offering many seasonal activities and an easy car-free trip from New York City, Woodstock is a wonderfully relaxing escape from a fast-paced city life.
Where to eat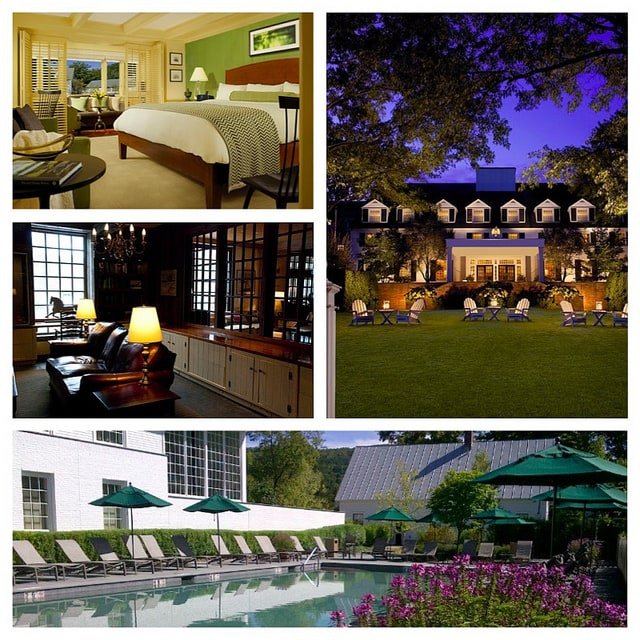 For a casual breakfast or lunch, try the Mountain Creamery Restaurant. The menu features items made from scratch and hearty staples such as roast beef, hamburgers and barbecue brisket all sourced directly from local farms. Cloudland Farm hosts BYOB table-on-farm dinners Thursday and Saturday evenings. For those who can't make it to dinner, the farm sits on the Appalachian Trail and welcomes hikers to pass through and take photos with the animals or enjoy fresh goods from the farm's Country Market such as natural Angus beef steaks, ground beef, roasts, beef sausages, beef jerky, pickles, jams, maple syrup, bread boards, and hand-turned wooden bowls made by local artisans. The Woodstock Inn & Resort is home to The Red Rooster, a AAA Four Diamond rated establishment featuring traditional items such as New England clam chowder and grilled filet mignon as well as scallops, shrimp and a wide selection of wines. Reservations are recommended at this popular spot.
Where to get active
In the warmer months, there's horseback riding, canoeing, kayaking, fishing, golf, river swims, and an array of beautiful bike paths that connect the surrounding towns. Borrow one of the hotel's new complimentary cruisers or rent a performance mountain bike from their Activity Center. Rest assured, out here in bike country, amidst the cows, big red barns, rolling hills, and grand green pastures, you can't pick a bad route. Hikers can take advantage of the Marsh-Billings-Rockefeller National Historical Park, offering over 45 miles of carriage roads and hiking trails that wind through 400-year-old hemlock forests as well as a Junior Ranger Program for kids.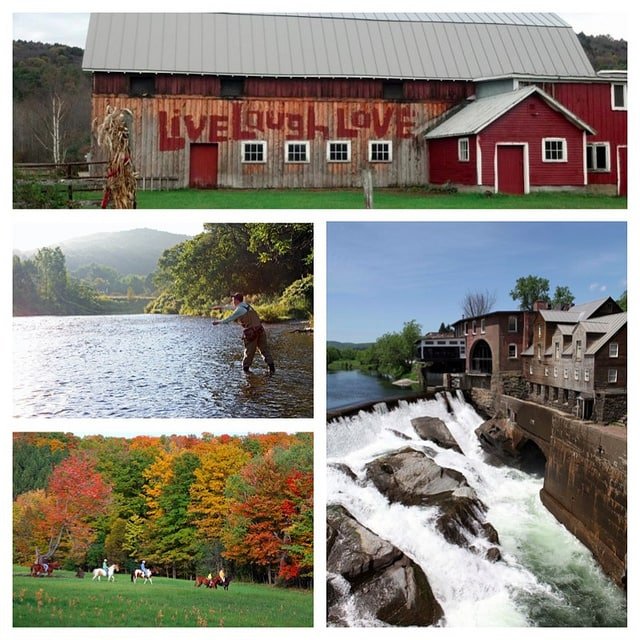 About a mile south of the village, the Woodstock Inn's Athletic Club is easily accessible by bike or the Inn's shuttle service. The facility has indoor and outdoor tennis courts, racquetball courts, a 30×60 foot indoor lap pool, a whirlpool, a steam room, a sauna and a fully-equipped, air-conditioned workout room.  For those who enjoy group sports, the Inn organizes softball, kickball, volleyball, horseshoe and other activities on its outdoor courts and fields. An 18-hole golf course, the oldest in Vermont dating back to 1895, is also open to the public.
Beyond Woodstock, neighboring sites also offer great summer options. The Quechee Gorge is located seven miles east of town and is referred to as the "Grand Canyon" of Vermont. Horse enthusiasts can check in on the local equestrian scene at the Green Mountain Horse Association or go for a scenic gallop with Kedron Valley Stables.
At the Woodstock Inn's stunning spa, warm up in a wood sauna, sit by the fireplace, indulge in a gentle Swedish massage, and relax in an outdoor soaking pool. Book the spa package, which includes overnight accommodations, $100 spa credit, and a delicious farm-to-fork breakfast for two at Red Rooster. For those looking for outdoor activities in the winter, the local family-friendly downhill ski destination, Suicide Six, has 23 trails, a lodge and offers full and half-day passes at reasonable rates. Adventure seekers can also get their downhill fix just a few miles away at nearby top-rated New England ski areas, Okemo Mountain and Killington Resort. The Woodstock Inn's Nordic Center caters to cross country skiers by maintaining about 37 miles of trails in the area and offering equipment rentals, maps and lessons.
Where to unwind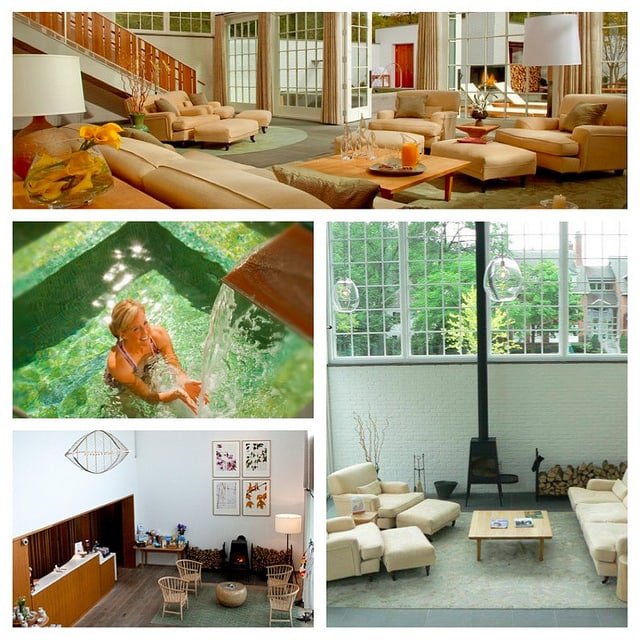 Learn about the history of the region through attractions like The Billings Farm & Museum, part of the Woodstock Foundation and a working dairy farm where families experience what rural life in Vermont was like in the late 1800s. Kids will witness first-hand how to care for cows, sheep, horses and chickens and observe afternoon milking in the barn in addition to other special events throughout the year. Learn about native bird species at the Vermont Institute of Natural Sciences (VINS), a rescue center for around 20 species of raptors. Children with a love for science will enjoy the interactive Montshire Musuem of Science in nearby Norwich. The museum includes nature trails and day camps for kids. For history buffs, President Calvin Coolidge State Historic Site in Plymouth, Vermont allows visitors a glimpse into the birthplace of the former president as it was in the late 1800s. A 30-minute drive from town, Dartmouth College's Hopkins Center for the Performing Arts regularly offers evenings of music, theater, art exhibits and other cultural events.
Woodstock Inn has 142 tastefully renovated guestrooms from $149-365 and suites from $250-660. If visiting during the cooler months or looking for a romantic fireside night, be sure to book one of the Tavern Fireplace rooms. During spring and summer, whether lounging throughout the well-groomed lawns or by outdoor fire pits, guests will find themselves dreaming about their next getaway back to Woodstock.
Consider scheduling your visit to the resort in conjunction with events like the Green Mountain Literary Festival or air balloon adventure. Check out specials like Wake up in Woodstock, offering one-night accommodation, a hearty country breakfast and a bottle of Vermont maple syrup to take home. Rates start at $255.
How to get to Woodstock, VT without a car
There are several ways to get to Woodstock without a car. Vermont Transit/Greyhound Bus Lines offer service to White River Junction, about 11 miles from Woodstock, with connections along the way that extend the trip time to almost 8 hours with tickets costing about $62 one-way. AMTRAK's Ethan Allen Express delivers passengers to White River Junction from NYC, Philadelphia and DC. One-way trips from NYC cost around $55 and take about 6 ¾ hours. The Dartmouth Coach offers daily, direct service between New York City and Hanover, New Hampshire with one-way tickets starting at $60. The trip is approximately 4 ¾ hours and all coaches feature wifi onboard. From Hanover, visitors can get a taxi to Woodstock or arrange with local accommodations for a pick-up. If you fancy a road trip, consult oM's guide to renting hybrids in NYC.

View Getaway to Woodstock, Vermont in a larger map
Photos: Amanda Coen, Woodstock Inn, Benjamin Haas, WickedVT