As a host of several travel web shows, I'm used to exploring new cities, and when I'm in my home of New York City, I treat it like I would a new destination. I am always on the lookout for cool events, interesting new restaurants and fun ways to spend an afternoon with friends.
I love giving tips on how to make the most of this incredible city, so here are some of my standby favorites. I can vouch for each location and venue and have been to all many times. Maybe I'll see you there?
New York City

1. Smorgasburg | smorgasburg.com
The in-the-know crowd gather on Williamsburg's waterfront for an open air food market every Saturday in the summer. Inside, browse the stalls and take your pick from an overstuffed lobster roll to a made-to-order wood fired pizza to decadent homemade donuts. Don't miss the Dulce de Leche donut. For a unique way to get there, take the East River Ferry instead of the subway. You'll be able to see the food fair as you approach the Williamsburg stop. It's cheap & scenic too!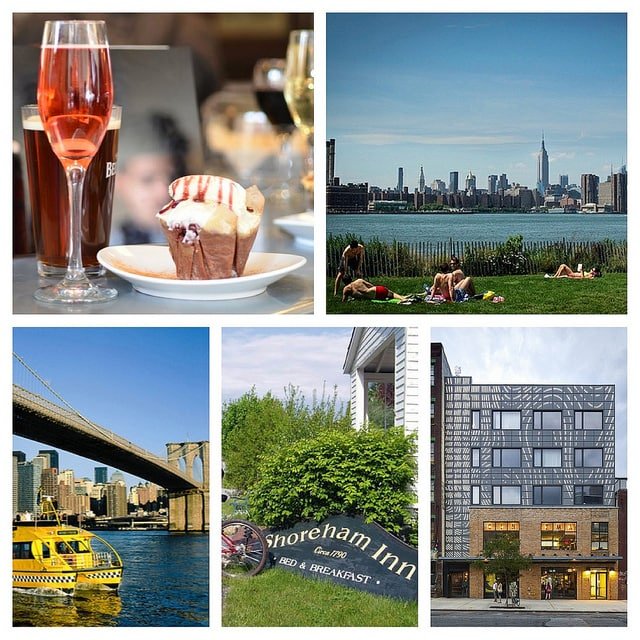 2. Sweet Revenge | sweetrevengenyc.com
New York City is synonymous with cupcakes. Tourists and locals flock for this cute sweet fix, and I've found that the BEST cupcake this side of the Mississippi is at Sweet Revenge, a cupcake wine bar. The Red Velvet riff includes raspberries baked into the moist cake with an ample frosting topping. (Watch the video below to whet your appetite.)
3. Chelsea Market | chelseamarket.com
Rain or shine, I love to go to Chelsea Market just to spend a leisurely afternoon. The gems inside this food hall include Fat Witch brownies, an Italian grocery store, Jacque Torres chocolates as well as a handful of great restaurants. I'd recommend nabbing some bread from Amy's, cheeses from Lucy's Whey and a bottle of wine from the wine store. Pop it and have your own picnic if you can snag a free table. Also, keep your eyes peeled for the Food Network stars that shoot on the upper floors.
4. Christopher Street Pier
The "beach" of Manhattan, this grassy pier is fun for a daytime picnic or a romantic sunset. There's often free film screenings or dance lessons and the people watching is fantastic. For a spontaneous jaunt, get a Hop-on/Hop-off ticket for $27 and cruise the Hudson River, enjoying views of Governors Island, the Statue of Liberty, Brooklyn Bridge, on the NY Water Taxi.
5. Nitehawk Cinema | nitehawkcinema.com
This old fashioned theatre in Williamsburg shows new movies and old classics, and pairs them with themed dishes and an excellent bar selection. Now that is the best way to enjoy the Hunger Games.
Beyond New York City
1. Jersey Shore
It's not only Snooki that loves the Jersey Shore, and for good reason. The uncrowded beaches are clean and the atmosphere is laid-back summer fun. There's even a bit of a surf culture. It's also fairly easy to get there by train or ferry. If you are up for an interesting time, the nightlife on the boardwalk can be quite entertaining. For a quick romantic getaway, read oM's guide to Spring Lake.
2. Sag Harbor
It's no secret that the Hamptons are beautiful but my favorite town out East is Sag Harbor. The water plays a huge role in this town, with restaurants such as A Mano right on the bay. They often have markets in the summer and a very colonial New England town for great shopping. Read oM's guide to Sag Harbor for a weekend getaway itinerary.
3. Shoreham, Vermont
A six-hour drive north puts you in the rolling hills of Vermont's western side. Usually, once a season I crave a Vermont fix, and Shoreham is the perfect fall weekend destination. Stay at the bike-friendly Shoreham Inn, pick apples at Shoreham Orchards and eat at American Flatbread in Middlebury. Relax, revive and rejuvenate in this natural haven.
Kelley Ferro is a NYC-based writer and travel host at Tripfilms.com. Follow her at @kelleyferro.