Money can buy you lots of things, but you don't need much of it to have family fun in our nation's capital, where the best activities are absolutely free. With many government employees clearing out on weekends, hotel rates plunge, so scoring a bargain-priced room is a snap.
Despite the density of museums and sites, Washington is surprisingly uncluttered, with an abundance of parks and airy gardens that seem strategically placed so that fidgety kids can let off steam. This spring, get the kids packed for a budget-friendly getaway to America's capital, where the cherry blossoms will be in full bloom by April 4.
1. National Zoological Park | nationalzoo.si.edu

Parents of early risers start cheering, the zoo grounds open at 6 a.m. Though exhibits remain closed until a civilized 10 a.m., many animals roam outside of their enclosures in the early morning. This gloriously un-crowded time of day is when you can expect to view cheetahs, wallabies, zebras and tigers as you stroll the 163 landscaped acres. The concessions are closed, so purchase your adult caffeine fix at the Starbucks across the street from the Connecticut Ave. entrance. Stay until 10 a.m. and say good morning to giant pandas Mei Xiang and Tian Tian, the zoo's most popular residents.
Metro: Woodley Park-Zoo, plus a four block uphill walk.
2. The Kennedy Center Free Nightly Performance | kennedy-center.org
The Millennium Stage offers free performances each evening at an hour that couldn't be more bedtime friendly, 6 p.m. It is all part of the "Performing Arts for Everyone" initiative. Visitors can enjoy artists as they showcase their talents in music, dance, theater, and more. Seating is on a first-come, first-served basis. Check the schedule for performers with kid-appeal.
Metro: Foggy Bottom
3. The United States Botanic Garden | usbg.gov

With its under glass Conservatory, lush with orchids and a tropical rainforest, the garden is perfect for families to explore even on the frostiest winter day. In temperate months kids have their very own Children's Garden, offering hands-on activities and space to roam. Kids can pick up a Junior Botanist backpack to boost the fun level and a Family Field Journal to record their observations, both available free at the entrance. Your family will leave better informed about the importance of plants to the earth's fragile balance.
Metro: Federal Center
4. Bureau of Engraving & Printing | moneyfactory.gov
What kid wouldn't want to visit a place nicknamed the "Money Factory"? You will see sheets of bills being printed, cut and stacked for circulation. The fast-paced tour is under an hour and commences with a film before you move on to the large viewing windows that allow you to see the inking process, but linger for as long as you like. Open Monday-Friday, with the last tour staring at 2 p.m. Adults will need a valid photo ID to obtain a tour ticket, which is required during peak season, March-August.
Metro: Smithsonian
5. National Air and Space Museum | airandspace.si.edu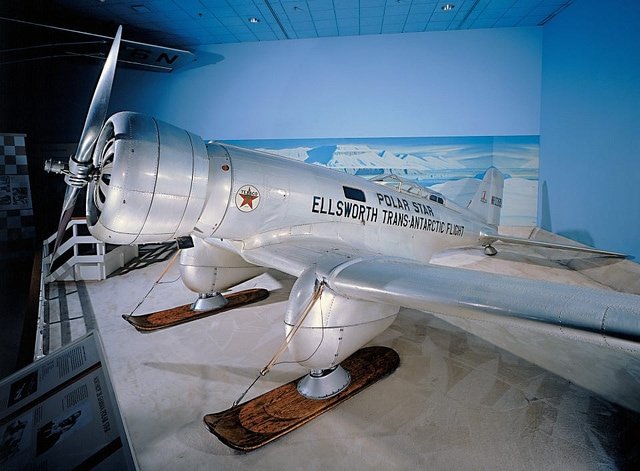 The most popular of the Smithsonian museums, it is home to the world's biggest air and spacecraft collection. The history of flight, from the Wright brothers to outer space, is chronicled. Dozens of aircraft artifacts dangle before your eyes, and interactive kiosks immerse you in the flight experience. The entire place is a child's fantasy, but of special interest is "How Things Fly", which explains the basic principles of flight in a hands-on fashion.
Metro: Smithsonian or L'Enfant Plaza
6. National Museum of the American Indian | nmai.si.edu
A visit here encourages a look beyond the classic stereotypes of those indigenous to the Americas. Many of the 3,500 objects on display are kid-friendly, including a spectacular collection of dolls, but best of all is the colorful and spacious "ImaginiNations Activity Center." Kids have their own space to explore Native peoples innovations and inventions by engaging in hands-on activities. Weave a basket, sit in a life-sized tipi or create music using Native percussion instruments. When hunger pangs kick in, the Mitsitam Cafe offers treats such as traditional fry bread, sweet potatoes, and buffalo burgers, further enhancing the museum experience through your palate.
Metro: L'Enfant Plaza
7. National Museum of American History | mnh.si.edu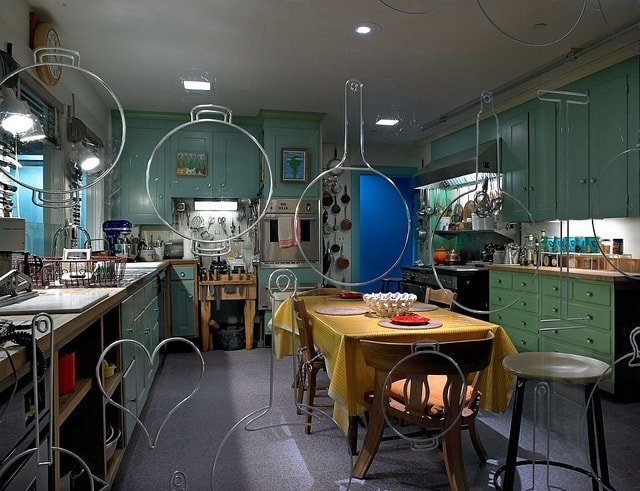 America's history and culture is told through everyday artifacts that have significance to our society. Budding movie buffs will covet Dorothy's ruby slippers, tween fashionistas will go gaga over Michelle Obama's white chiffon inaugural ball gown, tiny foodies will salivate as they see Julia Child's actual home kitchen (pictured) and everyone should find Kermit the Frog adorable. For a dash of patriotic pride have a look at the original Star Spangled Banner. Hands-on carts are sprinkled throughout the museum, and the "Invention at Play" exhibit explores the minds and habits of inventors in a highly participatory way.
Metro: Federal Triangle
8. National Museum of Natural History | mnh.si.edu
Take a great natural history museum and supersize it, and you have the National Museum of American History. A giant dinosaur hall, an insect zoo and a please-touch discovery room are just the warm-up for the gems and minerals.  This sparkling collection is anchored by the 45½- carat Hope Diamond. Even if diamonds are not your child's best friend, they should be impressed by the display of moon rocks and massive meteorites. If you're planning a trip for after Inauguration, Orchids of Latin America will be on display January 26-April 21, 2013.
Metro: Smithsonian
9. Free Tours by Foot  | freetoursbyfoot.com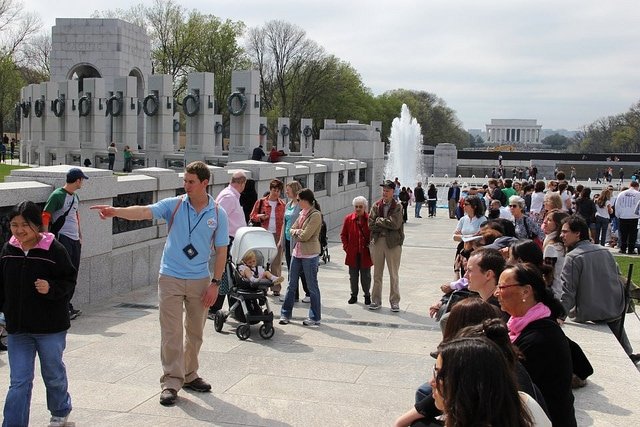 See the sites of the capital on this free, fully guided, tip-based walking tour. You can choose from a variety of itineraries. If you select the two-hour National Mall Tour you will hit several important memorials, including the Jefferson, Lincoln, Vietnam Veterans and WWII, plus the Capitol building. These tours are popular with families and are stroller-friendly. Advanced reservations are required.
Metro Stop for the National Mall Tour: Federal Triangle
10. Sunday Drum Circle
Malcolm X Park (aka Meridian Hill Park) is a luxuriously landscaped park with a dramatic, 13-basin cascading fountain as its centerpiece. Each Sunday starting at 3 p.m. until well after sunset, the soothing sound of running water blend with the rhythmic beat of congas, bongos and tambourines when the weekly drumming circle gets going. Music, dance and merriment under the tall oak trees are open to all ages, and kids are often the star of the show, so don't be surprised if your shy wallflower cuts loose with an uninhibited groove.
Metro: Columbia Heights
Where to stay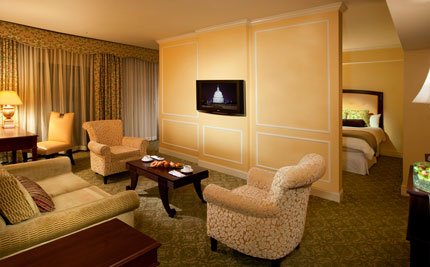 The Omni Shoreham is a large hotel with a family-perfect location. Leafy and sprawling Rock Creek Park is out the back door, the Woodley Park-Zoo Metro stop is adjacent and the zoo is a few blocks away. The kids will love the seasonal outdoor pool and park-like grounds, but you can be in the thick of urban delights in a jiffy by riding the Metro a few stops. The breakfast buffet at Robert's includes a gluten-free station. The Zoo Package (from $197) includes overnight accommodations, a stuffed panda, activity book, scavenger hunt, free admission to the National Zoo, and free breakfast for kids under 12. Check the hotel's website for discounted weekend rates.
Metro: Woodley Park-Zoo
Where to eat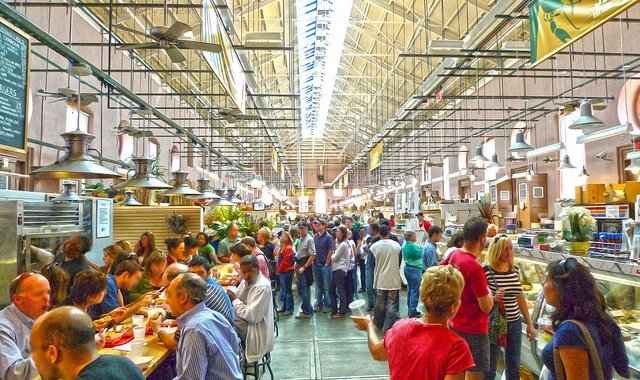 Ben's Chili Bowl is this town's most iconic eatery.  Unabashedly lowbrow, lines form at all hours to get a bite of the succulent hot dogs (try the popular half-smoked) smothered with savory homemade chili.  One bite and your kid may never again be satisfied with your local street vendor's frankfurter.
Metro: U Street/Cardozo
Capitol Hill's historic Eastern Market has been in operation since 1873.  On weekends, farmers, food trucks and craftspeople sell their wares outside. The indoor merchants are open for business every day except Monday. Locals and tourists line up for a casual breakfast at the Market Lunch counter, where the famously fluffy blueberry buckwheat pancakes will satiate all sizes of hunger pangs.
Metro: Eastern Market
Pitango Gelato is located one block from the market. Organic, fresh ingredients combine with traditional Italian techniques to produce a bevvy of luscious artisanal flavors. In winter, the steaming hot chocolate is a treat.
Metro: Eastern Market
Getting around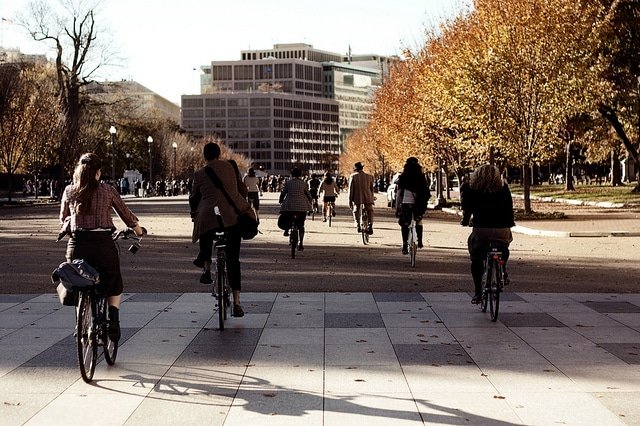 The District is best explored without the hassles of a car. The Metro, free for kids under five, is clean and efficient, with escalators making exits and entrances easy in spite of the stroller, diaper bag and child that you are lugging. Two-wheel transportation is a great way to see the sites. Capital Bikeshare makes it affordable and convenient, thanks to their fleet of nearly 2,000 bikes at 175 stations. The seats are adjustable, so older kids should get a good fit.  If you need tandem, kid-sized cycles and helmets, check out Bike and Roll, pricier but accommodating a wide variety of cyclists who want to pedal the flat terrain.

Getting here
Megabus takes four-five hours and doesn't offer special rates for kids, but with fares so low for all ages, you won't miss the discount. Both Amtrak and Megabus arrive at Union Station. If you choose to ride the rails, Amtrak will get you to D.C. from Penn Station in three hours, and kids 2-15 travel at 50% off the adult fare.

View Family-Friendly Getaway on a Budget to DC in a larger map
Photos in order: Peter Olson of imagiNATIONS Activity Center's tipi, Jim Jenkins for Smithsonian's National Zoo, USBG, National Air & Space Museum, National Museum of American History, Omni Shoreham, zachstern, @heylovedc

Allison is a native New Yorker, who has lived in Rome, Tuscany, Melbourne, Toronto and Los Angeles. She frequently contributes travel pieces to Family Travel Forum, using her own children as guinea pigs as they travel the globe. She is fluent in Italian and Spanish and laughably adequate in French. Her background as an Early Childhood Educator gives her an added understanding of what it takes to travel with kids in tow. She firmly believes that the most important part of education takes place outside of the classroom, on the road, around the world. She never misses a chance to sample local delicacies, as her love for travel goes hand-in-hand with her love for food and wine. Follow Allison at @gourmetrav.