In a small town north of Rhinebeck, the authentic flavors of Italy are brought to the table by way of two passionate owners. Should you find yourself in Red Hook (upstate New York, not Brooklyn), make your way to Market Street, where Mercato Osteria & Enoteca serves Italian country fare that easily evokes a Tuscan sense of refined simplicity and appreciation for local ingredients. The place is inside a country-style house with a front porch, playing nicely off the sophisticated dining room inside.
Led by husband and wife duo, Francesco Buitoni and Michelle Platt, Mercato sprang from the couple's first co-venture, Mercato Tivolio, a quaint shop behind the Red Hook Country Inn that sold fresh pastas and panini.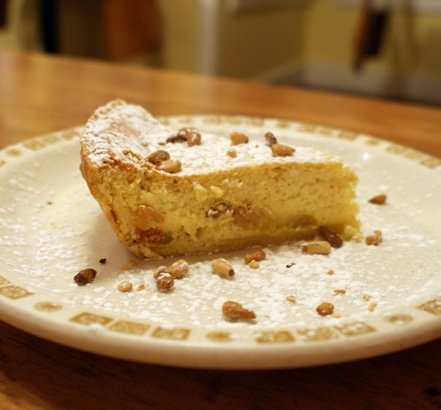 Buitoni, a seventh-generation descendant of the Buitoni Pasta and Perugina Chocolate family, hails from Rome, where food and cooking are intertwined in almost every aspect of life. Mercato reflects that devotion to the connectivity of life and food, due in part to the stylishly warm and inviting interior that makes it a challenge to have to rejoin the outside world at the end of a meal. Buitoni often emerges from the open kitchen to schmooze with his guests, upping the degree of hospitality—which can be partly attributed to Platt, a former filmmaker with an eye for design.
The seasonal menu changes in accordance with fresh market offerings, and touts selections of antipasti, salads, pasta dishes and main courses, each plate emphasizing Buitoni's simple Tuscan preparations that allow individual ingredients to shine. A chicken liver bruschetta is pan seared and accented with richly aged balsamic vinegar and aromatic sage leaves for a delicious depth of taste and texture. Even the salads reveal fine-tuning and attention to detail. A plate of greens from Sky Farm, a gourmet salad mix specialist near Millerton, NY, is dressed with a red wine emulsion and flecked with creamy ewe's blue cheese, almonds and refreshing slices of red pear.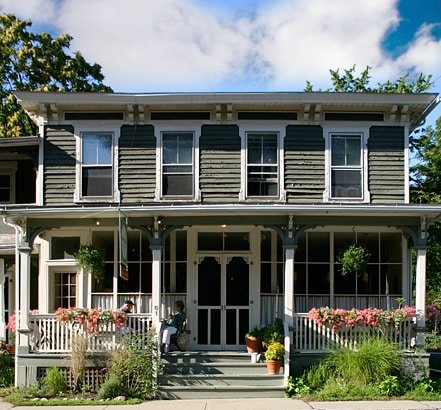 The generous plate of Bucatini Carbonara made with creamy local eggs was enough for our table of two, perfectly al dente and dusted with just the right amount of addictively sharp pecorino. For a main course, a subtle white cod over a light, savory broth of lentils and wilted greens left me craving more Hudson Valley-grown vegetables. On another visit, I fell for the tuna belly appetizer, a refreshing alternative to pig that was gently poached in olive oil for a hint of nuttiness, and served with exquisitely firm heirloom cannelini beans, tangy arugula and fennel. The tuna belly was pink and lovely, and its flavor was gentle enough to agree with a range of palates.
On a recent Saturday evening, the place was packed with patrons who seemed so at ease that it was impossible not to feel charmed into the same jovial mood. The young waitstaff and bartender were unfazed by the steady stream of customers strolling through the front door, and kept busy delivering second orders of thin, crispy garlic toast, and copious glasses of wine—all Italian, naturally.
How to get there: Take Amtrak from Penn Station to Rhinecliff Station. Taxis are usually available at the station, or call Rhinebeck Taxi 845.876.5466 or 845.876.6600 for a 15 minute ride to the restaurant. (Mercato Osteria & Enoteca, 61 E. Market Street, Red Hook, NY, mercatoredhook.com)

Photo: Courtesy of Sarah Amandolare