If you're looking to cool off this summer, but don't have the time or the money for a beach retreat, there are plenty of places right here in the city that are just a train or bike ride away. Throw yourself a pool party at one of the 50 outdoor pools our city has to offer. Swim season begins late June each year and below are some of our favorite (and free!) spots to take a dip in the five boroughs.
Astoria Park Pool | Queens
Take the N or Q train to Ditmars Blvd.–Astoria Station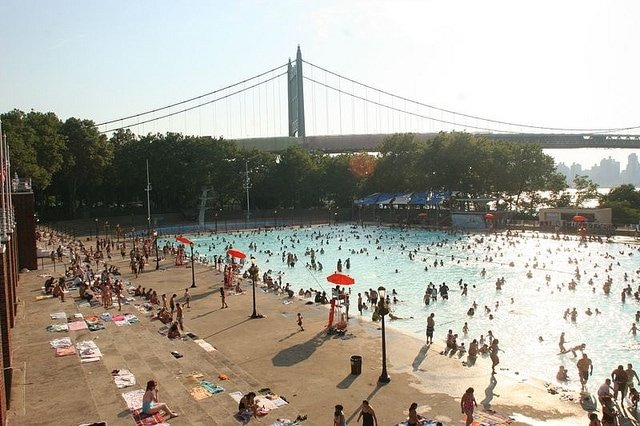 The grandfather of New York City's public pools, Astoria Park Pool is not only the oldest but the biggest of the 50 outdoor pools in our city. Bring your friends and play a lively game of Marco Polo with a spectacular view of the Queensboro Bridge in the background. nycgovparks.org
Barretto Point Park Floating Pool | Bronx
Take the 6 train to Longwood Avenue, the pool is about a mile walk.
Hop on a barge and take a dip in this seven-lane pool. Also known as the Floating Lady Pool, the pool sits on the East River and is open daily and even includes early lap swimming. nycgovparks.org
Brooklyn Bridge Pop Up Pool | Brooklyn
Take the A, C to High Street
A staple since 2012, the Brooklyn Bridge Park Pop-Up Pool opens every summer on Pier 2 for the best views of Manhattan. Currently, the park is exploring a potential permanent pool to replace the pop up.
Douglas and DeGraw Pool | Brooklyn
Take the M, R to Union Street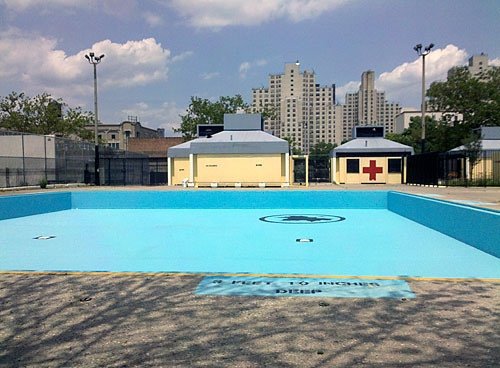 This less trafficked pool is a great place to cool off in the summer and avoid the crowds that some of the other pools usually draw. Fondly nicknamed the "Double D" pool by its regulars, this complex has a big kids pool and a little kids pool. nycgovparks.org
Riverbank State Park | Harlem
Take the 1 train to 137th-City College
Perched nearly 70 feet above the Hudson River, this recreation complex has a variety of pools including an olympic, lap and wading pool. Not a swimmer? Lace up your roller skates and go for a spin in the rink while taking in the views of the Hudson and the George Washington Bridge. nysparks.com
McCarren Pool | Brooklyn
Take the L train to Bedford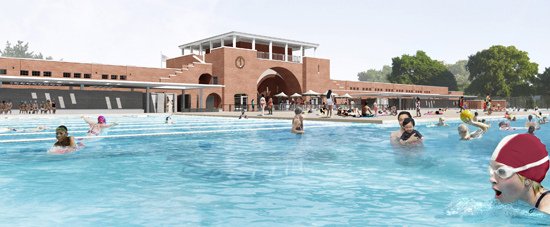 What was once the hipster headquarters of Williamsburg back in the Pool Party days, the McCarren Pool is the neighborhood swimming hole.  A dip in the Olympic-sized pool requires a Rec Center Membership ($75 for the summer) for everyone 18 and above.  mccarrenpark.com
Red Hook Recreation Center | Brooklyn
Take the F, G to Smith/9th St.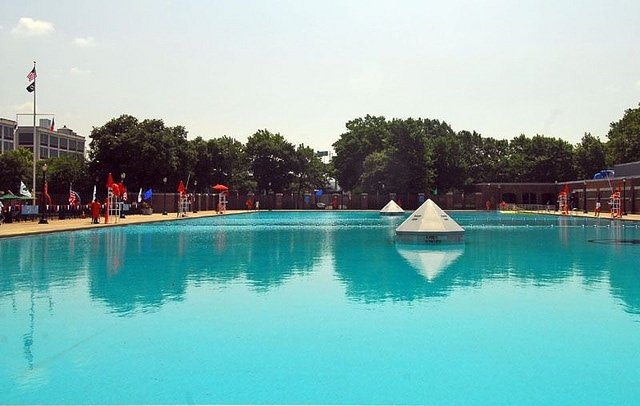 Serious swimmers and kids with water wings will both find something to do at this olympic-size pool with fountains for little ones to splash around in. After sunning and butterfly kicking, enjoy the park grounds and local fare from one of several food carts stationed there. nycgovparks.org
Photos: NYC Parks Department, NYC Parks Department, Friends of Douglass/Greene Park