Norfolk, Virginia has been turning a deeper shade of green lately. This waterfront city's eco-conscious side is coming into full bloom with the opening of its light rail system, the Tide. It gives locals and visitors the possibility to get to the farthest reaches of the city without leaving a carbon footprint. The Tide joins the already popular Net, the free electric trolley system that makes a 2.2 mile circuit around the revitalized downtown. And don't forget to pack your sturdy walking shoes, which will come in handy as you comb the pedestrian-friendly streets that host a vibrant art, music and food scene.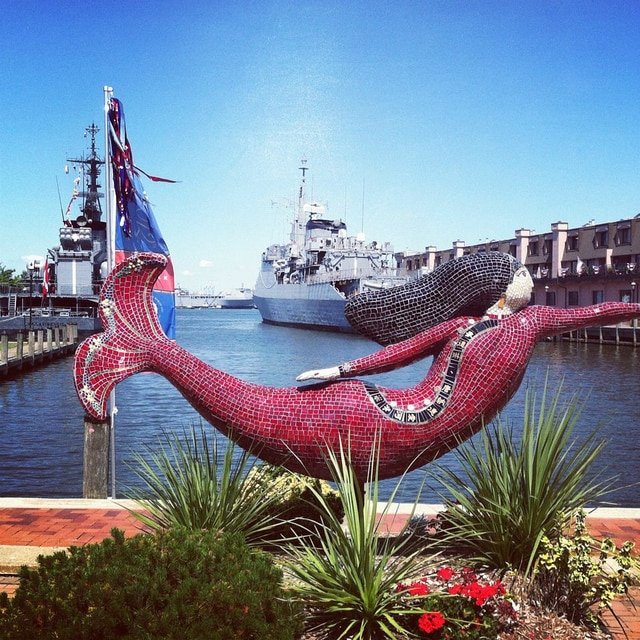 The town has put major efforts into polishing its city center, but maintains an earthiness that keeps its essential salty character. The modern port is the focal point, as the town is nestled where the Chesapeake Bay meets the Atlantic Ocean. If you ever do forget that you are seaside, the town's symbol is the mermaid, and 375 colorful renditions of this mythical lady-sea creature grace the landscape, and pull you towards geographic reality.
Bring Your Appetite
Once known mainly for its Naval base, Norfolk is currently creating waves in culinary circles. If you plan your trip for mid-January, you will be treated to budget- priced menus that are featured during Restaurant Week . Norfolk's location ensures that fresh-caught seafood is a mainstay of many menus. What may surprise you is Norfolk's embrace of an eclectic mix of ethnic eateries that use fresh, local ingredients to create a varied global menu. Two neighborhoods are vibrant hotbeds for ambitious cuisine: Downtown and Historic Ghent.
Downtown's showstopper is Omar's Carriage House. The Moroccan-born owner serves a menu that is inspired by his homeland's rich culinary traditions so prepare to feel transported to a souk in Marrakesh. If you are searching for a local specialty, the she crab soup at Freemason Abbey is award winning. This soup is mid-road between chowder and bisque, loaded with crab, crab roe, milk and flavored with sherry and a hint of cayenne pepper for a touch of heat. It's velvety consistency is simultaneously ethereal yet substantial. For a bit of nostalgia, head over to Doumar's, where the inventor of the ice-cream cone's descendents serve traditional vinegar-based North Carolina barbecue and creamy desserts to fill up those hand-rolled cones. In Ghent, try a meal of small courses at the trendy but low-key Green Onion, where you shouldn't miss the tomato bisque or the artistically- presented cheese platter. After your meal, mosey over to the Naro, an art house cinema that screens indies and golden age classics.
A fun way to sample a variety of what the town's talented chefs are up to is to try one of Coastal Food Tours itineraries. Join a small group of fellow foodies, led by a knowledgeable local, as you walk to five restaurants. You will sample a course at each restaurant, ending the evening with a full stomach and a better idea of the unabashed love of food that prevails in this town.
The Waterfront is Festival Central

Showpiece Town Point Park is built to exploit the scenic nautical views and plays host to a non-stop array of festivals.  Some of the most popular include the Annual Norfolk Jazz festival each July and Books in the Park, held in September. Many of the festivals are food-oriented, such as the beloved Bayou Boogaloo and Cajun Food Festival, scheduled for late June. Stare at the water and watch the boats go by, or better yet, hop on one of the many boat tours that will enhance your understanding of Norfolk's geography. Spirit of Norfolk is a winning way to combine a cruise with a meal. If you need a little inspiration, try the Gospel Dinner Cruise, or for a mellower atmosphere, the Jazz Brunch Cruise.
The Art Scene

The Chrysler Museum of Art, which recently introduced free admission, is housed in an imposing Italian Renaissance building. Its collection includes a comprehensive survey of European and American painting and sculpture, as well as African, Asian, Egyptian, Pre-Columbian and Islamic art. The permanent collection has no shortage of big names, including works by Rubens, Picasso and Pollock. Its greatest strength is its glass collection, particularly its Tiffany holdings, rumored to be one of the best anywhere. For kid-toting travelers, the current exhibition, Temporary Insanity by Pinaree Sanpitak "invites viewers to lose themselves within an interactive environment that is at once dynamic and contemplative." So kids can have fun interacting with the red, orange and yellow silk-covered objects. For a more intimate art experience, stop at the d'Art Center. Over 40 studio artists work here, and visitors are encouraged to ask questions. Along with demonstrations each Saturday afternoon, there are frequent hands-on workshops.
Military Ties Run Deep

Immerse yourself in maritime history at Nauticus. This interactive museum explores the region's connection to the sea. The Battleship Wisconsin, one of the mightiest ever built by the U.S. Navy, is berthed here. You are invited to explore this hulking ship, first launched in 1943. The Hampton Roads Naval Museum is also housed here, and its exhibits confirm the importance of the Navy's presence in this town. The MacArthur Memorial is in the center of town. It is worth a visit if you are intrigued by military history, as this is the final resting place of General Douglas MacArthur, one of America's most distinguished military officers.
Where to Stay

Accommodations run the gamut, from modern chain properties such as the Sheraton to B and B's where southern hospitality rules. The Page House Inn is located in Historic Ghent, and has complimentary bikes for guests to borrow. Rates include a copious breakfast and afternoon cookies and lemonade.
Late Into the Night
When the lights go down, locals flock to FM Restaurants, considered one of the best venues to hear live music. National, regional, and local bands play here, including a few marquis names from time to time. The Granby Theater is the place to dance the night away. Its hipster-meets-cowboy clientele provides excellent people watching.
How to get there: Amtrak from Penn Station in nine hours, or catch one of US Airway's frequent daily non-stops from LaGuardia to Norfolk, and you will be there in a little over an hour. Visit Norfolk is a comprehensive resource, so check it out for things to do in Norfolk, Virginia before you start planning your trip.

Allison is a native New Yorker, who has lived in Rome, Tuscany, Melbourne, Toronto and Los Angeles. She frequently contributes travel pieces to Family Travel Forum, using her own children as guinea pigs as they travel the globe. She is fluent in Italian and Spanish and laughably adequate in French. Her background as an Early Childhood Educator gives her an added understanding of what it takes to travel with kids in tow. She firmly believes that the most important part of education takes place outside of the classroom, on the road, around the world. She never misses a chance to sample local delicacies, as her love for travel goes hand-in-hand with her love for food and wine. Follow Allison at @gourmetrav.