When you first walk into the W Boston, you feel exclusive. Employees clad in all black, sleek leather furniture and silk curtains fill the hotel bar as downtempo beats waft from the speaker system. The scene is very isolated from the traditional quaint label applied to New England. Walk past the bar and into the hotel's restaurant, Market by Jean-Georges, and the ambiance changes almost completely. Suddenly, the elitism seems to evaporate and the air is instead filled with smiles and exquisite smells. That's exactly what Jean-Georges wants this restaurant to feel like, according to Chef de Cuisine Chris Damskey. "The hotel is a home."
Much of the principle behind opening Market was built to detract from the stereotype of "hotel food." The menu, which varies according to the respective location of every Jean-Georges restaurant, was conceptualized to allow patrons to enjoy dishes as if they were prepared in their own kitchens, or to indulge for a special celebration. Either way, the bill of fare is always tailored to what is available locally and seasonally.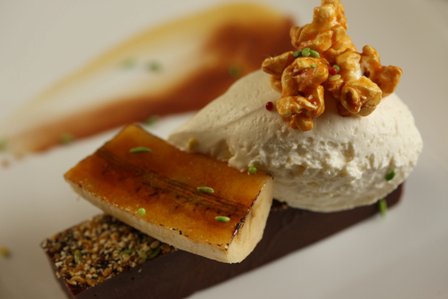 Having both emerged from fairly rustic backgrounds—Jean-Georges from Strasbourg and Damskey from a third generation dairy farm in the Midwestern U.S.—Market's cuisine is, in fact, very New-England-driven, using regional farms whenever possible and adhering to the rule, "As fresh as it can be, as local as it can be." As with many Boston restaurants, Market takes advantage of close proximity to the Atlantic, reinforcing Jean-Georges' position of what Damskey calls a very "seafood-driven chef," citing scallops and cod as two of the area's finest natural-occurring menu items.
Maine diver scallops are currently found on the menu in the form of a raw sashimi with green chili paste, pistachio and Kumquat (flawlessly paired with Ginjo Saké), one of Damkey's famed consistent raw dishes that change by season.
"I thought I knew what good scallops were until I came here," Damskey says, adding that "since it's in the back yard, it's just ridiculous not to get them." He also cites Nantucket Bay scallops, though only allotted a short seasonality, as a valuable local resource.
As for the ethics of farm-to-table and sourcing locally, Damskey views it as an issue of sustainability, community and public health. Naming eggs as a prime example of the dangers often associated with corporate farming, which he calls "big business," he often stresses the hazards of mass food production.
"Trying to bring attention to what and how you eat is a very big thing," he explains. "When you're talking about a huge farm that's producing thousands and thousands of eggs, you can't watch everything at all times. It's a raw egg. There's a lot that can go wrong. To think about it is a little scary."
For that reason—and because it's meteorologically impossible to source everything locally in New England—Market also sources from small farms where, though not necessarily nearby, chefs are familiar with both the farmers themselves and their agricultural practices. "It's about identifying with the actual farmer and finding out what they're passionate about," Damskey says. "It really does taste better. You're pulling it from the ground, you're making it from scratch, you're eating it."
Most important to Damskey, however, is creating and bolstering an overall phenomenal dining experience, from the ingredients to the value to the surroundings. "I get pumped watching people enjoy themselves and inspiring people on a day-to-day basis," he says. "It's something to keep you on your toes. To keep you evolving."
Market by Jean-Georges is located within the W Boston, 100 Stuart Street in Boston's Theatre District. If the review has you hungry for more, make reservations by calling 617.310.6790 or visit marketbyjgboston.com.