Some New Yorkers can't get enough of NYC during the holidays, when the city becomes even brighter, more crowded, more giving, more jolly. For others, the chimes, chestnuts, and cherubic faces can wear thin, in which case a quick stress-free getaway out of Manhattan may be just the ticket. Whether you choose to go camping in Brooklyn, share a cheap romantic meal with Manhattan views, or fire a shotgun in the Hudson Valley, these five quick getaways from NYC (all car-free!) provide a much needed escape from the forces of holiday cheer.

A Cheap Romantic Date: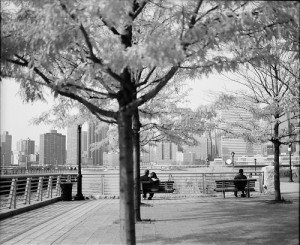 Hot chocolate on a horse-drawn carriage through Central Park is overrated and, some might say, cruel. However, a ferry ride across the Hudson for brunch on a Manhattan-facing bench is a much classier and creative date idea. Pick up the Combo at this café located in the shipyard marina community, where $9.99 will buy you a cup of soup and a sandwich (or salad). Cuddle up next to the river with a thermos of spiked cocoa.

How to get there: You have 2.5 options: Hop on the NY Waterway Hoboken north ferry from downtown or Wall Street and get off at the 14th Street stop right across from the café at the corner of 14th and Frank Sinatra Drive. Or take the PATH train to the Hoboken Terminal then take a $5 cab or the NJ Transit bus #126 to the 14th Street and Park Ave. stop a few blocks from the café.
2. CAMP | Brooklyn, NY
A S'Mores Affair to Remember:

Bring the boots, leave the sleeping bag. This bar helps its patrons to rekindle that childish summer camp innocence with a fire pit and a basket of graham crackers, marshmallows, and chocolate. At an affordable price, the rustic venue milks your nostalgia for all it's worth with classic 80s movies, board games, and karaoke. You will enter Camp as a New Yorker who takes life too seriously and leave as a New Yorker who will remember to cherish the little things.
How to get there: Take the F/G train to Bergen Street. Walk South a few feet on Smith Street until you reach 179.
Live Dangerously: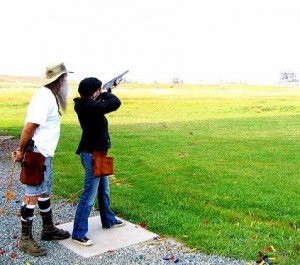 You may not be the kind of person to hunt your own turkey for Thanksgiving, but you will become someone who says, "Wooo, yeah!" after firing a shotgun and shattering your clay pigeon target. Skeet Shooting is one of those special sports not meant for New York City folk but with the right amount of red flannel and some chutzpah (doesn't really take much) you'll discover a sense of accomplishment not always felt at the end of a 9-5. Visit Mid-Hudson Sporting Clays, bring twenty bucks, let them teach you a thing or two (like don't swing a loaded gun around and follow through after pulling the trigger) and get Woo!'in.
How to get there: Adirondack Trailways to New Paltz. Call Delroy Taxi at 845.452.1222 for quick transportation to the shooting range.
4. Ravel Hotel | Long Island City, Queens
Dance By the Light of the Bridge:
Slip away for dinner atop a heated greenhouse glass enclosed roof at a luxury boutique hotel beside the 59th Street Bridge. Order the Dragon Sliders , split a Korean BBQ skirt steak, savor the Manhattan skyline views, and get ready to dance as an intimate restaurant setting morphs into a cozy club hot spot that'll do wonders for those winter woes.
How to get there: Take the N,W,7, E,F,G,V to Queensboro Plaza or Queensbridge. Call the Ravel Hotel ahead of time to set up complimentary shuttle pickup/drop off at the station.

Pony Up:
No honking horns, no sirens, no bells, no garbage trucks, no clicking heels on the pavement just the clucking of a bit in your Appaloosa's mouth and the hoofs trotting over the Pelham Bay Park floor. You've earned these 60 peaceful minutes on a western style horseback riding adventure through the far reaches of New York City. And for $40 a half hour, including lessons on the trail, this is one ride you may find yourself repeating year-round.
How to get there: Take the 6 to the last stop at Pelham Bay Park. Then hop on Bus #29 to City Island. The Center recommends telling the driver to let you off by the stables. For the experienced riders, call 718.885.0551 to schedule a more private trail ride.

When you get back, you'll find the city looking and smelling better than Christmas morning.
Photos: Bench by Jeffrey Hutton, S'mores by LindsayTarynPhoto.com, skeet shooting by Jen, Ravel Hotel,Visit Lakeland.
The co-founder and editor-at-large at offMetro, Lauren is a sustainable travel specialist and freelance journalist with frequent bylines in National Geographic, Bicycling Magazine and Shape. Follow Lauren's adventures at @laurenmati.