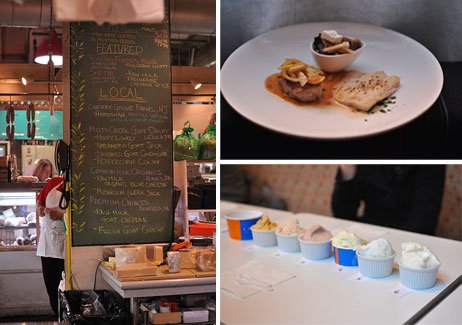 What: City Food Tours' Philly Homegrown limited-edition local food tour
Where: Tour begins at Reading Terminal Market, 51 North 12th Street, Philadelphia, PA
When: November 27; December 11 and December 18
Why: Aside from the fanatical sports scene, nowhere is Philadelphia's local pride stronger than in the city's gastronomic movement, which spans artisan bakeries, top-rated BYOBs and powerhouse cheesesteak meccas. And no one does a better job of singing the praises of the Philadelphia area's local eats than Philly Homegrown, a consumer education and tourism organization that promotes the culinary delights of the area's 100-mile foodshed, "from Amish Country to the Atlantic Ocean." This fall, Philly Homegrown pairs with City Food Tours for a limited-edition walking (and tasting) tour that highlights local food, farm-to-table restaurants and fair food in Center City Philadelphia.
The two-hour tour kicks off at Reading Terminal Market, the foodie destination well-loved by locals and tourists alike. Fruit, granola, bread and cheese sourced within 160 miles of the city please your palate at the market's Fair Food Farmstand, where President Obama recently shopped for autumn apples, and Salumeria, which maintains a rotating selection of local cheeses. The tour moves on to Tweed, Chef David Cunningham's restaurant where locally-farmed food gets the spotlight in a chic, contemporary setting. The highlight of Tweed (apart from the Q&A with Cunningham) is the tasting of three of Tweed's seasonal dishes, sourced from around the Delaware Valley. "I think the products are better," says Cunningham of Tweed's locally-produced ingredients. "When food comes from only 50 miles north, it also retains its nutritional value." With little room left for dessert, the tour puzzles your palate with a blind tasting of six gelato flavors from Philadelphia's popular Capogiro Gelato. The company sources its whole milk from one special Lancaster County, Pennsylvania herd. What could be more satisfying than supporting the local food movement while enjoying one of the world's most beloved treats?
Cost: $35 per person. Reserve your spot in City Food Tours' Philly Homegrown tour online at cityfoodtours.com or by calling 800.979.3370. Space is limited to 15 per tour. Tour requires less than 20 minutes of walking.
How to get there: Consult the Philadelphia Transportation guide in the Transportation Advisor section of offManhattan. (Reading Terminal Market, 51 North 12th Street, Philadelphia, PA readingterminalmarket.org, 215.922.2317.
Photos: Courtesy of Marisa McClellan