Although the days are getting noticeably cooler, there is a balmy weekend forecast ahead and our minds are on one thing: the beach. Not Southampton, not Shelter Island, but a more off the beaten stretch of shore called Ditch Plains Beach. This sandy tip of Long Island is cliffy and quiet—if you don't mind surfers and the occasional wakeboarding celebrity designer. Here on Long Island, the shiny, pristine setting, tasty food stands, and yoga-surfing clinics are enough to make Ditch Plains the kind of getaway all New Yorkers need at the close of summer.
Read on for our tubular step-by-step guide to living like a Ditch Plains local, if only for a day.
Where to Eat: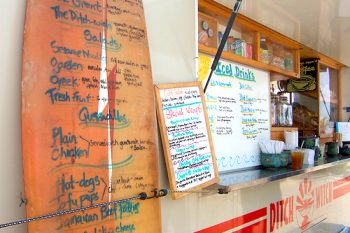 Head to the Ditch Witch for their famous Ditch Witch Cubano (also recommended: pressed veggie sandwich or sesame noodle salad) Other restaurants nearby: Harvest and The Montauket. Stop at nearby Surf Lodge for nibbles, drinks, and live music. Each place is a quick bike ride away, so consult offMetro's guide to biking Montauk for a better two-wheel lay of the land.
Shake off the NYC Stress: 
Montauk is known for it's yoga, and Yoga Lila is no exception. This locally owned studio offers everything from open yoga classes to pilates to SUP yoga on the water to Sunset Yoga. Check out their events page for a full schedule.
Where to get a board (and polish your skills):
Sunset Surf Shack, 631.668.2495 and Air & Speed Board, 631.668.0356 For safety tips—like be wary of the shifting sandbars, reefs, and rocky shoreline—and the lowdown on surfer's etiquette, consult offMetro's Beginner's Guide to Surfing in Montauk.
Insider Tip: Lodging during the summer can get pretty pricey, so you may want to consider postponing your trip til fall, when the surf is best, beaches are empty, and prices are considerably lower.  Even better, Hither Hills is a popular and affordable spot to pitch a tent with friends.
How to get to Ditch Plains Beach
The traffic out to Montauk on the weekends can move at a snail's pace (you might as well swim out), so why not take the Long Island Railroad from Penn Station or reserve a spot on the Hampton Jitney, which has multiple stops in Brooklyn and Manhattan.  Check out the offMetro Transportation Guide to get to Montauk and the Hamptons. 
Header photo by Martyn Smith
Annie is a travel writer, environmentalist, and surfer based in Venice, CA. She heads up our West Coast team, keeps our grammatical errors in check, and makes sure our California writers always have a plan for their next adventure. Follow Annie's travels @annelisemcb.