Whether sitting under a cherry blossom tree in Brooklyn, in a sculpture garden facing the Manhattan skyline, or perched overlooking the Hudson River on a historical site, consider eating alfresco at one of these picturesque places.
Here is a list of seven beautiful picnic spots in and around New York City for that next romantic date or rendezvous with friends.
Tarrytown | Riverfront Park | Hudson Valley
The Tarrytown waterfront—be it on a bench or on the rocks—is the perfect picnic spot for a lazy Sunday when you've got the urge to get out of the city. A quick, scenic ride on the Metro North leaves you right by the riverfront park, which offers stunning views of the Hudson River, Palisades, and Tappan Zee Bridge.
Picnic Tip: Tarrytown's Main Street is only a few minutes walk from the train station. Mint Premium Foods (18 Main Street; 914.703.6511) stocks specialty foods, including a fabulous cheese selection, from the Mediterranean and the Middle East. If you forget to bring that bottle of Sancerre or Pinot Noir, River View Wine and Spirits (34 Main Street; 914.631.9439) is just a few doors down.
How to get there: Metro North out of Grand Central Station. Trains run frequently between Manhattan and Tarrytown, and fares run $19.50 offpeak roundtrip.

Governors Island | Picnic Point | govisland.com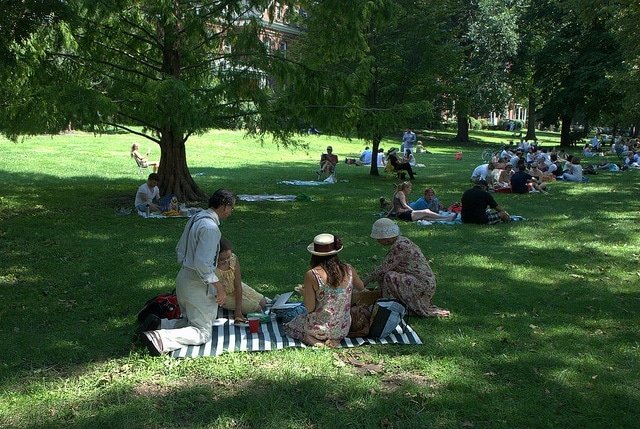 The aptly named Picnic Point on Governors Island is the city picnicker's dream come true. If you love the idea of a picnic but panic at the thought of what may be crawling underneath you, then this is the spot for you. Picnic Point's eight acres are spotted with picnic benches, swings, and hammocks for relaxing after a leisurely meal.
Picnic Tip: In 2009, Picnic Point became the host of a three-acre sustainable farm run by the non-profit organization Added Value. On weekends, you can tour the grounds of the Added Value farm and see how organic fruits and vegetables are grown, or stop by the Farm Stand for fresh produce and flowers.
How to get there: Governors Island is accessible via the free ferry from Pier 11 in Lower Manhattan. While visitors are invited to bring their bikes to Governors Island Friday through Sunday, Bike and Roll runs a Free Fridays program throughout the summer months from either of the company's two locations on the island. Adult and children's bikes are free every Friday for up to one hour, between the hours of 10:00am and 3:30pm.
John Paul Jones Park | Bay Ridge, Brooklyn | nycgovparks.org
Also known as Fort Hamilton Park and Cannonball Park, the John Paul Jones Park is located at the very end of Bay Ridge, overlooking the Verrazano Narrows Bridge and the Hudson River. The park is home to a relic of Civil War weaponry, the Rodman guns. (A little piece of trivia: the gun weighed 58 tons and fired shots weighing 1,080 pounds.) If you'd like to take in stunning views of the New York Harbor along with your picnic-friendly snacks, bring your bike with you. Right across the street from the park is an entrance to the Shore Parkway, a bicycle and pedestrian path that hugs that south Brooklyn shoreline for some 13 miles.
How to get there: R train to 95th Street
Fort Greene Park | Fort Greene, Brooklyn | fortgreenepark.org
Designed by Frederick Law Olmsted, the 19th century landscape designer of Central Park fame, Fort Greene Park is a welcome slice of greenery in one of Brooklyn's hipper neighborhoods. It may not be as large and rolling as Prospect Park, but it has a rich history—Fort Greene Park was constructed on the site of a Revolutionary War fort—and you can catch an impressive view of downtown Brooklyn from any of its hills. If you're feeling invigorated post-picnic, race your friends up the granite staircase leading to the Prison Ship Martyrs Monument.
How to get there: R/N/Q/B/D train to Dekalb Avenue
Wave Hill Public Garden and Cultural Center | Bronx | 718.549.3200 | wavehill.org
Wave Hill boasts a 28-acre public garden and cultural center overlooking the Hudson River and the Palisades in the Bronx. Strolling the grounds of Wave Hill you'll find much more than your ordinary flower garden. A wooded trail wraps around the outer edges of the park, where second-growth forest and meadow are being rehabilitated through integration with native plants. There is also a garden pool topped by picturesque water lilies and lotus plants, your own slice of Monet's Giverny gardens in the Bronx. Admission is $8 for adults.
Picnic Tip: If you're planning a weekend picnic, Wave Hill offers free garden and Conservatory tours from their visitor's center on Sundays at 2pm. Pick up fixings on Arthur's Ave.
How to get there: 1 train to West 242nd Street; Metro North out of Grand Central Station. Trains run frequently between Manhattan and Riverdale, and fares run between $5 and $7 round-trip.
Socrates Sculpture Garden | 32-01 Vernon Boulevard at Broadway | Queens | 718.956.1819 | socratessculpturepark.org
You'll feel like a true New Yorker snacking on cheese and crackers amidst an outdoor art display by up-and-coming artists. Once an illegal dumping ground and riverside landfill, the Socrates Sculpture Garden has been transformed into a garden and unique exhibition space that encourages interaction between the visitors, artists, and their work.
Picnic Tips: Coordinate your picnic with one of the Garden's weekend workshops, fitness classes, or outdoor screenings (weather permitting). Visit the website for specific details on upcoming events; park and event admission are free.
How to get there: N/W train to Broadway; F train to Queensbridge-21st Street

Boscobel House and Gardens | 1601 Route 9D, Garrison, NY | 845.265.3638 | boscobel.org

Home to summer's Hudson Valley Shakespeare Festival, Boscobel mansion dates back to 1808 and is surrounded by beautifully landscaped gardens and breathtaking views of the Hudson River. Bring chairs, booze, a blanket, nibbles, and a camera, and pay just $9 to enjoy the grounds—and a unique quick escape from the city.
How to get there: Take the 10-cent trolley from Cold Spring–which is accessible from Grand Central Station via the Metro-North Railroad's Hudson Line to Cold Spring Station—where it leaves frequently from the Visitor's Center.
Photos: Steve and Sara, Wave Hill, Vincent Crossley