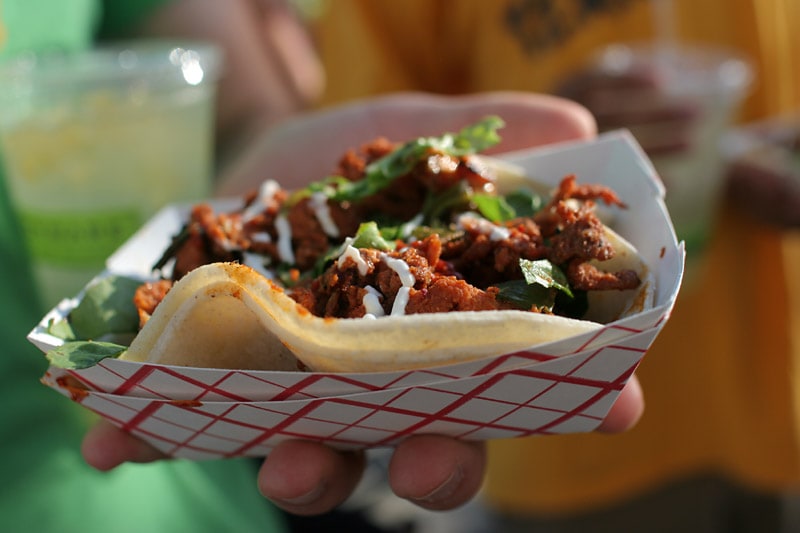 Named for one of Oakland's most famous former residents, author of adventure classics like The Call of the Wild and White Fang, Jack London Square celebrates Oakland, past and present. Like the scribe for which it is named, the harbor hearkens back to the city's era as a booming seaport, when this very waterfront flourished as a bustling shipping dock where London himself enjoyed many a boyhood adventure. This harbor may have carved out some of Oakland's richest history, but it is far from a thing of the past.
Once a port teeming with activity, today the harbor is still a hub of hot spots, and the best way to explore the area is to let your taste buds be the guide. In recent years, Jack London Square, home to the annual Eat Real Festival, has proved an incubator for some of Oakland's top culinary talent, and oM has put together a self-guided tour of some of its finest offerings.
1. Start your morning with the folks at Blue Bottle Coffee (200 Webster St.), who will be happy to fuel your buzz with a hearty, handcrafted roast from their drip coffee bar. A 1923 warehouse converted into a coffee-shop, the bare-bones space fuses the best of past and present, blending the charm of the old port into every expertly brewed cup o' joe. Drop by to get your AM jolt, or teeter in at 2 p.m. for free coffee tastings (offered every Sunday and Tuesday).
2. Rouse up an appetite on land or sea, with rentals from Bay Area Bikes (427 Water St.) or California Canoe & Kayak (409 Water St.). You can rent by the hour, or hang on to your them for the day. Between these two neighboring shops, there's a ready collection of cruisers, tandems, stand-up paddleboards, and kayaks for the picking.
3. Get social at Forge (66 Franklin St.), where you can enjoy a handcrafted pizza around an intimate outdoor fire pits. Not your average pizza parlor, Forge uses fresh and innovative toppings like Calabrian peppers, brussels sprouts, and ghost pepper salami to kick things up a notch. Come in between 3 p.m. and 5 p.m. for Happy Hour prices, or check out the four (awesome) bloody mary options at Sunday brunch.
4. Pay homage to Mr. London by grabbing a cold one at the timeless watering hole, Heinold's First and Last Chance (48 Webster St.), where Jack would go to slurp down his literary inspiration. Constructed in 1880 from the remnants of an old whaling ship, Heinold's holds the title of the oldest continuously operating bar in the Bay Area. Its spacious outdoor patio, wedged between the old saloon and a remake of Jack London's Yukon cabin, makes an impeccable place for a midday libation.
5. Bocanova (55 Webster St.) brings the heat of a Pan-American kitchen to the waterfront, with creative tapas like Crab Deviled Eggs and Lobster & White Shrimp Ceviche with passion fruit and habanero. Enjoy the tapas-style dining with a Latin-inspired spread of small plates (and big flavor). Its motto—"quick, fast, hurry… nevermind, relax"—says it all. Bocanova is the perfect sanctuary for a slow unwind.
6. Appeal to your sweeter side at Miette Patisserie and Confiserie (85 Webster Street), an achingly adorable pastry shop with cakes, cookies & confections to please even the most saccharine desires. Stop in for a quick treat, or box up one of their signature cakes for a later date.
7. For a tantalizingly chic dinner, head to Haven (44 Webster St.), where Chef Chris Johnson's locally inspired menu is as much as piece of art as it is your meal. Order Haven's unique dishes à la carte, or opt for a three-course family meal to enjoy the full experience. And don't skip imaginative cocktails like the Dry Bones, an expert blend of tequila, dry vermouth, Campari, and grapefruit, elevated with a punch of CO2. Happy Hour (Monday through Friday, 4-6 p.m.) is a great opportunity to sample a few.
8. Polish off your night at Yoshi's (510 Embarcadero W), an exceptional Jazz club featuring fine Japanese cuisine, inspired by Chef Shotaro Kamio. Spitting out smooth, live jazz every night since 1977, Yoshi's provides a sultry setting for the best in both entertainment and cuisine. During happy hour (Monday through Saturday, 4:30-6 p.m.), $5 sushi rolls and $6 bottles of Nigori Sake prove to be the perfect complement to the saxophone.
Bonus: If you're visiting over the weekend, the Sunday Farmers Market (9 a.m.-2 p.m.) is not to be missed. Ease into the day with a free yoga class (9:30 a.m.), and then replenish in a maze of snacks, samples, and farm-fresh produce. Pick your grub, then hunker down on the grass for an impromptu picnic and some live music (11:30 a.m. until 2 p.m.).
Directions: Take the Blue and Gold Fleet ferry to Jack London Square, or take BART to 12th St. station in Oakland and catch the free Broadway (B) Shuttle to Jack London Square.
Photos: protographer23, neil conway, Steven Belcher, star5112, Rebecca Podesta, Blue Bottle Coffee, Bocanova, California Canoe & Kayak, Jack London Square
[mappress mapid="118″]