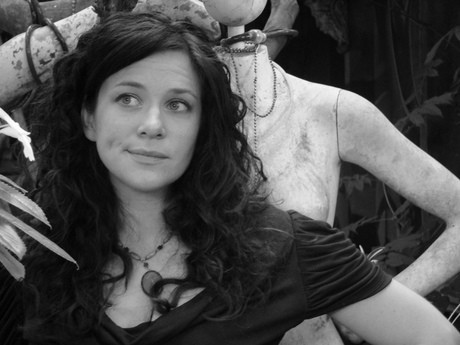 In high school, Mother Nature blessed me with overgrown eyebrows, buck teeth, and bad style (mom jeans and chunky turtlenecks included). I slammed my newly formed hips into doorways, practiced kissing on the back of my hand, and almost spontaneously combusted the day my mom walked into the cafeteria to pick me up for an orthodontist appointment.
Ah, the golden years… as embarrassing and painful as that dinosaur egg-sized zit you think will never go away. And yet, we love to hate them.
That's why when I learned about Mortified, a project dedicated to telling embarrassing teen stories, I knew I'd found my people. Here's the idea: Participants—ranging from professional performers to everyday guys and gals—find some artifact from their teenage years. Bring in an old diary, a "deep" poem, that secret list detailing how many times your crush sneezed… Pick your thing, and sculpt the story with help from the Mortified team. Add a stage and an audience, and you've got the world's most hormonal show-and-tell.
I recently chatted with Sara Faith Alterman, one of Mortified's top dogs and a regular Renaissance woman. In addition to performing in and co-producing the show, the San Francisco writer, performer, and self-proclaimed "attention whore" sings in an a capella group, contributed to the New York Times bestseller Not Quite What I Was Planning: Six-Word Memoirs by Writers Famous and Obscure, and is writing her first young adult novel. She also writes about secret, offbeat San Francisco stuff. Here, she dishes with oM about catharsis, her dog Noodle, and one of the most flamboyant places in California to kick back.
offMetro San Francisco: Mortified is definitely entertaining for audience members, but why do you think people like sharing their most embarrassing moments with a group of strangers?
Sara Faith Alterman: Well, I think it's cathartic—the ability to embrace that teenage angst and isolation and laugh as a group of people. It lifts my spirits to look back at myself as that awkward, strange kid. I was just like any other teen, trying to figure out who I was. It's nice to hear other people's stories and realize I wasn't the only one.
oM SF: Did you know you wanted to write when you were young?
SFA: When I graduated from college, all my friends were doing interviews, getting jobs, and I was just like, "Nope, I'm going to Myrtle Beach."
oM SF: Really? Myrtle Beach, interesting choice.
SFA: Yeah, I know. So I went to Myrtle Beach, which is the worst place ever, and I had no idea what I wanted to do. I was 23 and didn't have any experience writing. When I first started, I wrote for free: bed-and-breakfast brochures, magazines, newspapers, anything. I was bartending at Applebee's with all these assholes, and I remember keeping a journal during that time. It was just keeping me sane, but then at one point I thought maybe this journal could become my first novel. And I just went for it.
oM SF: What was your experience like reporting on the Olympics in Beijing?
SFA: I applied for the fellowship when I was working on my Masters in Journalism. The Chinese government selected a group of international ambassadors for the program to report from the bird's nest at Olympic Stadium. When I found out about the fellowship, I thought, "how could I not take this opportunity?" But honestly, I was miserable. Beijing is an incredible city, but it was a lot more challenging and isolating than I expected.
oM SF: But you found a friend while you were there. Tell me about your dog, Noodle.
SFA: Well, I found Noodle in Beijing. I saw this little yellow dog in a pile of trash, and I guess I could empathize because I felt like I was in a similar place. I took it to the vet, and when I left Beijing I brought Noodle home with me.
oM SF: How did you get Noodle back to the U.S.?
SFA: It was surprisingly easy, disturbingly easy. When I went through customs, I told them I was bringing back a dog. The TSA agent just said, "Are you going to eat it?" I said no, and he said, "Welcome home." He didn't even check my bag to make sure it was a dog.
oM SF: So, where did you and Noodle end up after Beijing?
SFA: I worked in Boston, and I love Boston. I was working three jobs: one at a radio station, one at a newspaper, and one at a magazine. I wasn't really sure journalism was for me, but I was fascinated by comedy writing. So, I applied for a job as an editorial assistant at a comedy start-up in San Francisco. I just felt like I needed a do-over. I got the job and came out here.
I will say I used my experience in China when I moved to San Francisco. China made me a braver traveler, a bigger risk taker. I thought, "If I can survive in China, I can make it in San Francisco." The job didn't work out, but I immediately fell in love with the city.
oM SF: You write for The Bold Italic about quirky, off-the-wall stuff going on in San Francisco. What are some cool spots outside the city?
SFA: The Madonna Inn. I'll give you the history: It was started by this guy who was the son of immigrant farmers. It's so funny to me because he was this really manly guy, yet the Madonna Inn has this bizarro '50s glamour in the middle of nowhere. They have all these themed rooms. I stayed with my co-producer from Mortified in the rock room, and the shower was a cave. There's all this over-the-top color and funky decor. It's like Liberace threw up on a rainbow. I mean, the only thing that could make it gayer is if guys were serving daiquiris by the pool (which would be awesome).
I also really like Point Reyes. There are incredible hikes, meadows oyster farms, and these shire-esque, treeless hills. You can go to the bay and eat fish, oysters, wine, wheels of brie.
oM SF: Sounds so, so good. I'd just go for the food.
SFA: Seriously, I hike so I can eat!
oM SF: What's your next project?
SFA: I'm writing my first young adult novel, but there aren't any vampires in it so I probably won't sell. I also started performing in a variety show called Moonlighting. It's got comedy, ukulele acts, vaudeville, old-timey performance art. I love that stuff.
om SF: Okay, one last, shameless question. What advice do you have for writers just starting out?

SFA: Probably everyone's answer is stop talking about how you want to be a writer and just write. But other advice, hmm… be humble, don't get discouraged. The first thing you write, the first paragraph, the first sentence—it's probably going to suck. You don't get it right the first time with anything, and you have to be ready for the potential suckiness.
And don't take yourself so seriously with writing. You got to be able to laugh at yourself, and that goes for anything.
Photo Credit: Sandra Possing