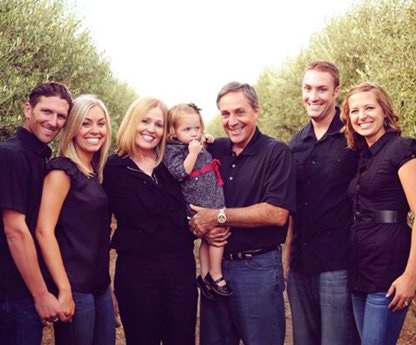 Although Lodi, California doesn't have a reputation as a "destination" the town is quickly becoming known for its flux of produce, wine, and olive oil farms, like the family-run Coldani Olive Ranch, which is turning out award-winning California extra virgin olive oil. Perfect temperatures, paired with the Lodi Delta water supply, make for happy crops that yield impressive products. Although the Coldanis are no neophytes to farming, they have only recently discovered Lodi's potential for olive orchards—and our taste buds are glad they did. We caught up with Gina Coldani, family member and marketing director, to learn about the family, their product, and what's to come.
oSF: Let me get the facts straight—although the Coldanis have been farming for more than 70 years, you've only just recently started growing olives?
Gina Coldani: Yes, this year marks our fifth harvest, so the olive products are relatively young, and we're amazed at how well things have gone.
oSF: How important is quality control and product guarantee to Coldani Ranch? What roles do these things play in your business model?
GC: Quality control and guaranteed excellence are our top priorities. Luckily we've been able to keep our company small—just our six family members and that's what's allowed us to make sure that every bottle is the quality we want. Even as far as doing all the packaging and shipping to ensure nothing's broken. If we're not literally doing the labor ourselves, we are actively overseeing whoever is. We want to make sure that when our oil gets to the consumer, it's as great as we want it to be.
oSF: Many members of your family are Cal Poly Tech graduates, how does this reinforce the product's "local" spotlight?
GC: Some of our competitors purchase olives that they haven't personally farmed; they buy them from an outside farm and then mill them themselves. But we farm everything: Everything that goes into our bottles, we've controlled all the way from growing to picking, bottling, and shipping—all while maintaining relationships with our distributors.
oSF: The business's morals seem to mirror your family's values in a really productive way. In addition to only using local olives from the Lodi Delta region (rather than mixing olives in from other regions and foreign farms), how else does the local/sustainable mentality influence Coldani practices?

GC: We were all born and raised in Lodi, so there's definitely a lot of hometown pride! Lodi actually turns out a lot of produce, great wines, and now olive oils. We've only made it on "the map" for these things recently, but we still love to promote that we're from Lodi. We definitely encourage our products in all the local businesses to help support the community.
oSF: So now that your products have gained so much popularity, what are your plans for the ranch in the future?
GC: Right now we don't have a public facility, but are working towards it. We'd love to have some sort of retail storefront where people can go all the time. Currently, we offer scheduled tours and tastings upon request.
oSF: Tell me more about your annual Harvest Festival. It sounds like a pretty colossal celebration.
GC: Our big harvest festival, which happens every fall, is a one night party we throw every year. This celebration is hands-down the best time of year to visit. It's the best display of everything that we have to offer, and it has sold out every year. We have a lot of loyal local customers, so we try to mix it up every year for them. There's always music, food and drinks, and we recently added an oil and vinegar tasting with a food paring element, so guests can learn firsthand how different the same olive oil can taste when paired with various foods. There will also be an ice cream and olive oil bar [totally yummy by the way!] for guests to get in on.
oSF: What's your personal favorite product, that visitors shouldn't leave without? I'm pretty in to the Jalapeño Calivirgin Olive Oil myself.
GC: It's really hard to choose, but I'd have to say I use the Basil oil the most. It's so versatile and it's incredible with the balsamic!
Directions
Approximately 1.5 hour drive.  You will need to drive, as the train and bus system to Lodi is not quite up to speed, so to speak. Look in to City Share, Zipcar, or just the old fashioned rent-a-car.
Coldani Ranch
1806 West Kettleman Lane, Lodi
(209) 334-0527
www.calivirgin.com