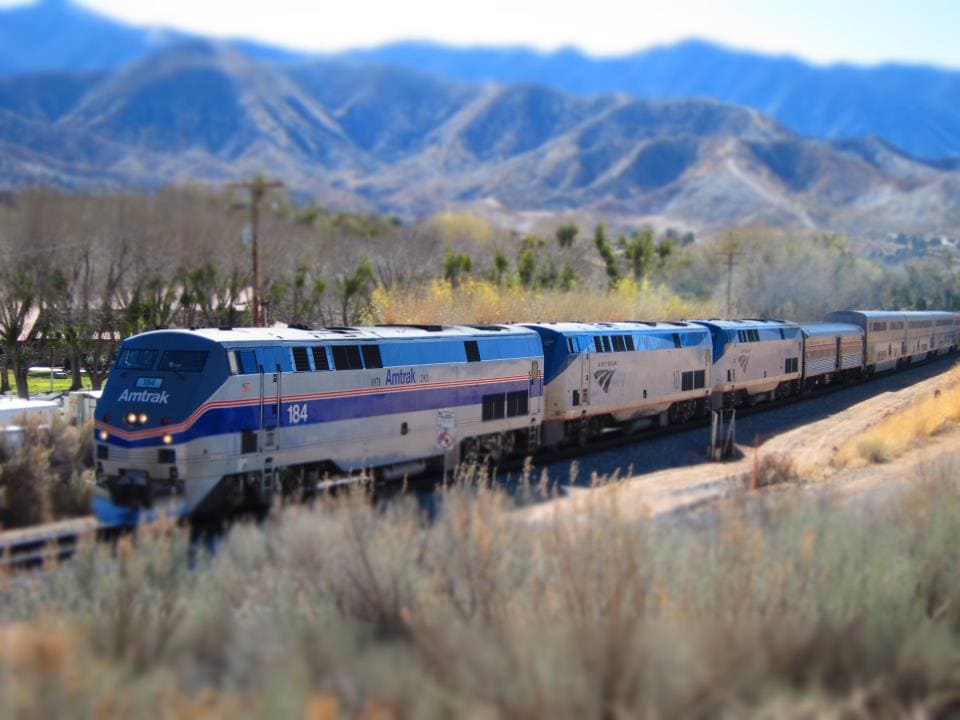 I'd heard from native Californians and visitors alike that winter in Yosemite is breathtaking: skiing at Badger Pass, moonlit snowshoeing, Bracebridge dinners at the Ahwahnee Hotel. But warm February temperatures, even in the Sierras, squashed any hopes of a typical winter visit. Nevertheless, having spent a year in San Francisco without seeing this famous park, I refused to postpone my trip any longer. Wanting to take in some of the San Joaquin valley en route, I charted my course by train and bus (Amtrak offers a seamless round-trip transportation plan from San Francisco's Ferry Building to Yosemite), freeing me of any duties other than admiring the passing scenery.
I eased away from the Ferry Building by shuttle in typical morning fog, noticing several other travelers dressed in varied levels of outdoor adventure gear. As the bus deposited us at the Emeryville Amtrak stop with plenty of time to spare, travel guides appeared. It seemed I was not alone on the trip.
My first taste of California by train didn't arrive until after college, when, following a short stay in Los Angeles, I boarded an Amtrak train in dusty San Louis Obispo and reached a chilly Oakland's Jack London Square long after nightfall. In between, I'd seen wide-open country a world away from what I'd grown up with in the close, densely forested northeast. I was eager to experience a new slice of California, and absorbed the view as we steered out of Emeryville and along the water, through El Cerrito and Richmond, before turning east along the San Pablo Bay. Our route soon cut through lush wilderness pockmarked with industrial sites; in Crockett, just after passing under the Carquinez Bridge, the train idled by the California and Hawaiian Sugar Company on one side and glassy inlets rich with geese, ducks and other waterfowl on the other.
The sky cleared as we passed the Point Edith Reserve, a sprawling marshland that turns from saltwater to brackish and freshwater as it leaves the coast. After the Sherman Island Waterfowl Management Area, near Antioch, we turned inland and south and, before long, began to see the vast agricultural spread of fields and orchards for which the San Joaquin is well known.
Disembarking in Merced, I found a YARTS bus idling just outside the terminal. YARTS (Yosemite Area Regional Transportation System) encourages travelers to "watch the scenery, not the road," and has been helping them do just that since 2000. Although over 3.7 million people visit the park each year, only a small number currently take advantage of YARTS, an odd thing considering the bus alleviates the challenges of enjoying the stunning valley entrance while navigating the winding roadway that leads to the interior.
Two days in Yosemite can go a long way. My room at the Yosemite Lodge was a short walk from the popular Valley Loop Trail, Yosemite Falls and the Upper Yosemite Falls trailhead. While some roads close in the winter, and certain destinations like Half Dome aren't open, much of the valley is open all year, as was, luckily, the Upper Falls trail, due to the lack of snowfall. I arrived at the lodge just after 1 pm and by 1:30 was clambering over towering boulders to feel the mist at the base of the falls.
That evening I head to dinner at the Ahwahnee Hotel, boarding one of the free hybrid shuttles that circle the valley floor. The hotel's site was chosen largely because of its stunning views of Yosemite's icons—Half Dome, Yosemite Falls and Glacier Point. I arrived after nightfall, but its grandness was not lost on me. Even a brief visit to Yosemite should involve a stroll through the Ahwahnee, with its unique blend of art deco, Native American, Middle Eastern and arts and crafts-influenced design. The majesty of the cavernous dining room's 34-foot-high beamed ceiling, granite pillars, chandeliers and floor-to-ceiling windows occupied this solo diner until the meal—Mary's organic chicken over polenta—arrived (and I refocused my attention).
I was fortunate enough to bed down at one of the recently renovated rooms (ranging from $144-$209 depending on the season) at Yosemite Lodge. By Easter, the lodge expects to have 63 remodeled eco-friendly rooms, on the way to transitioning all 245. The lodge's LEED-minded Cottonwood building will soon boast additional green features. Among the changes to the Elderberry building, where I stayed, were more efficient double-paned windows to aid in heat retention and cooling, efficient lighting, and carpets made from recyclable materials. Renovated rooms have been smartly reappointed, along with these changes, for a more contemporary feel, while maintaining the comforting environs you'd expect from a lodge.
Fully rested, I was up early for a trek along the Upper Falls trail, eager to get a last hike in before heading back to the city. Although the valley floor was still shaded, I soon hit the sun and watched the temperature climb into the low 50s. With each switchback I expected fellow hikers, but saw few. Descending, I passed a couple that had made the trip from San Francisco with me. They were smiling and laughing, no doubt marveling (weary legs aside) at the ease of it all.
Directions: Use the Amtrak discount for 20% off your fare to Yosemite (regular round-trip fares start at $74) when you book your trip between March 1 through May 21, 2012 and ride between March 4 and May 24, 2012. This itinerary will connect you with the San Joaquin train to Merced, CA where you will connect with a thruway motorcoach to your destination.
Photo: travis.vachon, Ron Nicholson, Ryan Grimm, Ahwahnee Hotel
[mappress mapid="52″]
View more Amtrak Getaways designed by the offMetro staff!