Fifty miles north of San Francisco, the Napa Valley is North America's greatest lure for wine snobs, and with vineyard tours gaining popularity across the country, it's increasingly a must-do activity for any vine-loving visitor to northern California.
From guided bike tours to an "I Left My Car in San Francisco" hotel package, getting around the valley without a car has never been easier or more affordable. And just imagine, no designated driver required.
Usually, one is quick to think that a trip to Napa means burning some serious gasoline. After all, the valley's 45,000 acres of grape vines are spread out across a 30-mile, mostly rural area, so travelers, even those going without a car when visiting San Francisco, find that they need one for Napa. However, there are a bunch of package tours that pick up in San Francisco and drive you to three to four wineries in a day. However, most of these tours operate via limos or vans, so you're not exactly helping out the earth by going that route, and they also tend to cost upwards of $100 a person, which often doesn't even include the $5 to $10 tasting fees you have to pay at each winery stop.
I was determined to see if a Napa wine tour could be done, from my base in San Francisco, in an affordable and car-free way. While many car-centric Californians told me that's just not how Napa works, with a little research I discovered it's not only possible to do a car-free Napa winery tour, but pretty damn enjoyable—and cheaper than any other route.
Get on the Boat
Baylink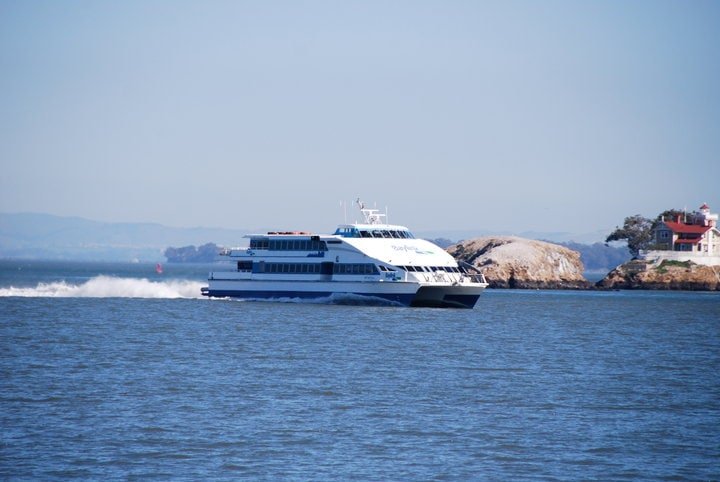 operates commuter ferries roughly once an hour from the San Francisco Ferry Building to Vallejo, which is all the way up on the north side of the bay, past Oakland, Berkeley and Richmond, and just a few miles from our goal, Napa County. The ferry costs $13 one-way; if you're coming back the same day you can save a few bucks by purchasing a "daypass" that costs $24 and covers your round-trip. Either way it's a pretty good deal, considering that tourists pay that much every day just to take a scenic boat ride out on the bay and snap photos of the Golden Gate Bridge, Alcatraz, and the San Francisco skyline. This way you get to see all that, plus you're actually going somewhere!
The ferry ride takes just under 60 minutes, but the bad news is that you're not quite in Napa yet. The good news is that there's a surprisingly good public transportation system here. Napa Vine operates a bus (route 10) that gets you from the Vallejo ferry terminal to downtown Napa in 40 to 50 minutes for $2.10. You can usually time it pretty well with the boat, but if you end up with time to kill, the somewhat sketchy-looking Vic's Wheelhouse down the block from the ferry terminal makes an outstanding breakfast burrito.
Downtown Napa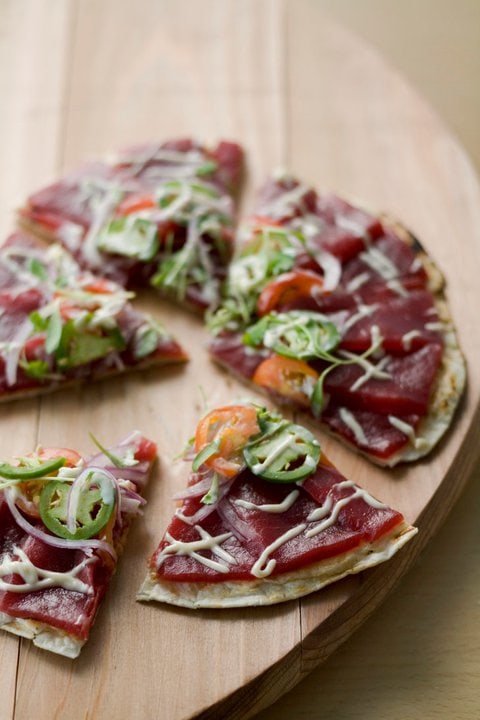 Now, you're not going to see picturesque rolling vineyards in downtown Napa. In fact, up until a few years ago the town was pretty down on its heels and not a place many tourists tended to stop. But it has experienced quite a revitalization recently, as high-end restaurants like Morimoto have come to town and dozens of vineyards from all over Napa County have opened tasting rooms here.
But the best reason to come is the new Downtown Napa Wine Tasting Card, which for $20 nets you free tastings at 14 (!) different wineries throughout downtown, all within walking distance. For legal reasons, they say each winery has to charge you 10 cents, but not one of them bothered to take my dime. The amount of wine they give you varies—some of the tasting rooms offer up just one half-glass taste, others gladly pour three or four. Some showcase wines sold around the country, but at many rooms you'll taste small-production bottles poured only right here in Napa. Best of all, the tasting rooms are uncrowded, and the folks behind the bar are infallibly knowledgeable and friendly.
Staying Longer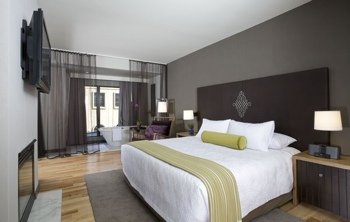 If you're just in it for the wine, the downtown tasting room circuit is a completely satisfying day trip. But of course, many people will also want to get out and see some of those rolling green vineyards. One car-free option is to do the downtown tastings, then stay a night or two at either the posh new AVIA Napa (from $209) or the historic Napa River Inn (from $225), and base further exploration from there. The Napa River Inn actually has an "I Left My Car in San Francisco" package that includes ferry tickets, shuttle transportation from the ferry terminal, downtown wine tasting cards, a ride on the Napa Valley Wine Train and a few other extras (from $679 for two people).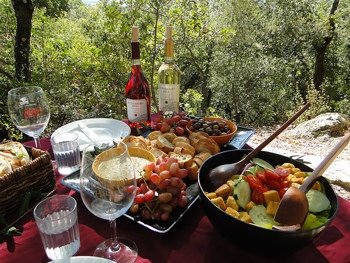 From downtown, there are several wineries within biking distance, and Napa Valley Bike Tours will even deliver wheels direct to your hotel (and feed you gourmet grub during the ride) for free, as long as you're renting at least two bikes (from $35 a day). They also have self-guided bike tours that include boxed lunch, directions to nearby wineries, and free transportation back for any bottles you buy along the way.
So don't let anyone ever tell you that you can't see Napa without a car!
If after all you still decide to drive and need to rent a car – try Limo Find for a unique experience.
Photos: Courtesy of Napa Valley Bike Tours, Baylink Ferry, Morimoto/Dk Publishing, Avia Napa hotel, and Napa Valley Bike Tours