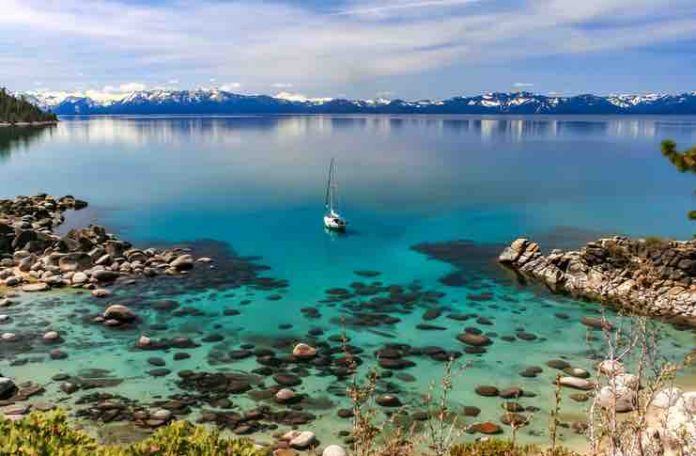 We love sailing. It's definitely one of the biggest pleasures of life, in our opinion. In this post, we've gathered 10 of our favorite places for sailing in California.
1. Lake Tahoe
When you're in Tahoe, you're never far from the water, so getting on a motorboat or sailboat to explore the lakes is a favorite activity. You may either join a charter or rent your boat.
Lake Tahoe is a vast body of water in northern California and southern Nevada, measuring 22 miles long and 12 miles in width.
Great mountain ranges encircle it. The Truckee River is the sole river that flows into the lake, and it emerges from the lake's western shore. It is virtually utterly devoid of contaminants. It's crystal clear.
In the entire lake, there is only one marina. Emerald Bay Marina is the name of the marina. Lake Tahoe is an excellent site for sailing, skiing, hiking, swimming, and other outdoor activities. It also hosts some fantastic events, such as the Winter Olympics.
The prevalent summer winds in Tahoe are almost evenly split between a northern in the morning and lunchtime, followed by a reasonably steady afternoon southwesterly from the Pacific. Because none of them stirs up the lake much, they offer excellent sailing conditions: a constant breeze with little surf.
In fact, there are certain summer days when the winds are hardly more than 5 knots, but this is an alpine lake 200 miles from the nearest beach. In the summer, gales are uncommon.
Exploring around the lake in a boat is a great way to see the beautiful seas and the surrounding beauty of Lake Tahoe when it comes to water sports. Renting a boat, chartering a yacht, or taking a guided tour are all options for Lake Tahoe boating, and each offers something unique.
2. Folsom Lake
The lake and recreation area, located at the base of the Sierra foothills, provides options for hiking, bicycling, jogging, camping, picnics, horseback riding, water skiing, and boating. Trout, catfish, large and smallmouth bass, and perch are all available for fishing.
The Folsom Powerhouse (formerly dubbed "the greatest functional electrical powerhouse on the American continent"), which produced 11,000 volts of power generation for Sacramento citizens from 1885 until 1952, is also open to visitors. A 32-mile cycling trail connects Folsom Lake with various Sacramento
County parks before reaching Old Sacramento, ideal for bikers. Lake Natoma, located downstream from Folsom Lake and famous for crew races, sailing, kayaking, and other water activities, is also part of the Park.
Folsom Lake State Recreation Area's summers are often hot and dry. For hot temperatures, dress lightly, but avoid overexposure to the sun.
Winters may be pretty cold, with long stretches of central valley fog. Dress in layers since the moisture can cause colds to reach your skin.
Folsom Lake is home to several sailing clubs, and the Folsom Lake Marina is the only marina on the lake located in the Folsom Lake State Recreation Area, in Browns Ravine at the south end of the lake.
Boaters can spend the night on their boats if they have a self-contained toilet and wastewater system. Boats must offer sleeping arrangements for everyone on board. The Park has provided particular anchorage areas for overnight stays in your boat.
3. Lake Almanor
The Great Western Power Company dammed the north branch of the Feather River in 1914, submerging the region known as Big Meadows and creating Lake Almanor. Big Meadows was formerly a verdant meadow with an abundance of water before the lake was constructed. It was a world-famous summer destination.
Year after year, people made reservations. Lake Almanor is an excellent spot for boating of various types. When the water temperature reaches 70 degrees in the summer, the lake draws a wide range of water sports enthusiasts and boats.
Lake Almanor is located south of Lassen Volcanic National Park, on the Cascade and Sierra Nevada geologic provinces. The fault that generated the Sierra Nevada range also carved out a valley where the lake now sits.
"It is thought that a pre-existing lake existed in the valley and was then filled up with silt to produce a meadow," says Kurt Sable of the Lassen National Forest. The meadow was made to a dam to form Lake Almanor, one of Northern California's largest lakes.
Summer lake surface temperatures of around 75 degrees make it ideal for boating, fishing, water-skiing, wakeboarding, sailing, sailboarding, kayaking, paddleboarding, and wave running. Motorized boats are allowed on the lake. Picnic places and beaches provide excellent leisure and lake views.
4. Clear Lake
The water clarity of Clear Lake was not the reason for its name. Clear Lake was named from the region's pristine air, still regarded as the cleanest in the United States today. During summer, the average water temperature in Clear Lake is 75 degrees. This weather allows you to set sail on one of the most significant and most remarkable bodies of water you'll ever visit.
If you want to sail on Clear Lake with your boat larger than 8 feet, keep in mind that these vessels must be registered and inspected before accessing the waters. This is only to prevent the spread of invasive species like zebra mussels, canoes, kayaks, car-top boats, inflatables, and non-motorized boats under 8 feet are exempt from the law.
The Lake County Invasive Mussel Prevention Program has further information on this. Repairs and supplies are also readily available since the Clear Lake region has multiple boat service and supply businesses.
Even if you don't have your boat to tow, you may still enjoy the picturesque joys of Clear Lake sailing. Kayaks, canoes, and boats are available for rent from various Clear Lake boat rental companies.
Eyes of the Wild provides boat trips with local specialists on board to provide background and insights on the animals, whether you're a bird-watcher or wildlife enthusiast.
The lake is a clear choice for a beautiful day's sailing, with some of the purest air in the country and some of the most stunning views of any fresh-water lake in California.
5. Huntington Lake
Huntington Lake is one of America's top sailing lakes, and it's the ideal spot for keeping your distance from others. Huntington Lake, located just over 70 miles from downtown Fresno, is a tranquil getaway for anyone prepared to go an extra 30 minutes past Shaver Lake. According to enthusiastic sailors, it's also one of the most fantastic sailing lakes on the west coast.
Although the lake is just around 2,000 feet higher than adjacent Shaver Lake, the atmosphere and attractions are much different. Huntington Lake is often less busy than Shaver Lake, a favorite destination to unwind away from the Valley heat. Although sailboats do not perform well at Shaver, Huntington's regular breezes make it a perfect location for them.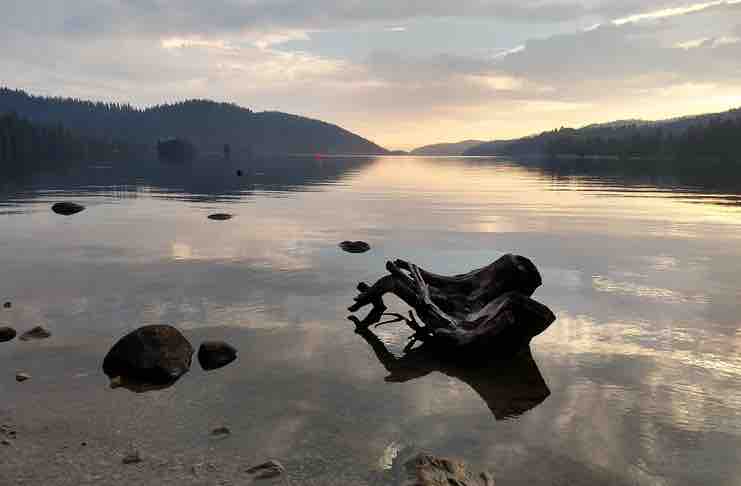 6. Shasta Lake
Shasta Dam was built between 1935 and 1945, and the lake was first filled in 1952. Its 370-mile shoreline, when complete, exceeds that of San Francisco Bay. The lake surface encompasses 29,500 acres when it is fully stocked.
At the spillway, the lake level is 1,067 feet. California sailors will never run out of new places to explore with its twisting arms and countless inlets. On Shasta Lake, boating is a popular activity, and both Forest Service and commercial ramps are accessible. There is a paved ramp and an illuminated parking area at each of the seven Forest Service ramps.
When the lake level drops below 75 feet, a few ramps are long enough to facilitate launching. Hirz Bay, Jones Valley, Sugarloaf, and Centimudi all have ramps. Shasta Lake's numerous coves and arms make it a great place to take any watercraft.
There are open regions for personal watercraft and wakeboarding, peaceful coves for fishing, and tranquil hideaways for kayaking. Many launch stations are available on the lake to assist you in cutting down on your on-water travel time to your preferred destination.
The gorgeous waters of Shasta Lake attract all types of watercraft such as vessels from Red Beard Sailing, from kayaks to jet skiers, water skiers to houseboaters. The lake's lengthy, twisting arms and numerous inlets provide boaters with new things to discover every day.
Watch this to get a glimpse of Shasta Lake:
7. Bass Lake
The lake was known as Crane Valley Reservoir; then, it was changed after a tiny Bass Lake timber operation contaminated the lake, killing all of the fish that lived there. The government ordered the timber firm to replace all of the lost fish.
Bass Lake is presently owned and maintained by Pacific Gas and Electric Company. Its waters are still utilized to generate power, irrigate Central Valley farming, and for various recreational activities.
Camping, boating, swimming, fishing, and picnics are all available at this popular leisure location nestled among thick pine trees. Bass Lake is a popular boating, swimming, and sailing destination in California.
Bass Lake, approximately five miles long and surrounded by lovely pine trees, is located at 3,400 feet elevation. Several Bass Lake marinas offer boat launching, docking, and rental services. A boat launch, located on the south end of the lake, provides free public boat launching facilities.
The usage of vessels and watercraft on Bass Lake is subject to a charge. The costs are set by the Madera County Sheriff's Department and depend on the power of the boat or vessel.
8. Lake Berryessa
The lake is a two-hour drive north of San Francisco and is one of California's most enormous, loveliest, and strangest locales. It is a year-round watersports paradise, with more than 165 miles of clear water shoreline. Lake Berryessa is popular due to its mild temperatures, so one million people visit each year to escape the heat.
Water skiing, jet skiing, pleasure boating, house boating, sailing, canoeing, and kayaking are popular activities on Lake Berryessa. It's an excellent place to do water sports in the summer because of the warm temperatures. A free boat launch ramp is located near the lake's southwest end, and many more are scattered around the coastline.
Some sandy beaches and isolated coves surround Lake Berryessa. Spend a few hours admiring the scenery and snapping a few photos.
9. Lake Havasu
Lake Havasu is one of Arizona's most well-known lakes. This lovely lake, located near Phoenix, is one of the region's busiest and most thrilling destinations. Hundreds of boats dock on its beautiful beaches each year, cutting through the ocean.
Sailing on Lake Havasu and finding a beach to stop for the evening may be a lot of fun if you don't mind the traffic. The lake is peaceful in the off-season and a great area to sail a small boat. On the lake's banks, there are multiple spots to the dock and numerous restaurants, taverns, and stores.
On Lake Havasu, sailing is a popular activity. Hundreds of small cabin sailboats 'invade' Lake Havasu every year for the Lake Havasu Pocket Cruiser Convention. Larger boats, both sail, and motor may also be seen on Lake Havasu. During the summer, hanging out near Lake Havasu seems like a never-ending party.
10. Mono Lake
Mono Lake is breathtakingly gorgeous, with its dazzling blue waters mirroring the snow-capped Sierra Nevada. It is a massive inland sea that occupies a 695-square-mile natural basin.
Mono Lake is well known for its spooky tufa towers, which are mineral formations formed when fresh-water springs burst up through the lake's alkaline waters.
The saline water of the lake not only makes you float like a cork, but it also supports billions of brine shrimp, which attract millions of migrating birds.
Mono Lake is available for both motorized and non-powered boating. While on the lake, the sun may be pretty harsh, so be sure to drink plenty of water and wear sunscreen. Sunglasses, a hat, and long-sleeved shirts are all recommended. On the lake's south coast, Navy Beach is one of the most convenient spots to launch small vessels.
Take a minute to unwind in the center of Mono Lake, whether you're paddling in your boat or renting one. Listen to the waves crashing on the hull of the ship. As you become immersed in the unique Mono Lake ecology, gaze at the jagged mountain skyline rising about 5000 feet above you. There are only a few sites in the world like Mono Lake, so take advantage of the lake's simple access and start exploring!
Want to read more of our latest posts? Check out these ways you can overcome travel anxiety.