This could be Austria I thought, as Mount Stratton came into view. It isn't so much a ski resort as a ski city. The mountain has slightly fewer trails than Mount Snow, but with all the lodging, facilities, stores, bars, and restaurants, I often forgot there was even a mountain.
Check-in wasn't until 3pm, so I hit the slopes first. I picked up rentals at the base of the mountain ($28/day) and waited on no lines for the gondola. Ah, I thought, the beauty of skiing in March.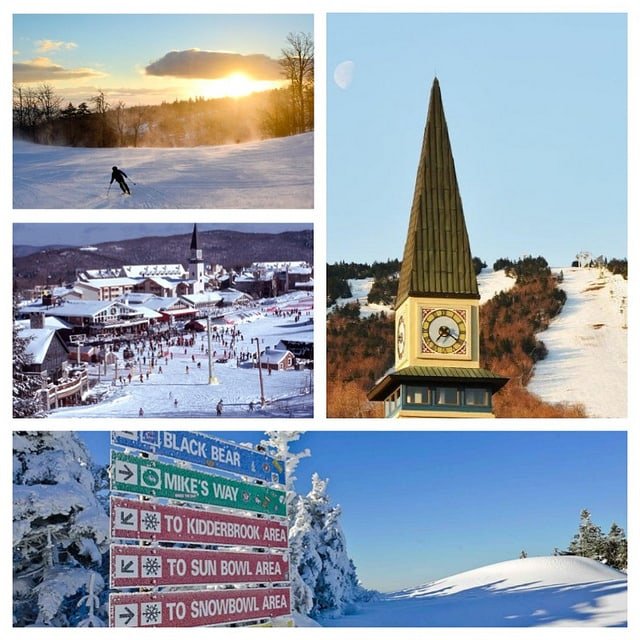 The snow was soft and groomed. I skied some of the mountain's oldest trails, including Upper Tamarack—a classic, sweeping Vermont style track for slightly advanced skiers. On a clear day, you have a view of several of the area ski resorts from the top of the mountain, including: Mount Snow, Okemo, Bromley, and Magic.
After skiing, I checked into my room at the Long Trail House. Stratton has more than 20 different lodging options and one is bound to fit your budget or vision of luxury. A room at the Long Trail House (from $110) comes equipped with a full-kitchen, a living room with a gas fireplace, a balcony, and a large bedroom with a king-size bed.
While every skier should experience Stratton in March, the resort offers plenty of non-skiing activities. After a buffet breakfast at the Inn at Stratton Mountain, I moved to the inn's basement to see the recently completed yoga center. The center was large, with lots of light coming from a wall of windows, providing a spectacular view down into the valley. Stratton hosts an array of yoga-based events throughout the year, culminating in the world-renowned Wanderlust music and yoga festival held at the mountain on June 20-23.
Before dinner, I took a stroll through The Village—an alpine-style shopping center complete with local and designer stores, the newly renovated Day Spa, numerous restaurants and bars, and a candy store called Mountain Sweets. I stopped in at Grizzly's at the Base Lodge for a quick après ski drink on the large sun-drenched deck.
There are a number of dinner options available in The Village, including The Sushi Bar and the high-end, farm to table restaurant Verde. I kept it simple and went to Organic Pizza Company. OPC, as it's known locally, has a down-to-earth vibe where you can shoot pool while sipping Vermont craft beers—my favorite was the Northshire Chocolate Stout ($8) from Bennington. The pizza is made with all Green State ingredients, but if you carry a New York Pizza bias, the butternut squash Ravioli ($20) is recommended.
Skipping drinks at the popular Irish bar Green Door Pub, I opted instead for an outdoor hot tub at the Long Trail House and an early night.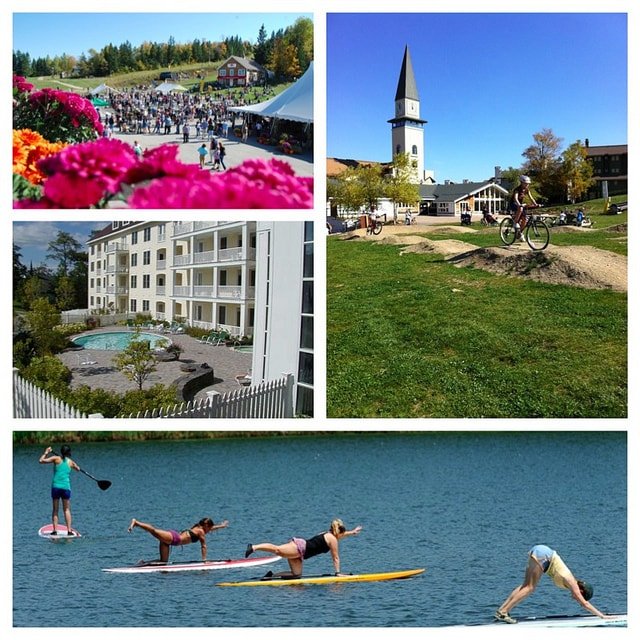 The next morning at the Village's Activity Hub, I signed up for a guided snowshoe tour, which started at the Nordic Center and took me around icy beaver ponds and ancient colonial stonewalls. In the spring and summer, the mountain offers guided hikes up to the summit and keeps a lift open to ferry hikers up and down from a section of the old International Paper Trail, which connects to both the Appalachian and Long Trail.
If you've got time (and four wheels) to explore beyond Stratton, 14 miles away in Londonderry is Taylor Farm, offering cheese making workshops and sleigh rides. Try their maple-smoked Gouda.
Less than 30 minutes away on Easy Street in Danby, the Mountain View Ranch offers year-round scenic horseback and carriage rides for all ages ($35-$100). They also offer picnic rides ($65) perfect for a spring getaway.
If you prefer outlet shopping to the rugged outdoors, drive the half hour into Manchester to shop along the river in one of the quaintest towns in New England. For a delicious eco-conscious lunch, stop by local favorite The Silver Fork.
On my way back to the train station, I took a detour to Bentley's Too—a millhouse in the Village Commons—for a taste of the rumored best hot chocolate in the world, which it may very well be. I stocked up on hard cheese and maple syrup at the Brattleboro Food Co-op before boarding the train and zooming along the edge of the river towards home.
Visit stratton.com for rates, snow reports, and upcoming events like the Vermont Challenge, an annual bike race taking place on August 14-18, 2013. Get 30% off lodging when you stay in March.

How to get there: Emilio's Ski Shop in NYC arranges roundtrip transportation for $50, or $99.95 with a lift ticket. If you're interested in exploring what's beyond Stratton and want your own car, take Amtrak to Albany (2.5 hrs from NYC, $80/roundtrip) and rent a car from the capital for the remainder of the two hour trip to Mount Stratton. If you'd like to drive up from the city, consult oM's guide to renting hybrids in NYC.
Photos: Mount Stratton, brungrrl