Anchored by Bedford and Kent Avenues, North 3rd Street is located in Williamsburg, Brooklyn. Its blocks have shops, clubs, crafts, condos, street art, and yoga studios, just like the rest of the neighborhood, but with surprisingly less traffic, people, and pretension.
Begin on Bedford. As you walk toward the blue-and-white Endless Summer Taco Truck, try not to dally for too long among the artisanal coffee shops or vintage frocks. There will be plenty to browse or buy where you're going. At the food truck, make a right onto North 3rd proper, with or without a fish taco.
Cross Berry Street, named for the city's first mayor. Not New York City, mind you, but the City of Williamsburg, incorporated in 1852. Three years later, it was gobbled up by the larger City of Brooklyn. In an 1896 article in the New York Times, Reverend Doctor Samuel W. Haskins still lamented the gobbling: "[A]ll the material advantage we gained was the paving of Bedford Avenue." Well, sir, no doubt you'd find even more to complain about these days.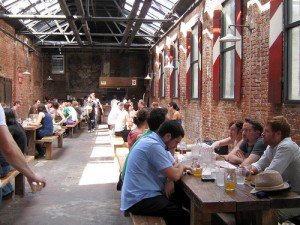 Such as the frivolity available at Radegast Hall (No. 113). Like its brethren in Europe and Queens, this Biergarten has massive communal tables, as well as drink specials and live music. Boisterous bonhomie. Check out the beer plus entree or dessert pairings from 5–8 pm, Tuesdays through Fridays.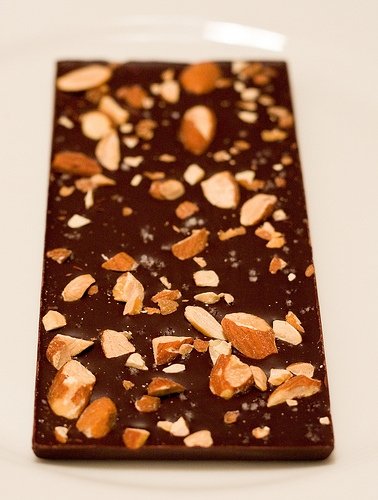 A few steps further, and you're at Mast Brothers Chocolate (No. 105A). Since its opening in 2009, this bean-to-bar factory has drawn accolades from foodies, facial hair enthusiasts, and parents, who invoke the ginger-bearded brothers in lectures about the good things that can happen when you get along with your siblings. Don't be alarmed by the slight acrid smell. It's all part of the process, which involves cacao, cane sugar, and add-ins like Serrano peppers and sea salt sourced from around the world. In the tasting room, you can see each bar get wrapped by hand, in paper designed by the brothers' family and friends, and nosh on samples. Consider signing up for the $9.99 tour, weekends at 1pm, hairnet provided.
Next door is the Brooklyn Art Library (No. 103A), full of tweendom and whimsy. Browse the notebooks, stationery, and stickers on offer, flip through antique guidebooks, or head to the Pockets Project, in back. You're welcome to deposit your gum wrappers, lint, spare change, and whatever else you have in your pockets into the large labeled glass jars. Make sure to register for a library card too.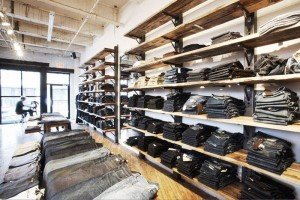 Book Thug Nation (No. 100) is run by four booksellers who used to sell their wares on the street. Their light-filled brick-and-mortar establishment is particularly strong in previously owned literary fiction and martial arts titles. Back on the other side, the one-year-old Brooklyn Denim Company (No. 85) offers pants in a multitude of sizes. Washes and fabrics as well. Yup, they have skinny jeans, but you probably assumed that any store worth its cotton here would sell them, right?
Conclude your walk at so-newly-opened-it-doesn't-even-have-a-website Cantina Royal (No. 58). Williamsburg is home to a large Hispanic and Hasidic population, occasionally at odds with the gentrification represented by places like the Kula Yoga Project (No. 85) and the high-ceilinged lofts available for purchase above it. At Cantina Royal, as you sip a glass of mezcal or sample one of the 15+ salsas, you can contemplate ways to maintain the neighborhood's authenticity while welcoming diversity and encouraging commerce. Or simply sit back and listen to the DJ.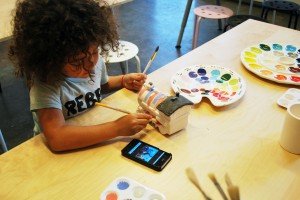 Got a few more minutes? Double-back to The Levee (212 Berry Street, at North 3rd) for Frito pie and some pinball. At Baked in Brooklyn (242 Wythe Avenue, at North 3rd), you can paint your own ceramic beer stein, although, given the amount of kids on site, you might want to call it a very special mug instead. We prefer to make a left on Kent and wind our way over to the street art–covered Mollusk Surf Shop (210 Kent Avenue, at River Street). Strap-hang to hang 10, dude.

How to get there: Take the L train from Union Square to Bedford Avenue. As always, caveat rider: remember to check MTA for service advisories.
Photos: Courtesy of Mollusk Surf Shop, Garrett Ziegler, Brooklyn Denim Co., and Baked in Brooklyn