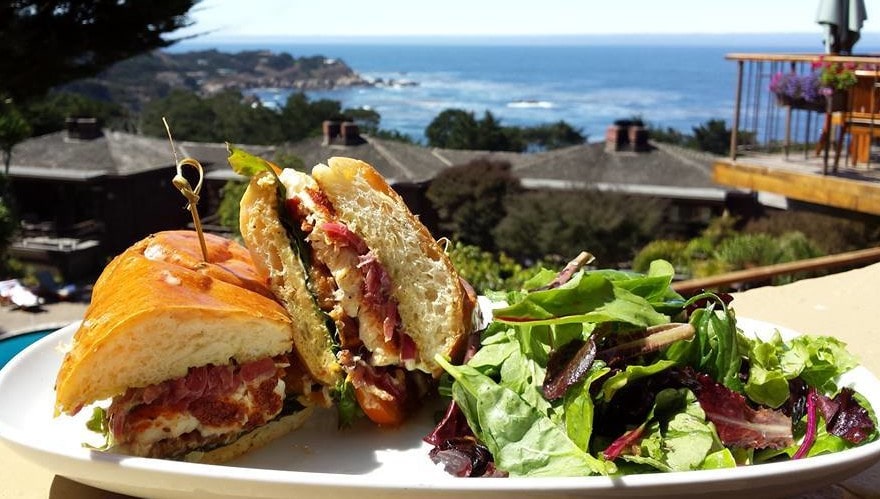 It's January, a time for new beginnings, setting goals, renewing discipline and… eating a lot. Yes, we too heard that proverbial New Year's resolution record screech. But hey, while this month is about working off all the turkey and treats, it's also about living a better life: saving money, experiencing new things, and supporting local businesses.
Since January is California Restaurant Month, offering restaurant deals throughout the state, its a great time to explore and savor while still committing to that budget resolution. And in the great state of California, that could mean anything from cozying up in the mountains to sipping a beer on a beachfront patio. In honor of another resolution (using less gas), oM has put together some California Restaurant Month foodie adventures, all doable with minimal mileage on the car. (And don't worry, we've thrown in some fun fitness options to help you work off another month of eating in no time!)
Best of the Bay
Napa Valley 
When to go: January 1-31
What to do: During Napa Valley Restaurant Month, prix fixe meals and stay-and-dine hotel packages make it easy to sip, sup, and sleep throughout wine country. Drink in the scenery at Silverado Vineyards, and then bike it off on the Nichelini Loop, or take in all that Downtown Napa has to offer. For extra indulgence, visit during the Napa Valley Truffle Festival (January 17-20), when renowned scientists, chefs, and epicurean experts bring an extra dose of decadence to the area.  
Directions: Take the Baylink ferry to Vallejo, and the Napa VINE can get you to a number of destinations in the area.
San Mateo County
When to go: January 15-31
What to do: Frolic on the farms around Half Moon Bay and then Share the Bounty at any number of restaurants offering special menus free appetizers, and other deals. Burlingame and Palo Alto also have great eatery deals, plus plenty of places to play.
Directions: Depending on your destination, Caltrain or SamTrans will get you where you need to go.
Tri-Valley
When to go: January 17-31
What to do: From specially-priced menus to free coffees and ice creams, Danville, Pleasanton, Dublin, San Ramon, and Livermore all get in on the Eat Tri-Valley. When the dining is done, a hike up Mt. Diablo or a bike ride through the Livermore vineyards should have you feeling good. 
Directions:  BART will get you to most Tri-Valley destinations, although it may be easiest to drive out to Livermore.
Berkeley
When to go: January 17-31
What to do: Berkeley Restaurant Week brings special menus and deals to restaurants, bars, and even ice cream shops. Eat your way through the Gourmet Ghetto (North Berkeley),  Solano Avenue, or Downtown Berkeley, and then work it off with a leisurely walk along the marina or a hike on any of countless trails. 
Directions: BART it!
Oakland
When to go: January 17-26
What to do: Work up an appetite by walking around Lake Merritt or kayaking in Jack London Square, and then satiate it at any number of Oakland Restaurant Week eateries, all offering prix fixe menus for $20, $30, and $40. 
Directions: BART will get you to many destinations throughout Oakland, or you can take the  Blue and Gold Fleet ferry to Jack London Square.
Northern Noshing
Sacramento 
When to go: January 8-17
What to do: During Dine Downtown, you can explore Sacramento by day and indulge by night. The special offers glorious three-course meals for just $31, and that extra dollar from each meal goes to the California Food Literacy Center to promote community food education.
Directions: Take Amtrak's Capital Corridor.
Suisun City 
When to go: January 17-26
What to do: Explore the historic port town, and then indulge in a prix fixe meal at one of many Suisun City Restaurant Week restaurants. 
Directions: Take Amtrak's Capital Corridor.
Mendocino
When to go: January 17-26
What to do: Sure, there's the skunk train and stunning natural wonders, but during the Crab, Wine & Beer Festival Mendocino is all about, well, crab. We're talking crab feeds, cook-offs, and family-style fish meals—and that's to say nothing of barrel tastings, fishing adventures, and specials at hotels throughout the area. 
Directions: It's best to drive to Mendocino, but many of the events are clustered together for easy reach by bike or foot.
Mountain Meals
South Lake Tahoe
When to go: January 10-17
What to do: Play in the snow, of course. And when it's time to warm up, partake in one of the specially-priced menus available around town, all of which highlight the week's Made with Altitude theme.  
Directions: Bay Area Ski Bus provides bus transportation starting at $109 for a day trip.
Yosemite
When to go: January 12-February 6
What to do: During Chef's Holidays, intimate receptions, cooking demos, behind-the-scenes kitchen tours, and gala dinners bring foodies up close and personal with some of California's favorite chefs. In between meals, the park glows with winter magic—and no shortage of outdoor adventures to help you work off all the eating. Specially-priced lodging packages are available. 
Directions: Take Amtrak's San Joaquin train. With connecting bus services, the journey from the Ferry Building to Yosemite is seamless.
Tuolumne County
When to go: January 19-25
What to do: Experience the historic towns of Gold Country, snowshoe through Stanislaus National Forest, and then sit down to old-fashioned tea service or a glass of local wine. Historic saloons and gourmet restaurants alike are offering Tuolumne County Restaurant Week deals. 
Directions: It can be a challenge to reach Tuolumne County without a car, but once you're there the small towns are easy to navigate on foot, and Tuolomne County Transit runs Monday through Saturday. Additionally, if you do Yosemite too, the YARTS shuttle makes an easy connection from the valley on through to Sonora.
Coastal Cruising (and Cuisine)
We recommend using Restaurant Month as an excuse to take an Amtrak adventure down the coast. Get inspiration here!
Monterey County
When to go: January 1-31
What to do: Bike the 17-mile drive, have an adventure in Big Sur, or play on the beaches of Carmel and Monterey. Then enjoy fresh catches, breathtaking views, and Monterey County Restaurant Month discounts.
Directions: Transportation will vary by destination. We include directions at the end of each story (linked above).
SLO County
When to go: January 1-31
What to do: Sure, there are mountains to hike, trails to bike, and beaches to walk, but let's be honest: SLO County is foodie heaven, especially during SLO County Restaurant Month, when participating eateries offer special menus, most with a $30 three-course prix fixe. 
Directions: Take Amtrak to San Luis Obispo or Paso Robles. From either, public transit in the area is plentiful.
Santa Ynez Valley
When to go: January 19-25
What to do: Wine your way through the vineyards, and dine on three-course tasting menus priced for the 2014 Santa Ynez Valley Restaurant Week ($20.14). We've also heard tell of a spectacular waterfall just outside of Solvang…
Directions: Take Amtrak to Santa Barbara, and then catch the Clean Air Express.
Santa Barbara
When to go: January 30-February 9
What to do: Keep the Restaurant Month fun going into February with the Santa Barbara Film Feast, where prix fixe menus meet the Santa Barbara Film Festival. If you're feeling more feast than film, spend your days finding your funk, seeking out secret stairs, or simply beach cruising.  
Directions: Take Amtrak.
Savor SoCal
Ventura County
When to go: January 13-19 (Ventura); 19-25 (Oxnard)
What to do: Whether you head out to the Channel Islands or stay and play on Oxnard's shores, you'll end the day with great food. During Ventura Restaurant Week, participating venues will be offering 20 percent off, while Oxnard Restaurant Week features an array of options, including "premier menus" or even two-for-$20 deals. 
Directions: Take Amtrak to Oxnard, where bus lines are aplenty. Gold Coast Transit operates bus routes throughout western Ventura County.
Los Angeles
When to go: January 5-12 (Santa Monica); 19-24 (Pasadena); 20-31 (LA)
What to do: Soak up the Santa Monica sunshine, hike the Hollywood Hills, cultivate culture in Westwood, and eat well, whatever your definition of "eat well." Santa Monica Eat Well Week takes a healthy approach to January discounts, while Pasadena Cheeseburger Week celebrates America's favorite meal in the place where it was born (hey, that healthy eating resolution can always start in February). For the all-around eater, DineLA offers prix fixe meals throughout Los Angeles County.
Directions: If you fly, it's easy to get around via public transit, or you can take your electric vehicle to one of these EV-friendly hotels.
Long Beach
When to go: January 20-26
What to do: With a name like "Biking Capital of the West," Long Beach offers plenty of activities that will help you justify stuffing your face during Downtown Long Beach Pepper Week (yes, you read that right), when all things from sauces to beer explore the spicy side.
Directions: Fly into the Long Beach Airport. You won't need a car to explore. Alternatively, take Amtrak to LA and catch the MetroRail Blue line at 7th Street Metro Central Station, which will get you to Long Beach in an hour.
Orange County
When to go: January 10-16 (Irvine); 17-26 (Newport Beach); 20-26 (Catalina Island)
What to do: Indulge your inner child with zip lining, pirate sails, and whale safaris (oh my!) or just kick it in Newport Beach. Restaurants participating in both Irvine Restaurant Week and Newport Beach Restaurant Week restaurants will be offering specially-priced prix-fixe menus. Keep the feasting going on an island getaway. Avalon Restaurant Week on Catalina Island features prix fixe menus for $20, $30, or $40 ($10, $20, 0r $30 at lunch).
Directions: Take Amtrak to Irvine. From there public transit will move you around the area. To reach Catalina, take the Catalina Flyer from Newport Beach.
San Diego
When to go: January 19-24
What to do: Play your way through Balboa Park, the San Diego Zoo, and Coronado Island, and then gobble up San Diego Restaurant Week specials: prix fixe lunches for $10, $15, and $20 or dinners for $25, $35, and $45. More special menus await during Temecula Valley Restaurant Month (January 1-31). 
Directions: Take Amtrak or fly to San Diego (you'll need to drive to Temecula).
Photos: Hyatt Carmel Highlands, Damian Gadal, Visit Sacramento, Visit Mendocino, Discover LA, Visit Santa Barbara, Visit Napa Valley, Visit Newport Beach, Visit San Diego, Visit SLO County, Temecula Valley, Visit Tri-, DNC Parks & Resorts at Yosemite, Inc., BSide BBQ