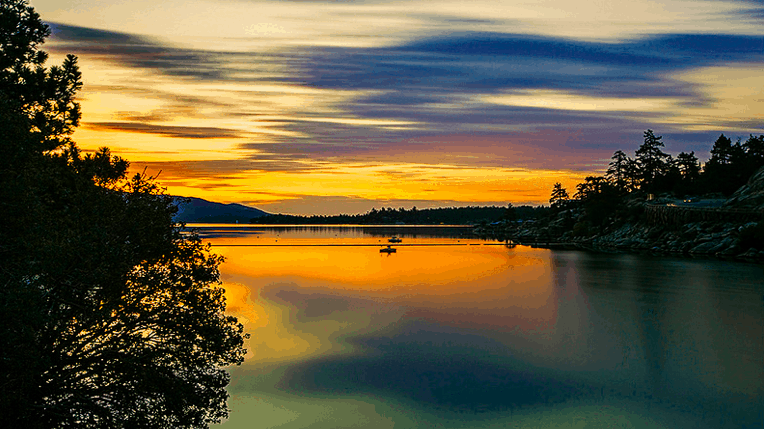 From high above the clouds of L.A. at 7,000 feet, the mountains of San Bernardino offer multitudinous pleasures for families, thrill-seekers and nature lovers alike. With fall temperatures averaging about 70 degrees and tapering off to a pleasant evening chill, Big Bear is a terrific place to escape for to pine trees, simple pleasures and the eponymous, very blue, lake.
If this small mountain town were a perfume, it would evoke top notes of summer camp with a dash of relaxed, Midwestern vibe. Laid-back and old-fashioned in the best possible ways, Big Bear manages to ditch the crowds and high price tags of most resort towns and instead delivers on fun and ease, and its log cabin style Style mixed with giant carved wooden bears make this area especially appealing to kids. Here, your guide to things to do in Big Bear. 
Things to do
1. Take a hike (or  bike!). There are so many terrific trails in close proximity that picking one is the hardest part. A marvelous choice is the area's first new trail in decades, the Skyline Trail at Snow Summit. To reach it, take the breathtaking 3-mile gondola ride to the top, which drops you at the Grand View Bike Loop Trail and Snow Summit Adventure Park. If you care to take to the mountain on two wheels, bikes are available for rent at Snow Summit, or are also allowed on the sky chair.
Another great option, especially with children, is the Woodland Trail on the North Shore of the lake. An 1.5-mile loop, this easy amble offers a self-guided tour detailing wildlife, botany, and geology for a little family education. Kids will appreciate the 20 posted stops along the way that keep things interesting and foster a sense of accomplishment.
2. Eureka! Founded in the heat of gold rush fever, Big Bear's checkered past is mostly but a memory. There are, however, a few interesting artifacts worth checking out. The 20-mile Gold Fever Trail winds through Holcomb Valley, passing the once bustling town of Belleville, and assorted interesting and even creepy sites, like the Hangman's Tree and the Metzger Mine. For the most part, the woodland has reverted back to its natural state and it's fascinating to imagine what it must have been like in the 1860s. Big Bear Off-Road Adventures offers a 2.5-hour tour of Holcomb Valley.
3. Grin and bear it. The carved bears and painted coyotes that you see everywhere in Big Bear pay homage to actual wildlife that still roam the San Bernardino Mountains. See them up close at the Big Bear Alpine Zoo (43285 Goldmine Drive).
Intimate and free of crowds, the zoo really lets you see the animals up close and personal. (When I visited, the Black and Grizzly Bears were happily chowing down, separating the rind from the fruit on oranges and chomping on lettuce.) The zoo often houses animals that have been rescued, and features wolves, bobcats, mountain lions and other California species.
4. Take a load off. Take some time to just relax in Boulder Bay. This little beach on the lake looks just like Disneyland's Tom Sawyer Island. Cozy and picturesque, the cove makes a great place for a picnic or a canoe ride, and the gigantic rocks beg you to make like Davy Crockett and do some exploring.
Where to eat
1. You must be kidding. Himalayan food? Yes! Located smack in the heart of town, Himalayan Big Bear (672 Pine Knot Boulevard, Suite 2) serves up delicious and hearty fare, perfect after a day in the wild. With nods to Thai and Indian food, Himalayan's specialties include Chicken Vindaloo and Shrimp Masala. The Papadum—a thin, crispy disc reminiscent of a chip and dipped in tamarind and mango chutney—was so delicious my 4-year-old overcame his fear of new tastes to gobble up the whole thing.
2. Food with a view. You would be hard-pressed to find a more scenic eatery than the View Haus (880 Summit Boulevard) at the top of the Snow Summit Scenic Sky Chair. Low-key and surprisingly delicious, this café delivers barbecued items (like burgers and pulled pork) alongside surprisingly healthy options (salmon, chicken, vegetable kebobs) but the best thing on the menu may just be the 360-degree views.
3. Old Time Charm. A walk through the middle of town on Pine Knot Boulevard will take about three minutes. The ticket prices Village Theater (40789 Village Drive) start at $4 on "Family Fun Days" and are $6 for all matinees.
Two doors down, at the North Pole Fudge & Ice Cream Co. (618 Pine Knot Avenue), I counted at least 10 kinds of caramel and candy apples. Chocolates, frozen treats, and trays of homemade fudge can be ogled, tasted, and purchased until your sweet tooth cries "uncle."  And when you crash from too much sugar, walk across the street to savor an Americano or Chai Latte at the Copper Q (645 Pine Knot Boulevard).
Where to sleep
1. Kitsch Factor. Cozy and rustic, the Wolf Creek Resort (41421 Big Bear Boulevard) celebrates Big Bear's casual charms with fireplaces, quilted bedspreads, and wildlife paintings. There is a pool, hot tub, and even a wine tasting room on the property for maximum relaxation (from $69).
2. Live it up. Because Big Bear is relatively inexpensive, one great option is to rent a condo for the weekend. The Boulder Bay Condos (40016 Big Bear Boulevard), overlook the lake, are child friendly, and rent for as low as $171 a night. Amenities include, two bedrooms, a pool, and a wood-burning fireplace.
3. Holy Bratwurst. Find Bavarian-chic galore at the Black Forest Lodge (41121 Big Bear Boulevard) just down the road from the Village. Rooms are available, as are "chalets," two-story units featuring three queen-size beds, a full kitchen, and a fireplace. There is something for everyone here, plus amenities like a pool, spa, on-site salon, and children's playground (from $65).
Directions: From L.A.'s Union Station take the San Bernardino Line 316 to San Bernadino. From San Bernadino and once in Big Bear, the Mountain Area Regional Transit Authority (MARTA) is actually a great way to get around town for $1 a ride or $3 for a day pass.
Photos: Logan Brumm, Angela Matano, Wolf Creek Resort, Copper Q, Rex Boggs