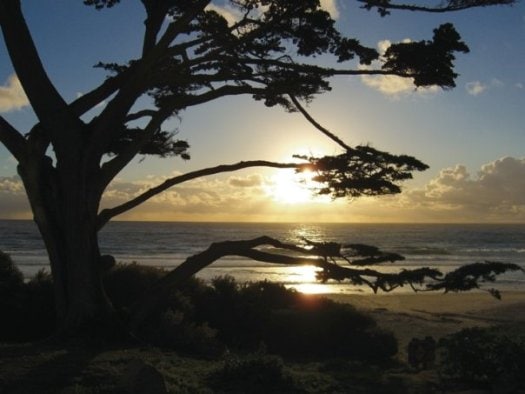 Since 1905, La Playa Carmel has been standing watch over the rugged Pacific coast, both a "hidden gem" and a landmark mainstay of artsy Carmel-by-the-Sea. And in August of 2012, Carmel's "Grand Dame" entered a whole new era when it re-opened after a multi-million dollar makeover, as notable for what it left the same as for what it changed.
To be sure, La Playa Carmel received myriad lavish upgrades, from gussied-up guest rooms to practical matters like new plumbing and much-needed soundproofing. But loyal guests will be pleased to note that the hotel's legacy—including its delicate balance of "humble grandeur" and its signature peachy-pink color (which famously was not approved by the city at first)—remains intact.
Originally built in 1905 by the landscape artist Chris Jorgensen for his wife, Angela Ghirardelli (of "chocolate family" fame), this castle by the sea was only a private residence for a short while before  becoming an upscale boarding house in 1916. Since then La Playa has seen a few different updates and expansions, and this latest is as much restoration as it is renovation.
The 75 uniquely styled guest rooms have acquired an air of breezy, modern luxury, while the building itself remains true (or perhaps truer) to its original incarnation, replete with Jorgensen's stained-glass star window, as well as the beautiful fireplace and original tiled staircase that anchor the former living room (now reception). The hallways celebrate the area's history with old photographs, maps, and theatre posters (which were once crammed onto the walls of the conference room).
What other traditions have stayed the same at La Playa Carmel? The Signature Champagne Breakfast Buffet is still going strong—a gourmet, locally sourced morning meal, included in the room rate and served up with a side of ocean views. And the bar remains a tribute to days past (but one with an updated small plates and drinks menu), and additional perks include the terrace with outdoor fireplace and a dinner shuttle to and from town. And then, of course, there is a new focus on sustainability, including a variety of green practices, plus the employment of a full-time conservationist.
Rates from $209 a night, laplayahotel.com.
Things to Do in Carmel-by-the-Sea
It would be easy to get lost the beauty and history of La Playa Carmel for an entire weekend, but the artsy seaside town is not to be missed. Here, a few things to do in Carmel-by-the-Sea.
Be Beachy. Soft white sands await just a few blocks from the hotel. The public beach feels very private, is pet friendly, and allows beach bonfires at night.
Dine at Dametra Café, the oh-so-popular spot that's one part delicious, two parts fun, and 97 parts magical (Ocean Avenue at Lincoln Street, dametracafe.com).
Shop and sip. From one-of-a-kind boutiques to high-end designers, Carmel-by-the-Sea is a shopper's paradise. And for the shopping averse (or shopaholics on a break) there are plenty of tasting rooms in the mix, all of which can be explored using the Carmel Wine Walk by-the-Sea Passport (purchase at the Carmel Visitor Center, San Carlos and 5th).
17-Mile Bike (or hike, sail, kayak…). The famed 17-mile Drive is a must in this area, but we prefer ditching the car (and the fee to drive the road) and exploring the town on two wheels. Rent a bike at Adventures by the Sea for $7/hour, including helmet and lock.
Get cultural. This art haven is home to sundry galleries, plus a few theaters to satisfy your artistic side. The Golden Bough Playhouse, Circle Theatre, and Forest Theater offer more than 175 performances through the Pacific Repertory Theatre group.
Getting around: Carmel-by-the-Sea is a sweet small town and extremely friendly to pedestrians and cyclists. One can get around more easily without a car than with one.
Directions
Take Caltrain to the San Jose Caltrain Station. From there, walk to Cahill/Diridon Station and take Bus 55 to the Monterey Transit Plaza, where you can catch Bus 5 to 6th/San Carlos, about an eight-minute walk from the hotel. (Note that it could take more than four hours to reach the area by public transportation. You can also drive and then leave your car at the hotel to explore on bike and foot.)
Photos: Carmel-by-the-Sea, La Playa Carmel, Dametra Cafe
[mappress mapid="76″]