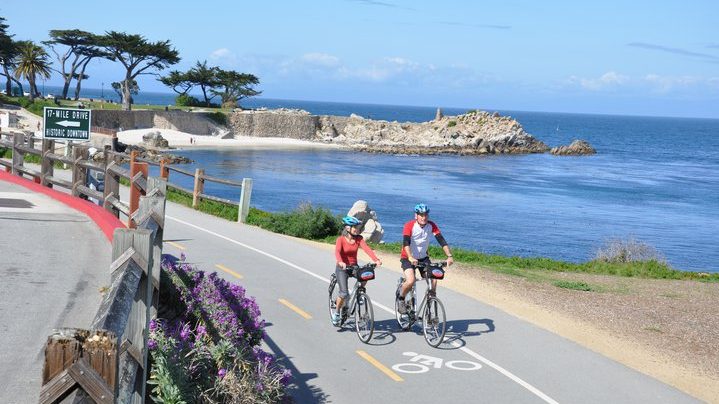 You don't have to shell out hundreds (or even thousands) of dollars for a flashy bike worthy of the Tour de France in order to enjoy all of the beautiful trails that the Bay Area has to offer. Choose to be eco-friendly and paycheck-friendly by checking out one of our top 10 bike rental shops in the Bay Area.
1. Blazing Saddles | 2715 Hyde Street | San Francisco
Boasting the largest rental fleet in the U.S., Blazing Saddles offers everything from your basic mountain bike to high-performance tandem triples. Make a reservation or just stop by one of their stores (they mainly operate out of the Hyde Street location) to start exploring the streets of the city.
Directions: Take BART to the Montgomery Street station.
2. The Bike Hut | The Embarcadero Pier 40 | San Francisco
The Bike Hut is much more than just bike rentals (available by the day, hour, or longer term). At this NPO, your money will support skill-training for underprivileged kids and provide free bikes for recently landed refugees who have no other means of transportation. The Hut also sells low-cost used bikes.
Directions: Take BART to Embarcadero Station and walk down to the Embarcadero.
3. Undiscovered Country | 2249 Grant Rd, Los Altos | Bike Delivery
The pickier bike aficionados will love Undiscovered Country, a bike rental and tour company that prides itself on providing high-end Scott all-carbon road bikes. Another bonus is the offer of free bike delivery and pick-up to any location within 20 miles of their Mountain View office. Plus, they offer amazing tour options.
Directions:  Undiscovered Tours delivers bike rentals throughout the Bay Area, everywhere from Berkeley to Half Moon Bay to Santa Rosa (note that a delivery fee applies for some destinations).
4. Campus Bike Shop | 459 Lagunita Drive #12 | Stanford
Before you rule out the bike rental shop located on a college campus, you should know that the shop rents to anyone, not just students. And from Stanford, you have access to a number of great road and mountain biking trails (of course if you're looking to relive your college days you can always bike across campus a few times—we won't judge).
Directions: Take CalTrain to the Palo Alto station. From there, head down Palm Drive until Campus Drive. Go left on Campus, then right on Mayfield Drive and another right on Lagunita Drive. Look for the large building called Tresidder Union.
5. Bay City Bike | 2661 Taylor Street | San Francisco
Bay City Bike is an easy option for a quick jaunt across the Golden Gate Bridge. You can't go wrong here if you are looking for a lot of bike options, close proximity to attractions, and a fun, professional environment.
Directions: Take BART to Montgomery Street
6. Bay Area Bikes | 427 Water Street | Oakland
With locations in Jack London Square, Uptown Oakland, and Pittsburgh, Bay Area Bikes gives you prime access to tons of great Bay Area trails along the Bay and Lake Merritt. It also offers an hourly rental for those looking for a quick jaunt.
Directions: Take  the Blue and Gold Fleet Ferry to Jack London Square. Take BART to 19th Street Oakland to reach the Uptown Oakland shop and to Pittsburgh Bay Point for the Pittsburgh  shop.
7. Bike and Roll | 899 Columbus Avenue | San Francisco
Bike and Roll has several outposts scattered throughout the city, with its main branch located in North Beach. The company offers a broad spectrum of rental options from hourly and daily rentals to a "season pass" for locals. There is also a large menu of tours and many different bike options, including the nifty and hilarious seven-person Fun Cycle.
Directions: Take BART to Montgomery Street.
8. Mike's Bikes | 264 Petaluma Boulevard North, Petaluma | 1411 I Street, Sacramento
Established in Marin County in 1964, this Bay Area mainstay for all things bikes now operates nine stores throughout the Bay Area, and offers bike rentals at the Petaluma and Sacramento shops. It's about community here, from bike events, to a bike team, to philanthropic efforts.
Directions: Take Amtrak to the rental locations in Petaluma or Sacramento.
9. Napa Valley Bike Tours | 6795 Washington Street | Yountville
There are 40 wineries within five miles of this Napa Valley bike shop. Enough said.
Directions: Take the Baylink ferry to Vallejo and catch the Napa VINE route 10 bus to Yountville.
10. Alameda Bicycle | 1522 Park Street | Alameda
This small family-owned shop is all about community. It doesn't stop at bike sales and rentals but gives back in a number of ways.
Directions: Take BART  to Fruitvale then head down 33rd Avenue. Make a right on San Leandro Street and a left on Fruitvale Avenue, which becomes Tilden Way. Continue on Tilden and then turn left on Park Street.
Photo: Blazing Saddles
[mappress mapid="57″]