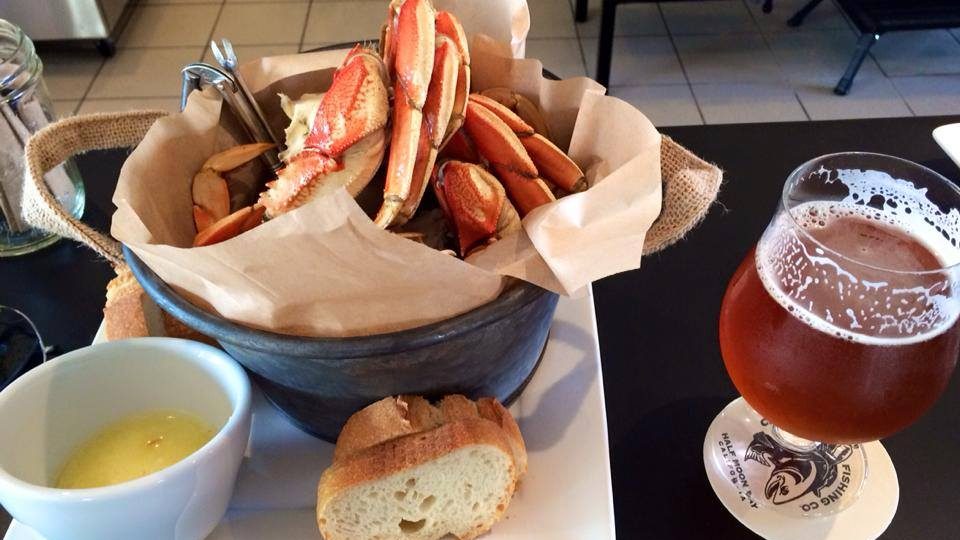 Located about 25 miles south of San Francisco, Half Moon Bay provides an ideal escape from city life. With beautiful and unspoiled nature, fantastic restaurants, and great people, this laid-back beach area offers a homey environment with a dash of adventure and a heavy dose of relaxation. Come on down and discover one of the Peninsula's many coastal gems.
Start the day with Flavor
With bay views, great service, and delicious food, Flavor (260 Capistrano Road) is the perfect place to start your morning in Half Moon Bay. Sit on the top floor to take in the beauty of the coastal morning, with rolling fog banks or the bright, piercing reflection of sunlight on the on the ways, and sink into Flavor's menu of American comfort classics.
The fluffy French toast with apricot, whipped cream, powdered sugar, and maple syrup is great for the sweet tooth in your group, while the corned beef hollandaise is a delicious, hearty option. There is also have an extensive list of morning drinks, for those desiring a little extra kick to their day trip.
Hike it off: Rancho Corral de Tierra
After you've finished noshing, burn  off that breakfast with a hike in the green, shrubby hills a couple miles north of the bay. Rancho Corral de Tierra, a 4,000-acre parcel recently added to the Golden Gate National Recreation Area, is a beautiful reserve with something special for everyone.
Some trails lead up and over the summit of Mount Morano (or Mount Pacifica, depending on which locals you ask), offering a steep but worthwhile experience for the more intrepid hiker, while others crisscross the hills rising off of Highway One, presenting a mostly flat, leisurely stroll among chaparral and occasional wildflowers. The cool ocean water contributes to a thick fog that often blankets these hills, but make sure to bring sunscreen — the entire system of trails is completely exposed.
Afternoon refreshments: Half Moon Bay Brewing Co.
Todd, the brewmaster at Half Moon Bay Brewing Co. (390 Capistrano Road) is something of a scrapper. "I've always been a fan of beer, but when I wanted a job in brewing it was one of those 'Can't have a job without experience, can't get experience without a job' situations." So he moved to Belgium to play baseball for a summer, and the epicenter of great craft beer only whetted his appetite further. "When I came back I got lucky, and found a low-level job at a brewery. Then I worked my way up, and now I'm here."
That sort of hustle is intrinsic to the brewery's experimental ethos. "We're always tweaking to find the best recipe" Todd says. That "tweaking" sometimes leads to some not-so-good formulas, but the good results fa are well worth any flubs, as evidenced by the brewery's offerings for the recent American Craft Brew Week, which included a beer that Todd and his associates dubbed "Papajuice." A barley wine aged in old whiskey barrels, it retains some of Dr. Brown's caramel notes, along with hints of coconut and light fruits, making it a perfect pairing for something heavy like red meat.
Though this current flight of special brews is due to run out soon, the set rotation has a few knockouts of its own. The "Not for Sale" saison, light and fruity with floral and spicy notes, is perfect for a refreshing summer day, and the IPA pairs well with a burger. Of course, the Bloody Mary is also popular — one of the bartenders reported that the five or so gallons they make daily are always gone by evening.
Leisure by the water: Miramar Beach
A tour of a beach town isn't complete without, you know, visiting the beach. And truly, there's nothing more fun than playing in the sand after building up a light buzz at the bar. Miramar Beach, a stretch of sea cliffs transitioning into a short strip of sand, is the perennial recommendation of the locals. It's also almost entirely theirs. Even on a weekend, there are few tourists in sight, and the few people that are there don't make much of a crowd.
A short drive down Highway One from the brewery, Miramar is the perfect place for some sunbathing, relaxing with a good book, taking a long contemplative walk, or tossing a Frisbee or football with friends. And if you're feeling worn out from all the day's activities, taking a nap is always a smart move, too.
Dinnertime: Cowboy Fishing Co.
"I've always been a big fan of cowboy films, and the cowboy code is something manifested in all we do," says Tom McGuirk, who co-owns Cowboy Fishing Co. (730 Main Street) with his brother Patrick. Indeed, the friendly, unassuming restaurant seems to embody the pillars of that code, especially "Take pride in your work" and "Talk less and say more." Perhaps those are two of the reasons that, despite a lack of marketing, the restaurant has become immensely popular with locals and passersby.
Not only is Cowboy Fishing inviting, it's the sort of place that keeps them coming back. Perhaps that's because "Top to bottom, everything is high quality" Tom says (after all, it's natural for a former Olympic hurdler and a San Jose SaberCats defensive back to only want the best). "Our goal is to do a few things and do them well." What that means here is a small and straightforward "Brews and Bites" menu, featuring local brews (a few of which are so local they're brewed onsite) and a seasonal menu driven by the "fresh catch" (which is usually caught, sustainably, by Tom).
During my visit I tried the fish tacos made with fresh cod, cilantro, lime, and a sprinkling of special sauce on corn tortillas — a delicious start to any meal. With its brown-sugar sauce, the ravioli (Tom's favorite dish) offers a tasty contrast between savory and sweet, and if you're feeling guilty about all this deliciousness, the kale salad with blueberries and vinaigrette will set your heart at ease.
The whole menu is locally sourced, with fish coming from Princeton Harbor, bread and desserts from a nearby bakery, beef from a local ranch, and even screen-printed T-shirts from a shop in town.
Directions: Consult oM's transit guide to Half Moon Bay.
Photos: Cowboy Fishing Co., Flavor, Matthew Strebe, Jitze Couperus, Tracy Vierra
[mappress mapid="139″]