Chicago is loaded with urban moxie, but it isn't brash or in-your-face. Think big city with a dash of Midwest humble.  This metropolis has plenty of fast-paced mojo, but its touch of modesty makes it a fabulous city to explore with kids.
World-class interactive museums, an inner city amusement pier and scores of skyscrapers are all part of the kid-approved cityscape. Add gutsy public art, accessible mass transportation and kid-perfect epicurean treats, and you'll find that the Windy City is the perfect heartland fling for the entire family.
Indoor Activities
John G. Shedd Aquarium | sheddaquarium.org
The numerous interactive possibilities are a key reason why Shedd Aquarium is so special.  Visitors have opportunities to touch numerous sea creatures, none more fabulous than stingrays.  They have the texture of springy mushrooms, and as their barbs have been painlessly clipped, it is safe to touch them.  SeaWorld-caliber dolphin shows manage to be highly entertaining while adhering to a passionate animal conservation message that should satisfy budding naturalists.
The Field Museum of Natural History | fieldmuseum.org
It would take days to fully explore this cavernous museum.  Nine-acres of floor space house highlights such as Sue, the largest and best-preserved Tyrannosaurus Rex fossil ever found.  Inside Ancient Egypt includes a whooping 23 mummies. Pre-school kids should not miss the Crown Family Playlab, where a variety of hands-on activities are designed to enhance your tot's museum experience.
The Art Institute of Chicago | artic.edu
Not every kid gets his groove on in an art museum. The Art Institute of Chicago boasts a few exhibits that even confirmed museum-haters should enjoy. The lower level is where you will find the Thorne Miniature Rooms.  Dollhouse fanatics will be in heaven as they view dozens of tiny, meticulously decorated interiors.  Don't miss the mid-century modern miniature that looks transported straight from Palm Springs.  On the first floor, the Ryan Educational Center allows kids to create their own artistic masterpieces, play a game or read an art-themed book. Best of all, entrance to the educational center is free.  The impressionist collection here is top-notch, as is the collection of modern American paintings. Try and get the kids to peak at American Gothic and to glimpse a few Monet floral classics.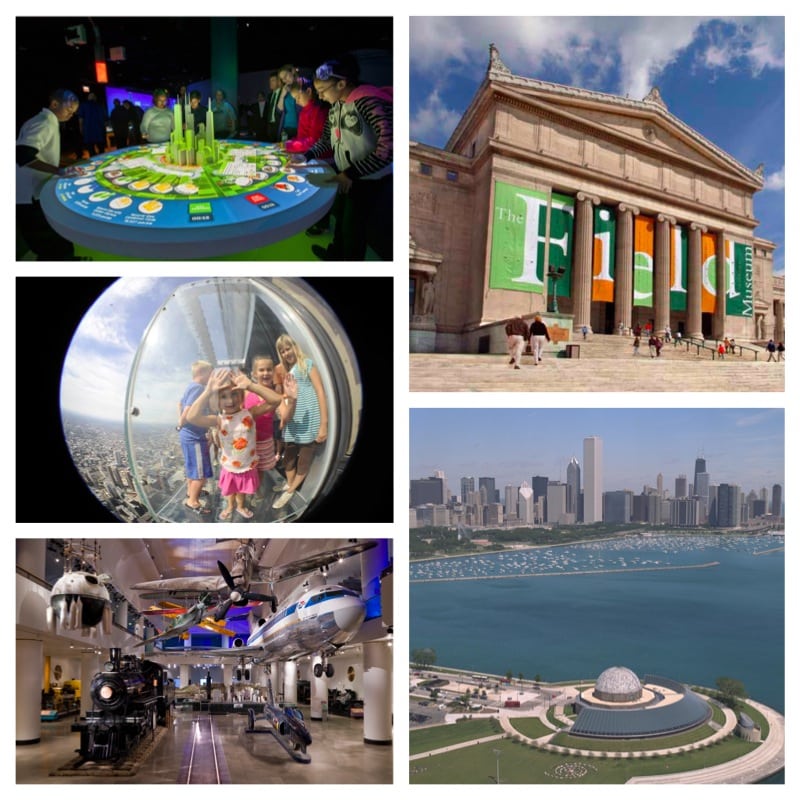 Adler Planetarium and Astronomy Museum | adlerplanetarium.org
The Adler puts astronomy in a historical perspective.  Exhibits demonstrate how ancient cultures had the same thirst to contemplate their place in the universe as we do today.  Kids can get active at Planet Explorers, an indoor playground that will have them wiggling around caves and tunnels. The entire family should enjoy viewing a scientific-themed show in one of three state-of-the art theaters.
The Museum of Science and Industry | msichicago.org
This attraction has been a Chicago favorite for generations.  The full-scale coal mine replica has you descending into the depths of the earth. The U-505 is an authentic restored German submarine that was captured in 1944.  Step inside and you'll get a real-life sense of the claustrophobic conditions that underwater servicemen endured.
Skyscrapers
Ascend 1,000 feet straight up to reach the towering John Hancock Observatory. You will be rewarded with an awesome view of Chicago's skyline, Lake Michigan and four neighboring states. The Skydeck Chicago at Willis Tower, formerly known as Sears Tower, has equally sweeping views and for the brave, a fright-inducing step into The Ledge, a glass box that extends a dizzying four feet outside of the 103rd floor.
Consider purchasing a City Pass, and you will save time and money.  It gives you admission to top attractions for a discounted price, plus you get to skip the line, a definitive mood booster.
Outdoors Activities
In summer months, the shores of Lake Michigan are crowded with sun-seekers and swimmers who brave the chilly water for a refreshing dip.  Yes, Chicago's winters are legendary, but locals dress appropriately to enjoy the outdoors in all weather.
Navy Pier | navypier.com
An old-fashioned carousel, 15-story Ferris wheel with birds-eye Lake Michigan views, carnival games and summer fireworks all add to the festive energy of this amusement pier.  You can ice-skate in winter or play a round of miniature golf in warmer months.  The Chicago Children's Museum is located at the end of the pier.  It's a virtual shrine to hands-on, open-ended play. The Tinkering Lab provides kids with real tools and an array of materials where they can create freely.  The staff is always on hand to help translate youthful ideas into reality.
Millennium Park | cityofchicago.org
Millennium Park may well be America's finest city park.  Part of its allure lies in its architectural gems.  Anchored by a Frank Gehry-designed bandshell, the park also includes works by Renzo Piano and Anish Kapoor. Rich in public art, the kids won't want to miss a photo-op under The Bean, the fabulous stainless-steel structure that reflects the city's famed skyline in its shiny surface. Hundreds of events are held annually in this year-round gathering place.  In winter, ice skate at McCormick Tribune Plaza.  In summer, splash in the Crown Fountain, as you watch real-time images flashed on giant video screens.
Lincoln Park Zoo | lpzoo.org
One of the oldest zoos in the country, it is open 365 days per year, with no admission charged. As you stroll the lush grounds, you will see some of the 1,200 animals, including polar bears, monkeys and an assortment of reptiles. The Farm-in-the Zoo replicates a working farm with domestic animals that kids can feed, plus a giant John Deere tractor that that they can sit on.  The staff demonstrates daily farm chores such as butter churning and cow milking.
Wrigley Field | chicago.cubs
In Major League Baseball, only Boston's Fenway Park is older than the hallowed grounds of Wrigley Field. It has been home to the perpetual underdog Chicago Cubs since 1916. With the White Sox playing in their own stadium, the crosstown rivalry is strong, but the lure is at Wrigley.  Famed for its ivy-covered outfield walls and seating on the rooftops of adjacent apartment buildings, a visit here is a must for die-hard fans. You can take a behind-the-scenes tour of the venerable ballpark or try and score a game ticket. If you come on Sunday, kids are permitted to run the bases after the game concludes.
Eat Like A Local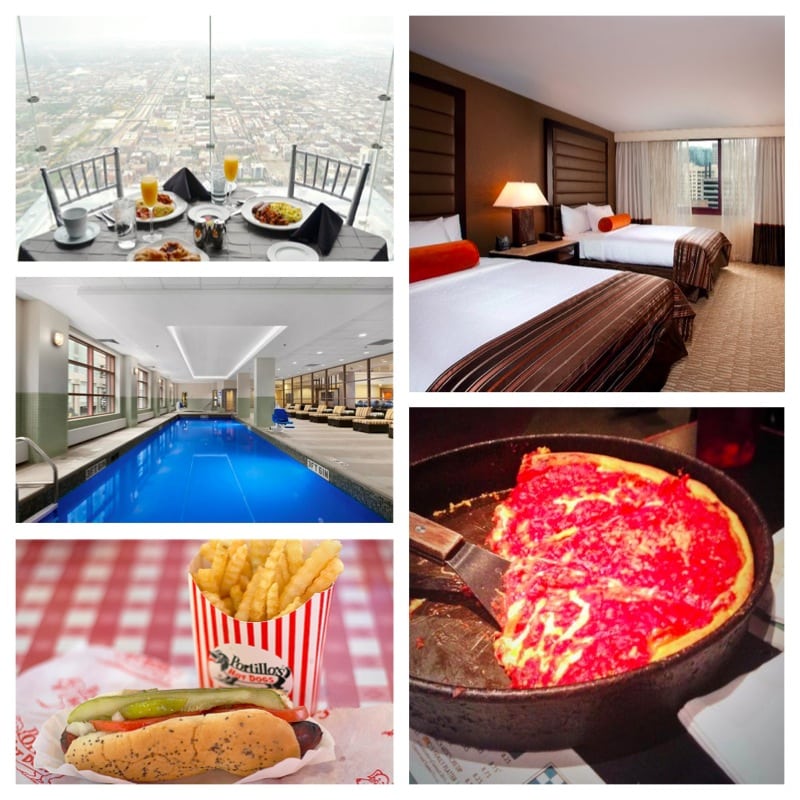 Pizza
Few foods have more kid-appeal than pizza. Chicago is known for its deep-dish variety. Each slice is robust, so it's an economical way to feed the family. Locals are fiercely loyal to their favorite pizzeria. Gino's East is famed for its mouth-watering pizza, better-than-your-Nonna's meatballs and graffiti wall, where you are encouraged to leave your mark. Other hometown stalwarts include Giordano's, Lou Malnati's and Uno's. Decide which one to try or go for broke and carb-indulge all weekend. If you do tire of all that gooey cheese and tangy sauce, try Portillo's. Thin slices of lightly seasoned beef are topped with zesty broth and served on a soft, chewy roll in the Italian beef sandwich, the house specialty. Try the snappy hot dogs too. Low prices, a casual atmosphere and fast service make this a great place to fill your hungry children.
Where to Stay
The Embassy Suites Downtown offers a super-central location. You will find exceptional value, with a free hot breakfast buffet each morning and a complimentary cocktail reception each evening.  Parents can enjoy wine, beer or a mixed drink, while kids sip a soda.  Snacks will tide everyone over until suppertime, perhaps allowing you to squeeze in a late afternoon dip in the indoor pool.  The spacious rooms are all-suites with 2 queen beds, a foldout coach, 3 sinks, 2 flat screen televisions, a fridge and microwave.
Getting around
Chicago is a fine walking town, laid out on an easy-to-navigate grid. It has the second largest public transportation system in the country, including the famed above ground  "L" subway. Children under seven ride free, those 7-11 pay a reduced fare. Pedal around town with Divvy, Chicago's popular Bike Share program, and you'll get an authentic feel for street action and how locals traverse the town.
Chicago benefits from the beauty of both Lake Michigan and the Chicago River.  A river cruise is a relaxed way to take in the sites and there are plenty of options to choose from.  In fair weather, a water taxi is a fun and fast way to connect the sites.
How to get here
Amtrak will bring you to Chicago's Union Station from much of the U.S.  If you choose to fly, O'Hare and Midway Airports are your options. The Chicago Transit Authority links both airports with the "L" trains, for a speedy connection into town. For more trip planning information, go to Choose Chicago.
Photos: c.harnish, Art photos by Carina Lofgren