Thirty miles off the shore of Cape Cod sits Nantucket, a dreamy panorama of cranberry bogs, windswept bluffs and lighthouses. Crowds flock to this nautical paradise in summer, but savvy travelers know that fall is the prime time to explore Nantucket's untamed side.
Beachcombers will enjoy peace and solitude as they swim in the salty sea and stroll the seashell-strewn shore. Sought-after dining spots have tables, there's room at the inn and the weather is perfect for pedaling the miles of designated trails. Though this land of millionaires is costly, the prohibitive price tags of summer come down just enough to put an off-season weekend getaway within reach of those with more modest means.
The Must-Do Experiences
Nantucket has been blessed with an overabundance of beauty, both natural and manmade. Its main village (called Nantucket) is anchored by a yacht-filled harbor and cobblestone streets clustered with shops and restaurants suitable for the old money and jetsetters who play here. Bermuda shorts, pink Lacoste shirts and Lilly Pulitzer prints abound. Bookstores and art galleries satisfy intellectual and artistic urges, while high-end retail shops tempt your wallet.
The variety and quality of beaches on this 14-mile-long island are dizzying. Despite Nantucket's exclusive air, nearly all of its beaches are publicly accessible. If you're looking for calm waters, stick to the island's North side, where beaches like Jetties and Brant Point are walking distance from the village. The beaches on the island's Southern fringe can have rough surf with powerful riptides. Surfside beach is popular with wave seekers and kite flyers.
The Whaling Museum is not just for fans of Moby-Dick. Literary types will get an eye-opening perspective on Melville's Great American novel, but anyone curious about the history and traditions of this island shouldn't miss it.  Kids will love the 46-foot skeleton of a Sperm Whale. Art appreciators can view works by local artists and artisans, stylistically in-tune with the island's Quaker ethos of simplicity.  Don't miss the spectacular view of the harbor from the rooftop observation deck.
The Rides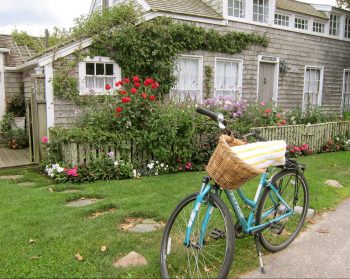 Nantucket welcomes cyclists with dedicated bike paths that crisscross the island. Rent your wheels at Young's Bicycle Shop on Broad Street. Located just a few steps from the ferry terminal, it has been family owned and operated for three generations. The enthusiastic staff is happy to suggest bike trails and supply maps.
The 20-mile round-trip ride to 'Sconset is unrivaled. You'll pedal the gently rolling hills on a designated path. Pinch yourself upon arrival, because you've been transported to the English countryside. This tiny yesteryear village is dotted with rose-covered cottages as sweet as any nursery rhyme. If hobbits, leprechauns and elves were strolling the lanes, they wouldn't look out of place. Park your bike and head down the wooden stairs to the beach and take in the spectacular view.
For a ride that's shorter in duration, follow Madaket Road to Eel Point Road and you'll arrive at Dionis Beach. It's an easy six-mile round-trip from town on car-free paths. Dionis Beach enjoys a serene landscape of dunes, soft sand and calm water.
Nantucket has an extensive and inexpensive island-wide bus system, so non-bikers can catch the dependable WAVE and get where they want to go.
The Insider Tip
Even if you haven't the slightest interest in decorative arts, Nantucket Lightship Baskets merit a moment of your attention. This unique art form has been intertwined with Nantucket for centuries and the basket-making practice continues today. The hand-woven rattan and wood baskets have an elegant simplicity that meshes with the island's understated charm. These tempting beauties are for sale at a number of shops in town, with astronomical price tags. The best way to gain some insight into their heritage is by visiting the Nantucket Lightship Basket Museum. You'll see many fine examples and gain a historical overview. Local children take basket-making classes here, so you may get a first hand glimpse of the tradition being passed on to the next generation.
The Eats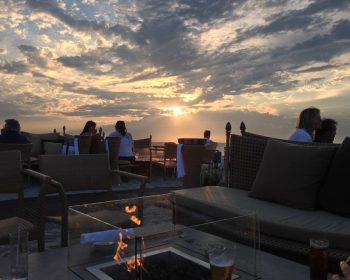 Galley Beach is the island's ultimate dining splurge. The ambiance is sophisticated yet comfortable and the beachfront location provides an ultra-romantic view of the sunset over Nantucket Sound. Lucky guests will feast on coastal cuisine that incorporates just-caught seafood with pristine produce to create inspired flavors. Many Nantucket restaurants are BYOB, but Galley Beaches' carefully curated wine list is loaded with possibilities for discerning oenophiles. Attentive service elevates it to a "Lifestyles of the Rich and Famous" level of posh.
On the other end of the spectrum, Provisions is the place to grab a packed lunch before you hit the beach or biking trails. The plus-size sandwiches are served on rustic bread with house-made condiments, so consider sharing one with your sweetie.  The popular turkey sandwich is loaded with stuffing and cranberry sauce, shades of Thanksgiving between two slices of bread.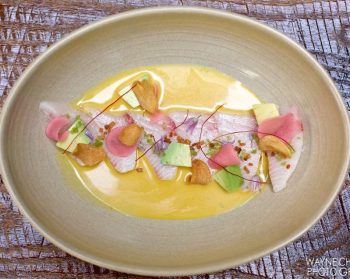 Step back in time at Congdon's Pharmacy on Main Street. Sit on a swivel chair at this authentic old-school soda fountain and sip an egg cream with your grilled cheese sandwich for the ultimate retro experience.
Treat yourself to a sweet at Petticoat Row Bakery. All-American baked goods like cupcakes, lemon squares and oatmeal raisin cookies suit Nantucket's traditional feel.
Nantucket Restaurant Week (September 29-October 5)is held in both spring and fall. It's a great opportunity to sample some of the island's acclaimed culinary establishments for a fraction of the usual price.
The Drinks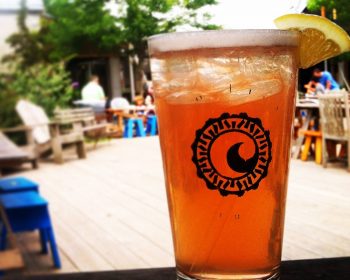 Nantucket has its very own brewery, Cisco. The daily brewery tour is a good way to sample the classic and seasonal craft options.  There's a distillery and vineyard here too, so lovers of a variety of libations will be satisfied. It's easy to cycle to Cisco Brewers or hop on the free shuttle bus from town.
If the brewery tour hasn't satiated your craving, clink glasses with a local crowd at the Rose & Crown. You'll enjoy strong drinks, excellent pub grub and live entertainment nightly.
The Digs
Brand-new 21 Broad is fast becoming the place to stay for visitors seeking a casually elegant retreat in the epicenter of town. The cool, light-hued décor is the definition of beach-chic, combining authentic architectural elements of the building's seaworthy past in a modern, fresh way.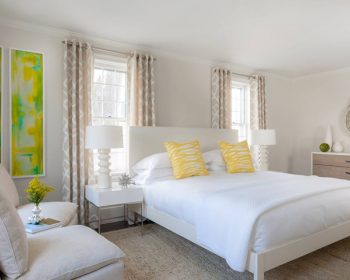 The friendly on-site managers wouldn't look out of place on the cover of a yachting magazine, nor would the predominately gorgeous guests. Included in the room rate is a glamorous breakfast buffet with home-baked sweets and creative a.m. delights, like frothy pink Danish yogurt soup. Afternoon drinks in the breezy lobby (you bring the booze, they supply the mixers) feels like a refined house party. The 27 guest rooms don't skimp on luxuries and the common spaces offer amenities like a steam room, an awesome collection of vintage vinyl and an outdoor deck with a glass-walled fire pit. Room rates tumble between Labor Day and Memorial Day.
The Directions
Take the Peter Pan bus from Port Authority to Hyannis. Connect with the Steamship Authority fast ferry and 60-minutes later you'll be on Nantucket. Plan on a six-hour journey from NYC. JetBlue offers seasonal service to Hyannis and Nantucket from JFK.
For more information, visit Nantucketchamber.org.

Photos: Massachusetts Office of Travel & Tourism, Allison Tibaldi, Nautilus, Cisco, 21 Broad