Grand Central is a madhouse on a recent Saturday afternoon. The first sign that it's time to get away is that I'm grumbling through the magical grand hall. Tourists are agape, but I feel neither the time nor the energy to take in its splendor myself. At the Metro-North kiosks, a sudden consciousness of the fervor with which I am punching the screen tells me it is definitely time for a little relaxation.
The calm begins to settle almost immediately after the train pulls out. I watch Harlem drift past, followed by trees, homes, quaint Connecticut villages. A second train and a short cab ride later, the effect is complete. I step onto the deck of the Water's Edge Resort and Spa, where the sun hovers over cheery New England buildings, pristinely manicured greenery, and guests enjoying an afternoon tipple.
A wedding is just getting started, and from the deck of my luxurious Villa by the Sea, I hear melodic piano notes mingle with a gentle lapping on the shore. As if called in specially to complete the picture, a sailboat happily bobs on the glistening water.
The only Connecticut resort with a private beach, Water's Edge draws the throngs in summer, when families sun and play on the beach, rent kayaks, or wade over to Salt Island at low tide. Children's activities allow for adult relaxation, and every weekend the Sunset Grill is hopping with live music. Contagious as this buzzy summer scene is, there is something to be said for the calm that descends after Labor Day. On brisk fall afternoons, the tightly packed rows of empty white beach chairs lend a dreamy, unhurried atmosphere, an ideal escape from city madness.
The property, which sprawls out over 25 acres, contains a little something for everyone. For accommodation purposes, there are 100 hotel guest rooms (from $338), plus two beach cottages that sleep up to 12 people and are great for groups or family reunions. For those looking for something a little longer term, timeshares are available, and the state-of-the-art Villas by the Sea designed by DiLeonardo are for sale. It's the sort of place, says Director of Sales and Marketing Anthony Amendola, where families will spend their summers.
But Mr. Amendola seems to almost prefer the fall and winter atmosphere. "There's a magical feel when the grounds are covered in a dusting of snow," he tells me during a tour of the property, pointing out the rustic stone fireplace in the Seaview Bistro and Martini Bar: "It's really cozy in here when the fire is lit." And it's clear to see that the resort has a knack for the festive. In addition to the bar's live weekend entertainment and well-used dance floor, Water's Edge hosts fun fetes on Thanksgiving and New Year's. It's Sunday brunch, though, with its fresh pastries, cooked-to-order omelets, and famous weekly themes, that is beloved by guests and locals alike.
The property also includes fun entertainment options beyond the beach. Guests have access to tennis courts across the street, and the Shops at Water's Edge offer so much more than your usual gift shop chotchkes. I especially love The Drunken Palette Art Studio, where budding artists can drop in for a class or experiment on their own. When I peek in, a couple of ladies on a girlfriend getaway are decorating wine glasses (and taking full advantage of the shop's BYOB policy!).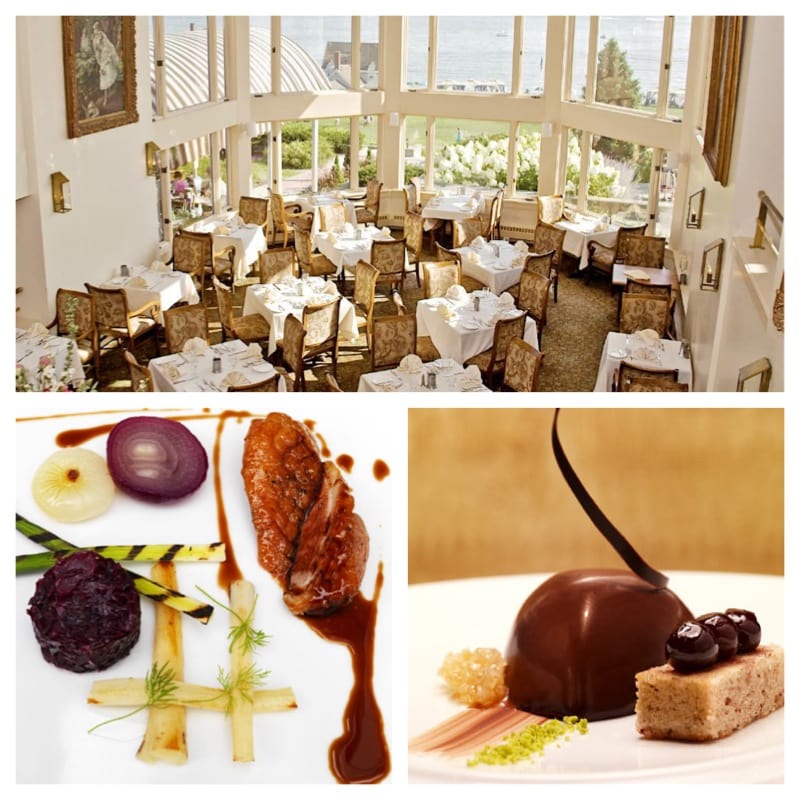 I, however, am more interested in the resort's award-winning restaurant, where the fall calm is beautifully evident here. A handful of guests and locals are enjoying fresh catches and decadent desserts, and during a first course of melt-in-your-mouth burrata over tangy arugula and juicy tomato, I watch the sky streak pink, then purple, and fade into black. Beach chairs glow, and white birds flit over dark water. A hush in the dining room feels as sumptuous as the dense chocolate cake with which I end my evening.
Refreshed after good food, fresh air, and an oh-so-comfortable bed, I start the next morning with a stroll down the tranquil beach in the cool, bright morning glow. Like the sleepy New England homes keeping watch over placid water, I luxuriate in the quiet of the grounds. Then, to further imprint the luxury, it's off to The Spa at Water's Edge, where a Deep Swedish Massage provides just the right combination of deep tissue work and Swedish relaxation.
Afterward, while thumbing through Yankee Magazine by the fire in the spa's comfy lounge, I encounter those same girlfriend getaway ladies, looking as blissful as I feel. They've indulged in the three-hour "Girlfriends Package," which includes spa, facial, and Marine Therapy Pedicure. In addition to such packages, this sanctuary extends the hotel's festive air, with seasonal offerings like the fall pumpkin pedicure or a summer "margarita massage" special, which tops off the treatment with a refreshing cocktail.
Upon departing the resort, just a day after I arrived, I feel so relaxed that I may as well have been gone for five. Before catching the train in adorable Old Saybrook, I check out Great Harvest Bread Co. (535 Boston Post Rd ), a sweet shop that's just as delicious as it is friendly. As soon as I enter, I'm offered the sample from the cutting board, and my chosen slice of cinnamon bread makes me feel five years old again. I leave with a fantastic sandwich for the train, knowing I'll be back for some of the bread mixes and other treats.
That evening, the platform at Grand Central is beyond crowded, a chaotic blob pushing toward the exit. This time, though, I move calmly along, then stop in the Grand Hall. I take in the station's ethereal light, gaze at its constellations, and, perfectly refreshed, actually enjoy the buzz around me.
How to get there: Take Metro North New Haven Line to New Haven, then switch to the local Shore Line East train and get off at Old Saybrook station. Call Captain Tony's Car Service (203.980-.7428) for the 10-minute ride to the resort. 
Visit watersedgeresortandspa.com to start planning your getaway. For information on current offers, check out the specials page.