This is the third of five interviews with small business owners at their boutique shops on Bergen Street, Brooklyn.
Shop: Babeland
Wares: Toys, lubricants, prophylactics, DVD's, and more for both genders.
Location: 462 Bergen Street
Claire Cavannah and Rachel Venning, how long has Babeland been in business? 15 years.
What were you doing before Babeland? I was working odd jobs, in construction, at a coffee shop, and in film production.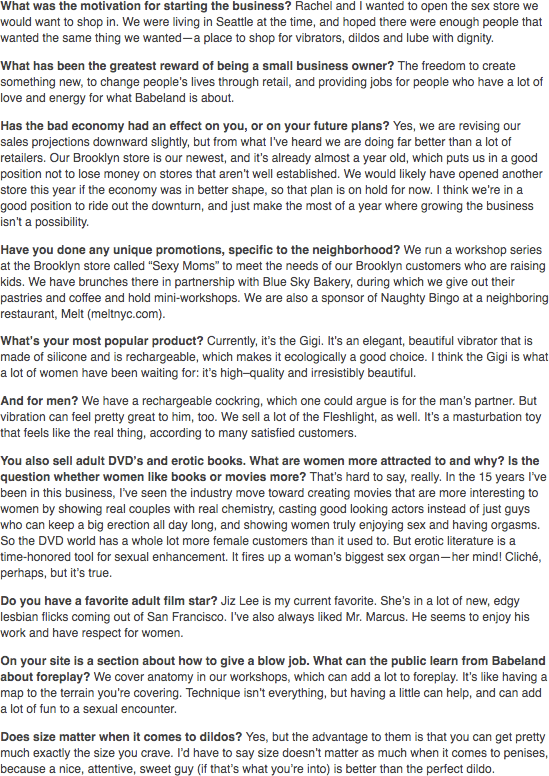 You guys have multiple locations. Is their something particularly appealing about having a store on Bergen Street? I think Bergen Street is perfect for our Brooklyn store because it is a hopping little retail strip that is just off of the heavily trafficked Flatbush and 5th Avenue. Brooklyn is a family-oriented place, and I think our customers like leaving the beaten path to walk in to buy products they'll use privately. They're less likely to run into their neighbors, their babysitter, and other folks they may not relish seeing on their way in. Bergen is also at the crossroads of a lot of neighborhoods. We get customers from Prospect Heights, Carroll Gardens, Fort Greene, and much deeper into Brooklyn as well as from Park Slope.
How to get there: Use the Hopstop link below for specific directions. (Babeland, 462 Bergen Street, Brooklyn, 718.638.3820, babeland.com)