During these cold, dreary days, a ray of color may be all the inspiration you need to board a train or bus on a little winter adventure.
Here are five bright ideas, from an atrium of pinks and greens at the Orchid Show to a stunning rainbow-hued hotel in the heart of East Hampton, to help you start planning your own escape from the grey.
New York Botanical Garden in the Bronx, nybg.org
The Orchid Show, March 2-April 22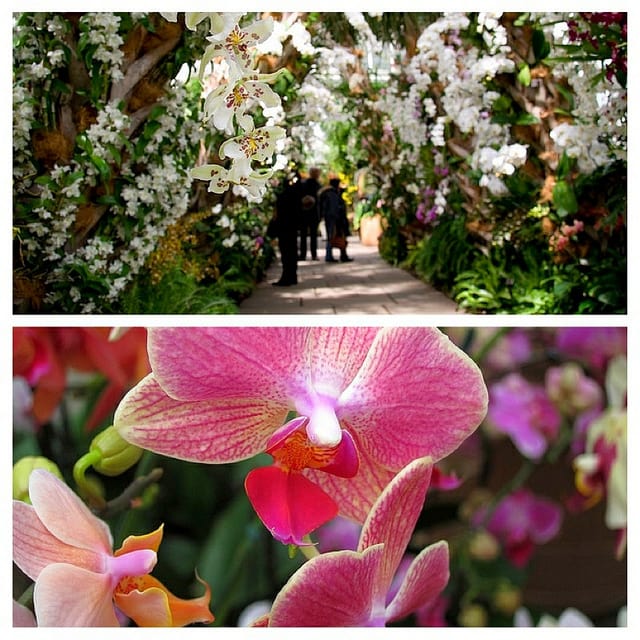 Inside the NYBG's Enid A. Haupt Conservatory it's always colorful and warm. Year long, the park's 50 gardens and 250 acres are pleasant for a stroll, but when the cold strikes, stick to the enclosed beauty of the conservatory. In addition to its vibrant collection of plants from around the world, the 11th annual Orchid Show is a radiant respite from winter's doldrums thanks to thousands of blooms like blue and purple vandas, green and yellow cymbidiums, and pink and white moth orchids. Make it a weekday date night at Orchid Evenings, when you can stroll through the tropical paradise with a cocktail in hand and live music playing. If you're a flower child, be sure to view our list of The Best Flower Shows Near NYC.
How to get there: Make the quick trek up to the Bronx landmark on the Metro-North Harlem line to the Botanical Garden Station or take to the subway and ride the B, D, or 4 train to Bedford Park Blvd Station and then walk to the park or hope on the Bx26 bus east to the Garden's Mosholu Gate entrance.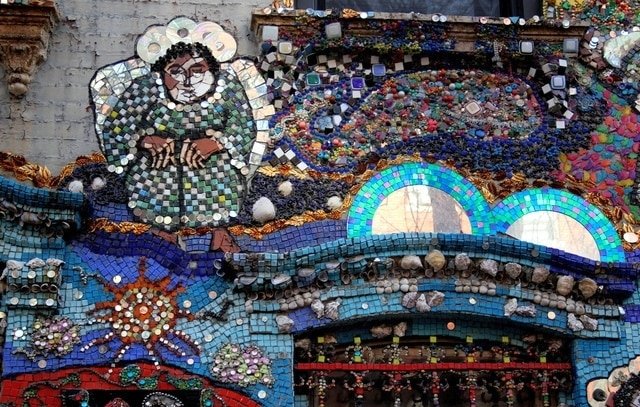 Mosaic House in Brooklyn
108 Wyckoff Street
You might be surprised to discover there's a house in Cobble Hill that can warm your soul. Wander down Wyckoff Street, between Hoyt and Smith, and you'll see it, a facade studded with a spectacular mosaic created by artist Susan Gardner. Stay and marvel, instagram a photo (though it needs no filter), then walk ten minutes to The Chocolate Room for a hot chocolate brownie and vanilla ice cream.
How to get there: Take the F/G to Bergen.
National Cherry Blossom Festival, nationalcherryblossomfestival.org
March 20-April 14, Washington D.C.
Who needs Punxsutawney Phil? Instead of some large rodent prophesying whether spring is going to come early or not, let D.C.'s cherry blossoms show that the much-anticipated season is indeed on its way. Every year, the trees along the tidal basin and throughout the nation's capital blaze pink and white, turning the city into a series of stunning photo-ops. Cruise under the beautiful boughs with a Blossoms by Bike tour or use the Capital Bike Share. Book a trip with Amtrak, now offering a 25% discount when you reserve a ticket to the festival 14 days in advance.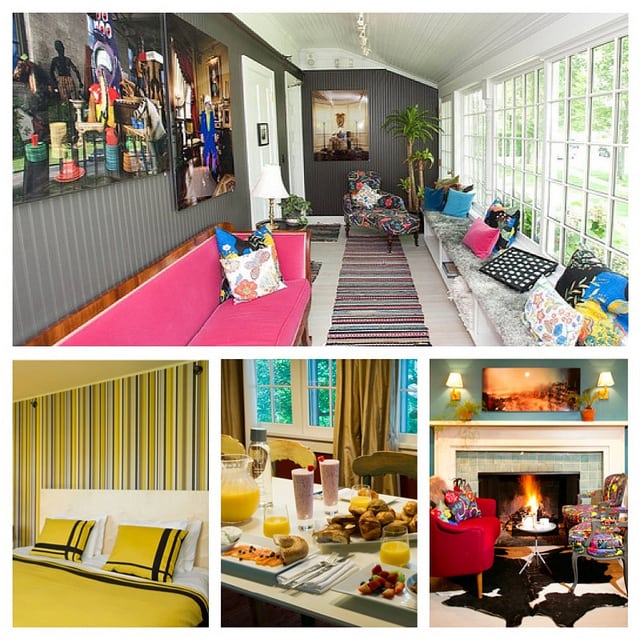 c/o The Maidstone, careofhotels.com
207 Main Street, East Hampton
We love winter when it's snowing and we find ourselves cruising down a mountain and enjoying a rewarding drink by the fire in our Moon Boots. But for the non-skiing set, this season is bearable for other reasons, like affordable rates at luxurious hotels. If you don't blink at $500/night, consider c/o The Maidstone your go-to summer retreat. But we're more than happy to wait for winter deals like stay two nights for the price of one, currently being offered at this very posh, vividly decorated hotel. Take advantage of the weekday special ($225/night) at this hot spot, where perks include a pet-friendly policy, Wine Thursdays, free yoga and bikes, and a carbon-neutral goal.
How to get there: The Hampton Jitney will drop you in front of The Palm Restaurant on Main Street (Montauk Hwy 27). From there head West (in the opposite direction whence you came) and the hotel will be on your right. (About a 10-minute walk.)
Bogota Latin Bistro, bogotabistro.com
141 5th Ave., Park Slope
Give winter the cold shoulder and salsa into this festive Colombian restaurant. Paintings and murals adorn all the walls, giving the place a bright and lively ambiance. House highlights include their arroz con pollo and aji, a spicy sauce found on every table. Their sprawling dinner menu is full of delicious options so plan to spend some time deliberating what to order. Wash down your meal with a mojito or a piña colada or enjoy them by themselves. We recommend going Monday-Wednesday when it's all happy hour all day and the crowds tend be to smaller.
How to get there: Take the B, D, M, N, Q, R, 2, 3, 4 or 5 train to Atlantic Avenue/Pacific Street stop in Brooklyn. Transfer for the local R or M train to Union Street (1 stop). This will leave you on the corner of 4th Avenue and Union Street. Cross Fourth Avenue and walk towards Fifth Avenue. Take a left on Fifth Avenue and walk up 3 blocks. 
Photos: DC Cherry Blossom Festival, Blake and Becca, Bosc d'Anjou, Untapped New York, The Maidstone, Oyster.com