While the Midwest is revered for their five great lakes, the East Coast also has great options for affordable and luxurious lakeside enjoyment, from the Finger Lakes of upstate New York to New Hampshire's Lake Winnipesaukee.
This fall, breathe in the fresh countryside air, go for a hike, and settle into an Adirondack chair with a glass of locally-produced wine with one of these ten lake getaways easily accessible without a car from New York City.
Lake George | NY | Lake Crest Inn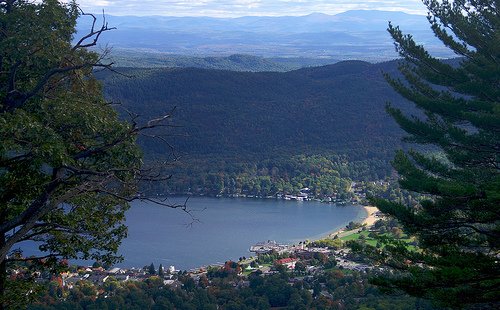 Whitewater rafting, boating, parasailing, picnicking, hot air ballooning and resting on the nearby sandy beaches; visitors to Lake George will run out of time before they run out of things to do. Lake Crest Inn offers lakeside accommodations and only a 10 minute walk (or a short bike ride) from Lake George Village. The recently remodeled boutique hotel has won the Lake George Village beautification award twice. A private beach and lakefront pool bring relaxation in style without breaking the bank.
How to get there: Take Amtrak to Fort Edwards-Glen Falls, NY and then take a waiting taxi 30 minutes to the hotel.
Lake Champlain | VT | Hilton Burlington
Stretching from Vermont to New York, Lake Champlain is over 120 miles of pristine waters, bordered by humbling views of the Green Mountains and Adirondacks. For a trip that is equal parts nature and nurture, access the pristine lake from Burlington, Vermont. Row the lake by day, with convenient rentals from Burlington's harbor, and stroll Church Street at night for some savory, sustainable cuisine and live music. Stay the night at the convenient and comfortable Hilton Burlington. Offering multiple packages to receive the most for your money, the Hilton Burlington is a convenient, less than five minute walk to the shore or to nearby shopping.
Specials: Book at least two weeks in advance and save up to 20% on the best available rate for your stay. Rooms start at $169.
How to get there: Take Amtrak to Essex Junction, VT. From there take a Chittenden County Transportation Authority (CCTA) bus 15 minutes to the hotel.
Lake Placid | NY | Mirror Lake Inn
Mirror Lake Inn provides luxurious accommodations, deemed worthy of accolades from national travel magazines like Travel + Leisure, at completely affordable rates. Curl up with a good book in a comfortable chair on the Inn's private dock, eat some tasty pub grub at the The Cottage, and go shopping in town just a 10 minute walk or bike ride down the road.
Specials: The Couples Getaway package provides accommodations in the Marcy room, featuring a four poster king-sized bed, a private balcony and stunning views of Mirror Lake and the Adirondack mountains. Enjoy a $75 nightly credit towards dinner at The View, a spa service, or a meal at on-site pub The Cottage. Champagne and chocolate covered strawberries are also included. Rates are $364 during the week and $404 on weekends through December 23.
How to get there: Take the Amtrak Adirondack Line to Westport, NY. Mirror Lake Inn will arrange shuttle service if a call is placed ahead of time.
Lake Wallenpaupack | PA | Ehrhardt's Waterfront Resort
For a vacation in the Poconos with minimum planning and maximum relaxation, Ehrhardt's Waterfront Resort has everything covered, and more. With Lake Wallenpaupack located in its backyard, guests have easy, private access and can lay claim to their own corner of the lake. Campfire set-ups along the edge of the lake encourage nighttime s'more snacking while watching the sun set. At dawn, take out a boat on a quest to catch Lake Wallenpaupack's plentiful bass, or for a leisurely row around the lake.
How to get there: Take a Coach shortline bus from Port Authority heading toward Honesdale and get off in Hawley, PA.
Lake Winnipesaukee | NH | The Cozy Inn & Cottages
The largest lake in New Hampshire is full of islands (253 to be exact) waiting to be discovered. Access this massive landmark from the adjacent Weirs Beach and tour the shore by walking on the wooden boardwalk and visiting the nearby shopping and attractions. Head back to the beach for a cooling dip in the water and begin your journey of island-hopping through Lake Winnipesaukee. The nearby Cozy Inn and Cottages has Weirs Beach at its doorstep. Walk out your cabin or hotel room, rent a kayak or canoe from the hotel's rental program.
Specials: Stay 3 days at the Cozy Inn & Cottages and hit the links for free at the nearby Mystic Meadows golf course.
How to get there: Consult oM's guide to renting hybrid cars.
Seneca Lake | NY | Yale Manor
No need to head to Napa to enter wine country as the Finger Lakes region's many award-winning vineyards will do just the trick. Just five hours from NYC, start a the morning with a paddle on Seneca Lake, followed by a glass of vino on the lakefront dock. The deck and boathouse on Yale Manor's property save any need to travel far from your hotel room; unless you're interested in taking a waterfront cruise, which can be coordinated by the hotel. Most of the rooms have working fireplaces, a charming country atmosphere, and are swathed in rich shades of burgundy and auburn yellow.
Specials: Rooms start at $155, and top off at $250 for a suite.
How to get there: Take Amtrak to Syracuse or Rochester and a 35 minute taxi ride to Yale Manor, or take a Peter Pan bus to Geneva, NY followed by a 15 minute taxi ride.
Echo Lake | NH | Mittersill Alpine Resort
Set in the White Mountains, a look out the window of your own private chalet will reveal green as far as the eye can see. The unparalleled peace and privacy are great reasons to visit Franconia Notch, NH. A less than ten minute bike ride away, Echo Lake Beach is open daily, offering a stroll in the sand, a snack bar, and boat rentals to enjoy some leisurely laps around the lake. The 28-acre lake provides hours of enjoyment and a front row seat to the impressive peaks of the Franconia Mountain Range. After an exhausting but entertaining day, return to your chalet and relax with a snack and cold drink at the resort's on-site eatery, Baron's Pub.
Specials: Private chalets begin at $210 a night.
How to get there: Consult oM's guide to renting hybrid cars.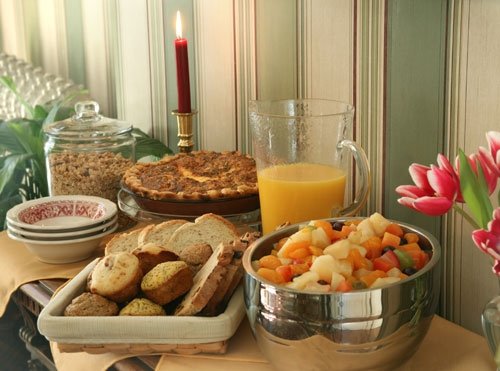 Otsego Lake | NY | The Inn at Cooperstown
Cooperstown, home to the Baseball Hall of Fame, has a wide range of attractions to make this a winning destination year-round, with hot spots like the Fenimore Art Museum, Glimmerglass Opera, The Farmers' Museum, and stunning Otsego Lake—which might best be explored from aboard the Glimmerglass Queen. And don't forget to put sipping Belgian beers at Brewery Ommegang on your must-do list. The Inn at Cooperstown actually offers its guests a great Bed & Brew package, detailed below. A stay at this property means wonderful service, classic, chic decor and highly rated accommodations.
Specials: The Bed & Brew package begins at $560 and varies by room. Included are two nights lodging, transportation, and a tour of the brewery, various souvenirs from the brewery and more. Regular rates begin at $110, varying by the room choice and season.
How to get there: Consult oM's guide to renting hybrid cars.
Candlewood Lake | CT | The Rocky River Inn
Candlewood Lake is the largest lake in Connecticut, and is a revered place to water ski and swim. A town over in New Milford, For a nominal fee, the Rocky River Inn's car service will transport guests to lakeside fun within 10 miles of the hotel. Once there, marinas will assist in the rental of boats, kayaks and more. A shuttle also provides round-trip transportation from the Metro-North station to Rocky River Inn for $20.
Specials: Manager's specials are cyclical, coordinating with local events and festivals. Rooms offering one king bed begin at $129 weekend rates.
How to get there: Take the Metro-North to Bethel, CT. The hotel will arrange for a shuttle to pick you up, for a $20 fee.
Lake Waramaug | CT | The Boulders Inn – Update: This property is now closed.
The calming ripples of Connecticut's Lake Waramaug and the picturesque treescape lining the lake set the scene for a weekend of calm. Visit the Boulders Inn for a thoroughly relaxing stay, with the opportunity to take advantage of their Restore-Reconnect-Rejuvenate-Renew package of yoga and meditation. If a pre-planned stay is not your ideal weekend, use the Boulders as your central location and push off into Lake Waramaug with your choice of complimentary usage of a kayak, canoe or paddle boat. Another fun and active way to tour the lake is from the seat of a free bike, courtesy of the Inn.
Specials: Rooms begin at $350 a night.
How to get there: Take a Peter Pan bus to Torrington, CT. From there take a taxi the 30 minute ride to The Boulders Inn.
Lake Getaways Near NYC

View 10 Relaxing Lake Getaways Near NYC in a larger map
Photos: Courtesy of respective properties; top shot by WanderingtheWorld, Lake George photo by reivax